I think everyone knows me pretty well by now that I love to transform leftovers into something magical. Transform them into a new meal. So over the next few days you'll learn about different ways to transform your leftover Corned Beef and Cabbage. Today, I'm sharing with you an easy lunch (or dinner). Instead of your traditional Reuben sandwich make a Reuben Panini! It steps it up a notch and (in my opinion) it makes it fancy.
Last week, I shared how to make your own Russian sauce. Well, this is the first of three recipes where that big batch of Russian sauce will come in handy. Today we are going to smear that Russian sauce on two pieces of fresh rye bread, and then of course if your inclined too… dunk your Reuben Panini in the sauce as you eat it bite-by-bite. If you choose this option and are sharing a meal with people you love make sure you give everyone their own bowl of Russian sauce to dunk in… no double dippers allowed!
I often forget to give my panini press a workout. While I'm being honest here, this is the only way I like to eat sandwiches; pressed, toasted, with beautiful grill marks. There is something about a pressed sandwich that I can't resist. You give me a plane jane sandwich that isn't toasted and I most likely won't eat it! So if your like me and want to reinvent leftovers… make these sandwiches the day after St. Patrick's Day. Your friends and family (or maybe just yourself) will thank you!
Katie Original Recipe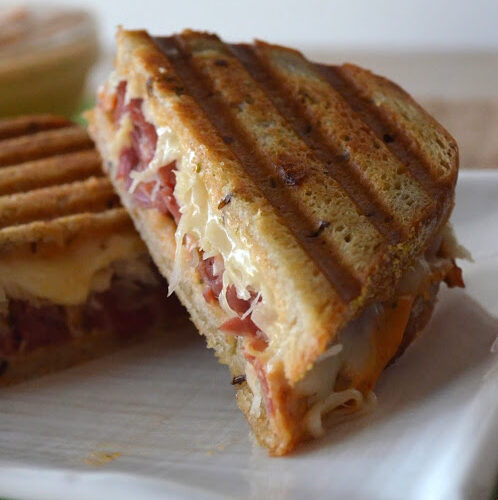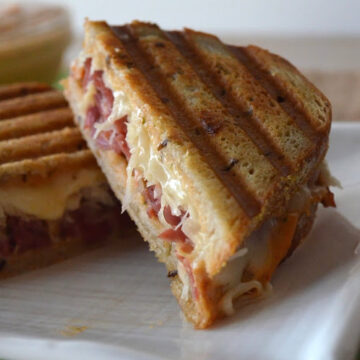 Ingredients
2

slices

of Rye bread

1

tablespoon

butter

softened

2

tablespoon

Russian sauce

2

thick slices of leftover Corned Beef

¼

cup

drained sauerkraut

2

slices

of Swiss cheese

1

pickle
Instructions
Preheat panini press to high heat.

While panini press is heating up spread one tablespoon of softened butter on the outside pieces of the rye bread. Then spread one tablespoon of Russian Sauce on each side of the rye bread. Place Corned Beef on top of one side of bread followed by drained sauerkraut, and top with two slices of Swiss Cheese. Place second piece of bread on top of the sandwich (Russian sauce side down, buttered side up).

Place the sandwich on the panini press and cook for 5 minutes or until the panini is golden brown and cheese has melted. Serve with a pickle and additional

Russian sauce

if desired.
Disclaimer: This post contains affiliate links.