Are you hosting a brunch this St. Patrick's Day this year? Regardless if you are this Sweet Potato Corned Beef Hash could easily be the star of any gathering. So if you're not hosting brunch, serve breakfast for dinner (otherwise known as "brinner"). I may not be Irish but I love Irish food! Even though I'm a self-proclaimed flexitarian there are two meats in the world I cannot resist.
1. Bacon
2. Corned Beef
Now that we have that straight you now understand that I love corned beef hash. Anytime we go out to a restaurant for breakfast (nine times out of ten) that is what I order. My husband on the other hand has needed some time to warm up to the fact of Corned Beef Hash in general. It wasn't until I started making my own that he really was able to appreciate this delicacy.
A few years ago I document about Southern Style Breakfast Potatoes I make (if you click over don't mind the dated photograph). Well, I kind of used the same concept by mixing both styles of potatoes together. I mean lets get real. Who doesn't love a mixed fried potato? The sweet and savoriness of this dish shined through perfectly. Fresh herbs liven it up by not only adding an extra dash of "freshness" but giving the plate beautiful green hues.
To top off this Sweet Potato Corned Beef Hash I added a fried egg on top. This was probably the biggest surprise for my husband. I never make fried eggs, or sunny-side up eggs for him. He gets scrambled egg and an occasional omelet. I only eat egg whites, so that's why I don't make the other styles of egg. So I decided to treat him to something special. Well folks, I think I've now spoiled him because all he wants are "dippy" eggs. Yes, that is what I use to call the yolk-tastic eggs as a kid (back when I did eat them like this). Don't worry my husband isn't calling it this… or is he?
Whether you're staying home this St. Patrick's Day or hosting an Irish brunch this Sweet Potato Corned Beef Hash should definitely make it on your menu!
Katie Original Recipe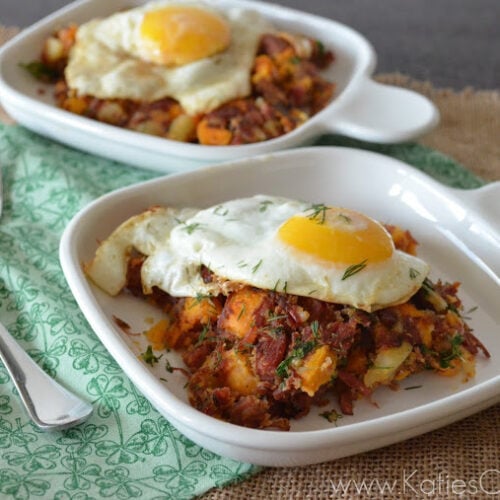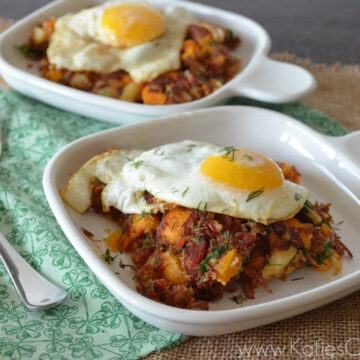 Ingredients
2

medium white potatoes

diced

1/2

large sweet potato

diced

1

tsp

salt

1

tbsp

butter

1/2

onion

diced

1/4

cup

corned beef juice *more if needed

1-1/2

cups

of diced corned beef

1/4

tsp

paprika

*Eggs if desired
Instructions
Cut and peel 2 cups of white diced potatoes and 2 cups of sweet potatoes (this will equal to about 2 medium white potatoes and a half of one large sweet potato). Rinse the potatoes well then add to a large pot of water. Add 1 tsp of salt to the water and boil on high for 15 minutes until potatoes are just cooked. Drain and set aside.

In a large frying pan add butter and melt on medium heat then add 3 tablespoons of corned beef juice; add 1/2 onion diced and diced corned beef. Simmer on low for 5 minutes. Add potato mixture and paprika to the pan. Bump the heat up to high and cook for 5 minutes (keeping the potato mixture on top). Mix the potatoes with the meat and flip over. Smash down with a spatula and cook for an additional 5 minutes. Add the remaining one tablespoon of corned beef juice and more butter if needed. Cook for 5 minutes more (the hash should be crispy but not burnt). Serve with or without a fried egg on top. The option is yours but most importantly, enjoy!