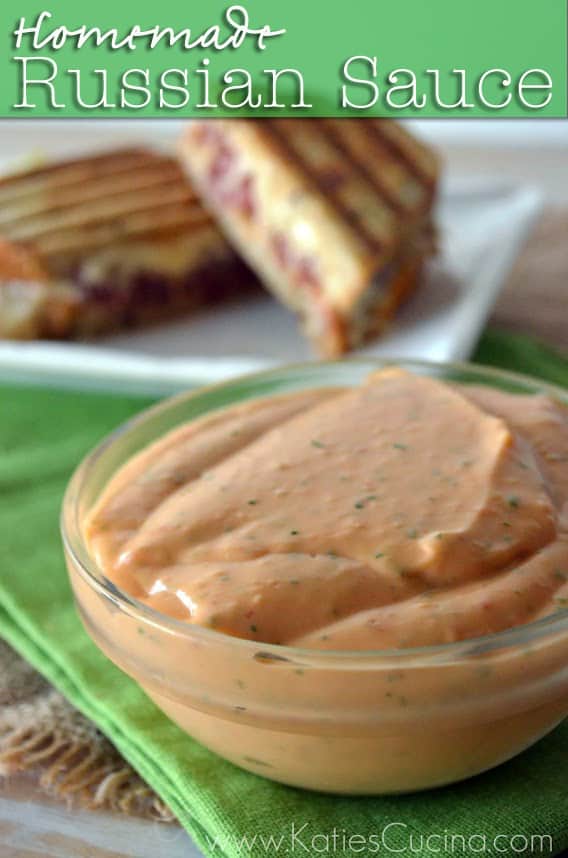 You can't have a Reuben sandwich without Homemade Russian Sauce. I'm sharing this recipe today in preparation for a few pretty amazing Irish themed recipes I'll be revealing next week. Think sandwiches (hint there is one in the background) and dips!
Many of you know that I have a phobia. Ok maybe its not a phobia more of a dislike, despise, hate, etc you get the point…. its ketchup. Yes. I know. This can be pretty odd and well down right wrong for a food blogger to not like ketchup, but its one food item on this planet I can't stand. It smells horrid (like dirty feet) and well it tastes god-awful. I was scared as a child and since then have written it off. I've asked co-workers to dispose of trash in a different location so I couldn't smell the lingering of ketchup fumes all day long. You get the point. I hate the stuff. And why would a rant about ketchup be relevant to Russian Sauce. Well because when I was researching how to make it I found that so many recipes called for ketchup to be used in the sauce. So I searched and searched until I found the perfect sauce recipe (that had no ketchup required). I stumbled across this recipe on the Food Network website and new this was the sauce.
Of course after I made it I really know it was the sauce! This Russian sauce could be used as a dressing as well. On a salad, smeared on a sandwich, layered in a dip… the options are endless. So if your like me and hate ketchup this is the Homemade Russian Sauce for you!
Adapted from Zingerman's Deli via Food Network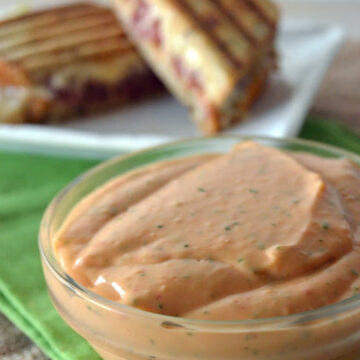 Ingredients
3/4

cups

mayonnaise

1/4

cup

plus 2 to 3 tbsp chili sauce

2

tbsp

sour cream

2

tsp

curly parsley

chopped

1

tbsp

+ 1 tsp minced Spanish onion

1

tbsp

+ 1 tsp minced dill pickle

1/2

tsp

fresh lemon juice

1/2

tsp

grated horseradish

1/4

tsp

Worcestershire sauce
Instructions
In a large food processor, combine the mayonnaise, chili sauce, sour cream, parsley, onion, pickle, lemon juice, horseradish and Worcestershire sauce. Pulse until well incorporated for at least 30 seconds.

Serve immediately or store in the refrigerator in an air-tight container for up to 5 days.