One Pot Chicken Pot Pie Pasta
Make dinner night more flavorful with this no-fail recipe for one pot chicken pot pie pasta. The family will be asking for seconds and thirds!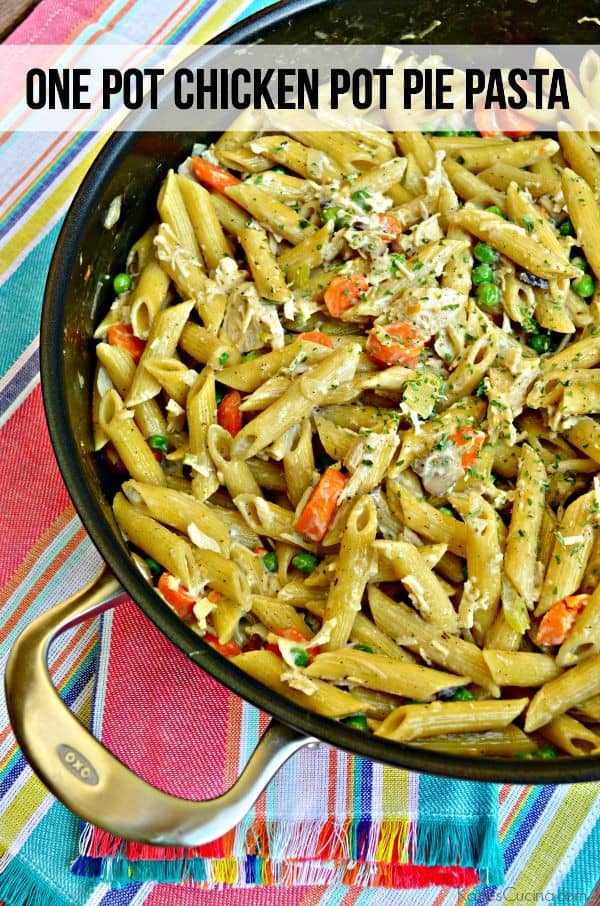 Busy weeknights still require a delicious meal. I find myself relying on one-pot meals more and more, especially, as my energy-filled toddler starts to get antsy towards dinnertime. Even though we are moved in, I'm still trying to slowly unpack the house, so one-pot meals have really become my new bff. We love chicken pot pie in my home, so I figured why not turn it into a one pot pasta meal. This one pot chicken pot pie pasta tastes just like the traditional chicken pot pie filling your use to, but pasta is substituted for the pie crust. If you want to really get crazy you could unroll a store bought piecrust and bake it in the oven. Then once the pasta and piecrust are done you could crumble some on top. But I'm going to be honest I've yet to try that method only because that takes extra time. However, the idea has crossed my mind a few times and I think it would be divine if you had it readily available!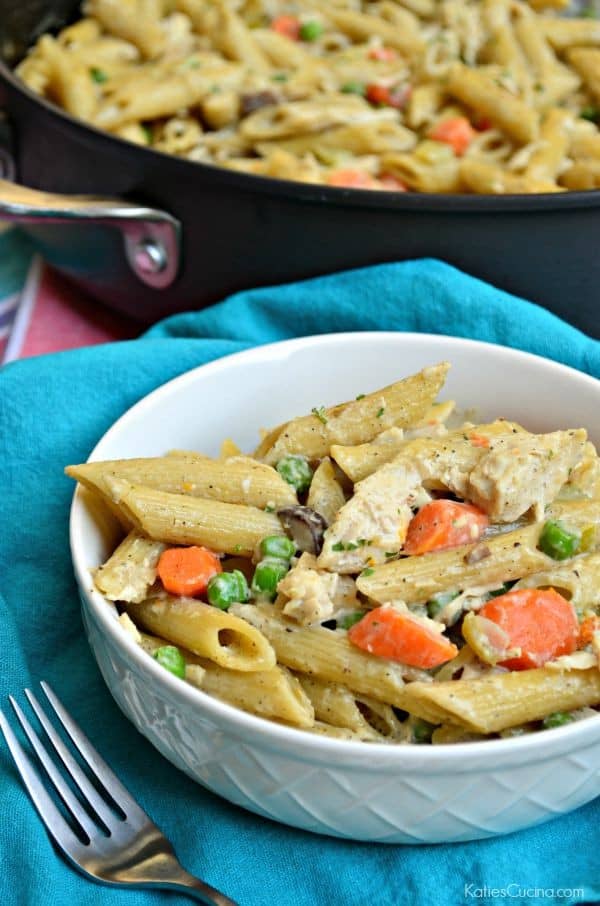 For this one pot chicken pot pie pasta I started by sweating the carrots, onions, and celery until cooked halfway through. I like to sweat the vegetables in chicken fat if I have it on hand. I typically get the excess chicken drippings when I buy a rotisserie chicken at the store. If I don't use it right then, I'll freeze it and use it for another meal. I like the chicken fat method because I feel; it adds a depth of flavor to the meal that you just can't achieve with traditional butter. But don't fret; if you don't have the chicken fat on hand you can use butter. Your dinner will still taste amazing. I promise.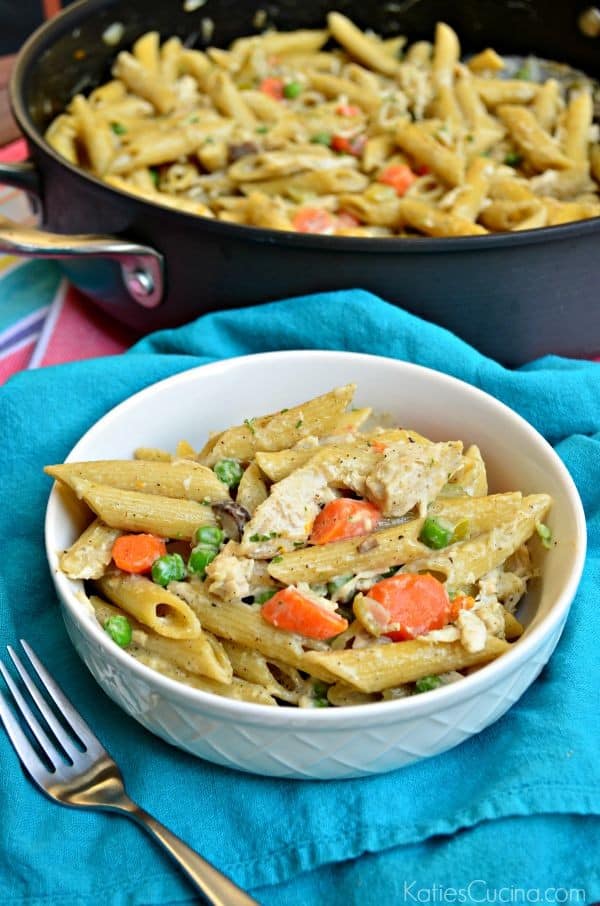 So let's get back to cooking. After your veggies start to cook, add in the spices, chopped mushrooms and pasta. Give everything one big stir then pour in the chicken stock, place the lid on the skillet and let it cook for 20 minutes. You'll want to add in the frozen green peas during the last 5 minutes of cooking. I like to add the peas in frozen. I'll also give the pot of pasta an occasional stir to avoid the pasta from sticking.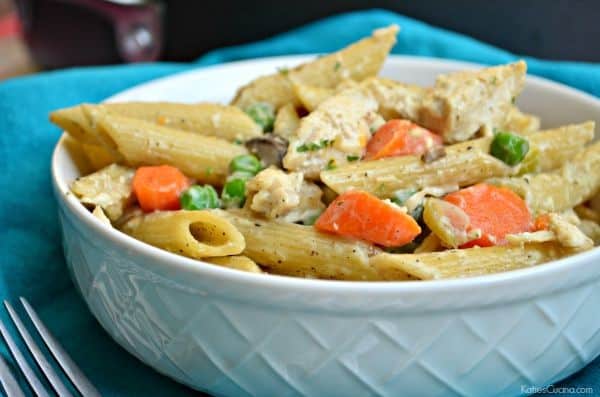 While the pasta cooks in a small bowl I'll mix together the heavy cream and corn starch and set that to the side. Then once the pasta is done cooking, I'll turn off the heat and add in the cooked chopped chicken. Then, I'll mix in the heavy cream mixture, and let it stand in the skillet for at least 5 minutes with the lid on. I've let it rest for up to a half an hour before and it was still delicious. The sauce will be thicker instead of a thinner consistency. So decide on the way you like your pasta and go from there. If you happen to reheat the one pot chicken pot pie pasta the next day pour a little heavy cream on top to keep the pasta moist and saucy! Trust me you'll be happy you took my advice. If you're looking for a new dinnertime favorite try my recipe for one pot chicken pot pie pasta.
Disclaimer: I'm a paid contributor of Food Fanatic. There are affiliate links in this post. As always all opinions are my own.
Warning
: Use of undefined constant rand - assumed 'rand' (this will throw an Error in a future version of PHP) in
/home/kjasiewicz21/webapps/katiescucina/wp-content/themes/katiescucina/single.php
on line
74
2 Responses to "One Pot Chicken Pot Pie Pasta"
Leave a Comment