Chicken Pot Pies in Puff Pastry Shells + $900 Giveaway
Looking for the ultimate comfort food for your next dinner party? Try this recipe for Chicken Pot Pies in Puff Pastry Shells. Make the filling ahead of time and then bake the puff pastry shells right before your guest arrive!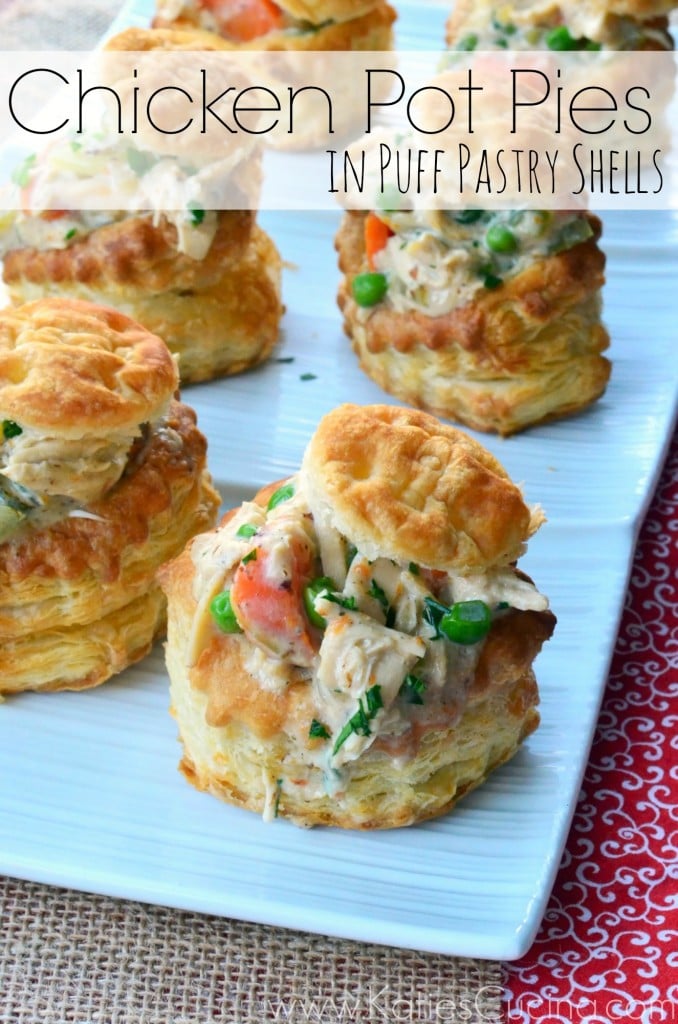 I'm so excited. Our third installment of our year-round seasonal progressive dinner party is here! Today we are talking all about comfort food. 14 of my favorite blog friends have joined forces to bring you one heck of a fall progressive dinner party. Well, ok… it's more like a virtual progressive dinner party. But who's judging here? Have you ever been to a progressive dinner party? The premise is that each home has a different course and you hop from home to home eating your way through multiple courses. Unfortunately we are all spread out throughout the United States and Canada and don't have the luxury of have a progressive dinner party in real life together. So instead, we have created a virtual one!
Today, I'm sharing Chicken Pot Pies in Puff Pastry Shells. Growing up we did not eat chicken pot pie in my home. My husband on the other hand ate it religiously. Think prepackaged calorie loaded pot pies (he would eat them for snacks)! So when we moved in together it was my goal to make a healthier chicken pot pie that wasn't loaded with as much fat and calories and of course all the preservatives and ingredients you can't pronounce.
Over the years I feel like I've perfected the chicken pot pie filling, and I've also grown to love this ultimate comfort food dish. I have learned that I enjoy it much more with puff pastry than with a thick hard pie crust. I also tend to go a little overboard on the veggies since let's face it–I'm a veggie kind of girl and since I'm the one making it I want to enjoy it, too! Most nights, I'll make the filling and just bake square of puff pastry to put on top of our bowls. But when I'm entertaining and want a "prettier" presentation I'll buy the puff pastry shells.
I think these are perfect for our fall progressive dinner party today and to be honest, any dinner party you might be hosting this fall. No one will ever expect to see chicken pot pie on the menu! Best of all you can make the filling ahead of time and reheat right before guest arrive. Then just pop the puff pastry shells into the oven and voila… your meal is ready! Less time in the kitchen, more time with your guest!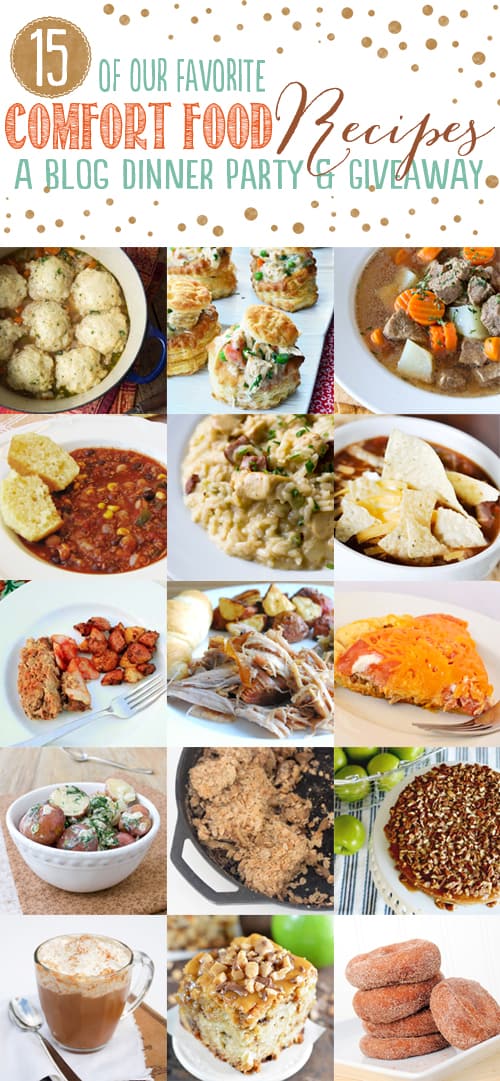 Now, let's take a look at all the other delicious comfort food recipes for todays virtual progressive dinner party.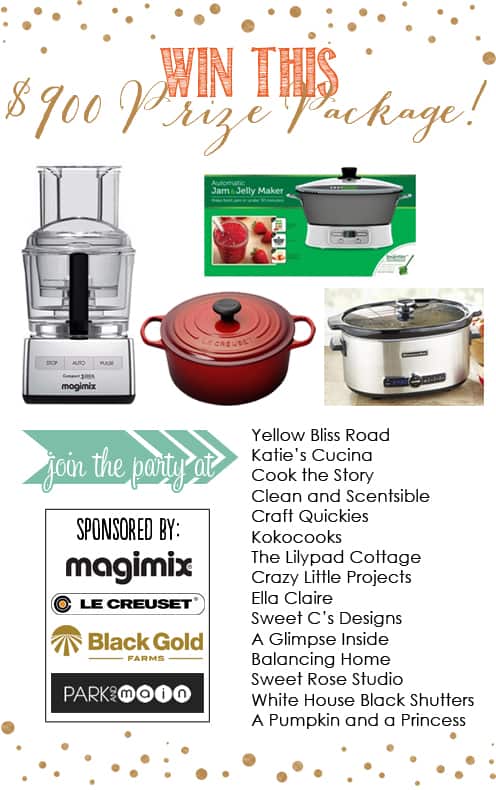 And now on to the amazing prizes! This progressive dinner party we have a $900 prize pack to give to one lucky reader!!!! The biggest to date!!! Let me tell you a little bit about the sponsors and products we are giving away today.
First up we have one of the most amazing food processors on the market. I can make this claim because I own it and love it! One lucky winner will received the Magimix by Robot-Coupe 3200XL 12-Cup Food Processor in Shiny Chrome. This exclusive new food processor package in a brand new shiny chrome finish only available at Chefs Catalog. When you order it at Chefs Catalog it also comes with a citrus press, perfect for extracting fresh juice from citrus fruits!
Next up, our friends at Black Gold Farms have provided one reader with a KitchenAid Stainless Steel 6-Quart Slow Cooker! Black Gold Farms is a third generation family farm with roots in North Dakota. They have grown to be a trusted and innovative leader in potato production as a grower of chipping potatoes for potato chip companies around the country and now fresh potatoes for you – including their new line of Red Potatoes featuring McCormick spices for roasting.
No comfort meal would be complete without a Le Creuset 5.5QT Round French Oven! I own one and cooked my chicken pot pie filling in it for todays progressive dinner party!
Lastly, we have the Ball Jam/Jelly Maker from Park & Main. I can see homemade apple jam in your future!
One winner will be chosen at random and must complete the mandatory entry to be eligible to win. Giveaway open to United States residents, 18 years of age or older. Please wait for the rafflecopter widget to load to fill out the giveaway form.
Disclaimer: I did not receive any of these products to participate. As always all opinions are my own.
Warning
: Use of undefined constant rand - assumed 'rand' (this will throw an Error in a future version of PHP) in
/home/kjasiewicz21/webapps/katiescucina/wp-content/themes/katiescucina/single.php
on line
74
37 Responses to "Chicken Pot Pies in Puff Pastry Shells + $900 Giveaway"
Trackbacks/Pingbacks

Leave a Comment