Discover the ultimate game-day or party snack with the mouthwatering combination of tender pulled pork and crispy nachos, topped with an array of delicious ingredients.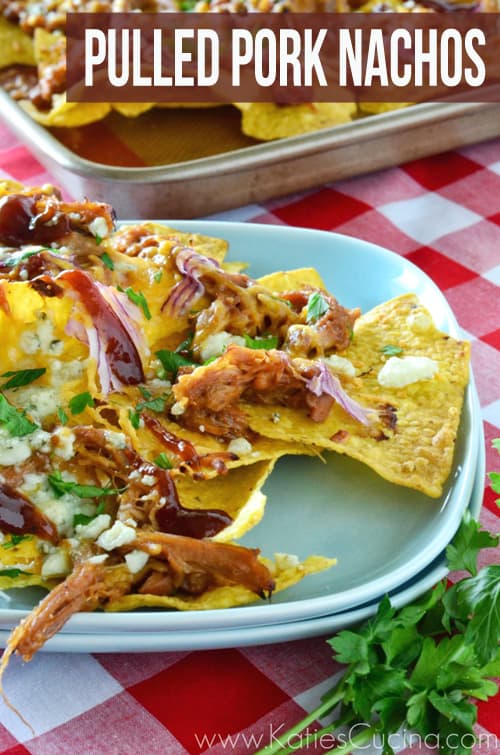 Elevate your snacking experience with a mouthwatering fusion of flavors that brings together the rich, smoky goodness of pulled pork and the delightful crunch of crispy tortilla chips. Pulled Pork Nachos are a delightful indulgence that's perfect for game nights, parties, or even a cozy night in. But what if you've got some leftover pulled pork from a previous feast? Don't let it go to waste! In this post, I'll not only share with you how to create the ultimate pulled pork nachos, but also provide you with creative ways to repurpose your leftover pulled pork, ensuring that no delicious shreds go unused.
There's something uniquely satisfying about digging into a plate of loaded nachos, where every chip carries a medley of flavors and textures that create a symphony of taste. Now, imagine that symphony taking on a new depth as you add tender, smoky pulled pork into the mix. The savory notes of the pork harmonize with the gooey cheese, fresh toppings, and the satisfying crunch of tortilla chips, delivering an experience that's sure to captivate your taste buds. Whether you're a die-hard fan of pulled pork or simply seeking the ultimate party snack, Pulled Pork Nachos are a culinary delight that promises to please even the most discerning palates.
Jump to:
Why this Recipe Works
Flavorful Fusion of Textures and Tastes: The marriage of tender pulled pork and crispy tortilla chips creates an irresistible contrast of textures that keeps every bite exciting. The pulled pork, slow-cooked to perfection and infused with smoky and savory flavors, complements the crunchiness of the chips. This contrast is further enhanced by the pungent bleu cheese, the freshness of toppings like diced red onion, baked beans, and fresh parsley, and the sweetness of barbecue sauce. Each component contributes to a symphony of tastes that come together harmoniously.
Customization and Versatility: The beauty of Pulled Pork Nachos lies in its versatility. The recipe serves as a canvas for personalization, allowing you to tailor the dish to your preferences and dietary needs. From choosing your favorite type of cheese and toppings to deciding whether to go with a classic barbecue-style pulled pork or a tangy citrus-infused version, the possibilities are endless. This adaptability makes the recipe suitable for a range of occasions, from casual gatherings to upscale appetizers.
Efficiency in Leftover Management: Beyond its initial indulgence, the recipe provides a brilliant solution for utilizing leftover pulled pork. Food waste is a concern for many, and Pulled Pork Nachos offer a delicious way to repurpose excess meat from previous meals. The flavorful pulled pork, which may have already taken hours to prepare, gets a new life in a completely different context. This not only prevents wastage but also elevates the dining experience by transforming leftovers into a fresh and exciting dish, saving time and resources.
Directions
Let's set the stage for some seriously delicious Pulled Pork Nachos. Start by preheating your oven to 350 degrees, getting it all warmed up for the flavor fiesta we're about to create.
While your oven works its magic, give your pulled pork and baked beans a quick whirl in the microwave for about a minute. This cozy little reunion helps them come together in harmony.
Now, with your oven preheating, lay down a foundation of your favorite tortilla chips on a spacious baking pan. Picture this as your canvas, waiting to be adorned with layers of flavor. Generously scatter the pulled pork and baked beans mixture over the chips, making sure every bite gets a taste of that smoky goodness.
The grand cheese affair begins! Sprinkle a generous handful of shredded cheddar cheese and a touch of bleu cheese over the nacho masterpiece. And here comes the zing—the thinly sliced red onions add that perfect punch to the symphony of flavors.
Time to let the oven work its magic again. Slide the pan into the preheated wonder at 350 degrees, and let it mingle for about 5 minutes. Then, let's give it a grand finale—a high broil for just 1 minute. Keep an eagle eye on this part; we're aiming for a golden brown and bubbly cheese spectacle.
Out emerges your creation, ready to receive its final touches. A drizzle of your favorite barbecue sauce adds that saucy finesse. To bring a touch of elegance, sprinkle some minced fresh parsley—it's like a culinary confetti for your nachos.
Now, remember, the best things in life are meant to be savored. Serve these pulled pork nachos immediately, embracing the warmth and the melange of flavors. It's an experience to be relished, a medley of textures and tastes that deserves your full attention.
These nachos are the ultimate way to use up all your leftovers in the refrigerator. Plus you'll have a super simple meal in no time and everyone will not even recognize that this was dinner just the other day! At least that is what happened in my home. This happened to be a tasty lunch for us earlier this summer after I had made my slow cooker pulled pork recipe. I just started grabbing all sorts of leftover and concocted the most delicious tasting nachos ever.
FAQs
Can I use a different type of meat?
Yes, while pulled pork is the star of this recipe, you can get creative with your protein choices. Try shredded chicken, beef, or even a vegetarian version with black beans or grilled veggies.
How do I prevent soggy nachos?
To prevent soggy nachos, make sure your pulled pork isn't too saucy or wet. Additionally, avoid overcrowding the nachos with toppings, as excessive moisture can lead to sogginess.
Can I make this recipe ahead of time?
While assembling the nachos is best done just before serving to maintain their crispiness, you can prepare the pulled pork and other toppings ahead of time to streamline the process.
What sides go well with pulled pork nachos?
Classic side options include a fresh salsa, pico de gallo, or a simple green salad with a zesty vinaigrette to complement the richness of the nachos.
Can I use store-bought pulled pork?
Certainly! If time is a concern, using high-quality store-bought pulled pork is a convenient option that doesn't compromise on taste.
Recipe Tips & Tricks
Perfect Pulled Pork – The foundation of incredible pulled pork nachos lies in the quality of the pulled pork itself. Slow-cook the pork shoulder with a flavorful rub or marinade until it's tender and easily shreds apart. Opt for a smoky, tangy, or sweet flavor profile, depending on your preference.
Layering is Key – To ensure that every chip is adorned with a generous amount of toppings, practice the art of layering. Start with a layer of crispy tortilla chips, followed by pulled pork, shredded cheese (mix of cheddar, Monterey Jack, or even a touch of pepper jack for some heat), and any additional ingredients you desire.
Customization – Part of the fun of nachos is the endless customization. Consider adding black beans if you don't have baked beans, jalapeños for added spice, diced tomatoes, cilantro instead of parsley, and even a sprinkle of crumbled queso fresco instead of tangy bleu cheese to personalize your nacho masterpiece.
Baking – Pop your layered nachos into the oven (or even on the grill) just until the cheese is melted and bubbly. Keep a close eye to prevent burning—no one wants a crispy catastrophe.
Easy Appetizers
Looking for more delicious appetizers? Here are a few of my favorites to add to your entertaining spread.
Whether you eat these for dinner, an afternoon snack or maybe even lunch–whatever the meal it be your going to love using up your leftovers to make the most delicious tasting pulled pork nachos, ever. I can guarantee that!
If you make this pulled pork nachos recipe, I would be honored and love for you to take the time to leave a ⭐ star rating and comment! I spend hours developing and testing these recipes, and always love to hear feedback and user experience!
Don't forget to FOLLOW ME on Facebook, Pinterest, and Instagram, and subscribe to my email list!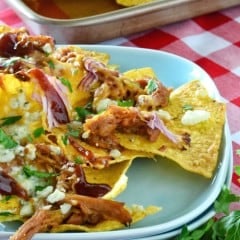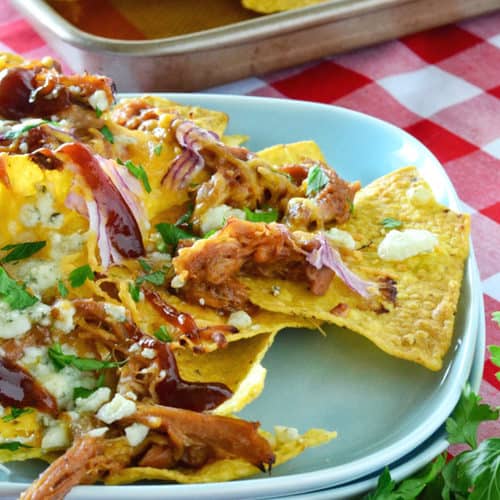 Pulled Pork Nachos
Discover the ultimate game-day or party snack with the mouthwatering combination of tender pulled pork and crispy nachos, topped with an array of delicious ingredients.
Print
Pin
Rate
Equipment
1 Oven

1 Microwave

1 Baking Sheet
Ingredients
½

cup

baked beans

leftover

1

cup

pulled pork

leftover

½

Tortilla chips

1

cup

shredded cheddar

¼

cup

bleu cheese

1

tablespoon

red onion

thinly sliced

2

tablespoons

barbecue sauce

1

teaspoon

Fresh Parsley

for garnish
Instructions
Preheat the oven to 350 degrees.

Reheat the pulled pork and baked beans together for about 1 minute in the microwave.

While oven preheats, lay chips out on a large baking pan. Then generously sprinkle the chips with the leftover pulled pork/baked beans mixture.

Sprinkle on the shredded cheddar cheese and bleu cheese. Top with thinly sliced red onions.

Bake for 5 minutes at 350 degrees, followed by a high broil for 1 minute until cheese is golden brown and bubbly. Remove from the oven, drizzle barbecue sauce on top and garnish with minced fresh parsley. Serve immediately.
Notes
Leftovers – This is the easiest way to use up leftover baked beans and pulled pork.
Cheese – If you don't like bleu cheese you can use shredded cheddar instead.
*Nutritional calculations are estimated and may vary depending on serving size and ingredients.
Nutrition
Serving:
1
g
|
Calories:
306
kcal
|
Carbohydrates:
22
g
|
Protein:
18
g
|
Fat:
17
g
|
Saturated Fat:
9
g
|
Polyunsaturated Fat:
1
g
|
Monounsaturated Fat:
3
g
|
Cholesterol:
62
mg
|
Sodium:
857
mg
|
Potassium:
166
mg
|
Fiber:
2
g
|
Sugar:
12
g
|
Vitamin A:
458
IU
|
Vitamin C:
2
mg
|
Calcium:
295
mg
|
Iron:
1
mg