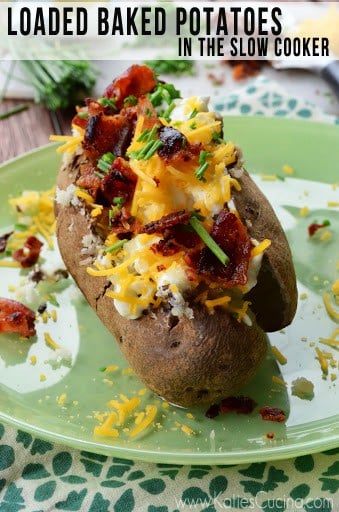 Get ready for a life changing recipe. Yes, I said it… some might wonder why "baking" potatoes in the slow cooker would be life changing, but it is. If you are a potato lover you will rejoice by learning how easy it is to bake potatoes. No need to turn on the oven and let it heat up your home for hours. Or zap the tatters in the microwave. Just wash the baking potatoes and place them in your slow cooker.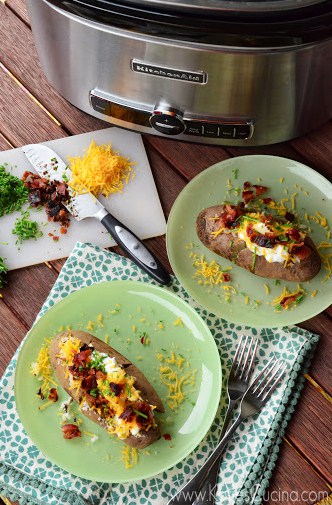 It is honestly that easy. I've spent the past month trying different methods of baking potatoes in the slow cooker. I've tried wrapping them in foil and letting them cook. Verdict: the potatoes on the bottom were brown. I've tried coating them in butter and then sprinkling salt on the baking potatoes and then covering them in foil. Verdict: the potatoes were a little soggy because the salt brought out more water. I've tried cooking them as is "naked". Verdict: I liked those the best. So that is what I'm teaching you how to do today. I used my KitchenAid 6 quart Slow Cooker. It can fit up to 12 Russet Burbank Potatoes or 6 of the XL baking potatoes. It's a big slow cooker that is perfect for entertaining.
I don't know about you, but there is nothing more that I love then a loaded baked potato. Bring on the toppings; butter, sour cream, shredded cheddar, freshly cooked diced bacon, and chives from the garden. That is a complete baked potato in my mind.
I also like warming up some broccoli and cheese and making a loaded broccoli and cheese potato. The sky is honestly the limit when it comes to baked potato toppings.
These are also great to serve grilled skirt steak or my favorite Sheet Pan Chicken and Squash Dinner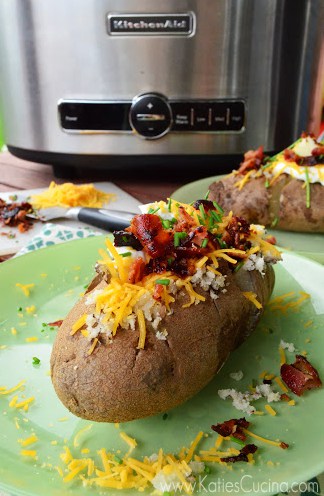 Are you entertaining or need to bring something to a pot luck? Make a baked potato bar and you'll wow everyone. I can not wait to make these baked potatoes in the slow cooker this holiday season when I entertain all my family for Thanksgiving. I have multiple to feed people–not just on Thanksgiving day and I totally plan to do a baked potato bar one of the days. I know everyone will love it.
Plus, with any leftover baked potatoes I can turn them into breakfast potatoes the next day!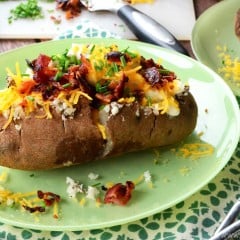 Ingredients
12

Russet Burbank Potatoes or 4 XL Baking Potatoes

Slow Cooker
Toppings for Baked Potatoes:
Butter

Sour Cream

Shredded Cheddar Cheese

Bacon

Chives
Instructions
Rinse the baking potatoes really well and then prick with a fork a few times.

Place the baking potatoes in the slow cooker (DO NOT ADD WATER) and cook on low for 8-10 hours.

Remove cooked baked potatoes from the slow cooker and prick with a fork to open. Fluff the inside of the potato with the tines of the fork, then place the toppings, one by one in the potato. Serve immediately and enjoy.
Notes
Making a baked potato bar for family and friends? Bring the baked potatoes cooked and placed all the toppings next to the slow cooker!
*If you cook the baked potatoes for more than 10 hours the insides will begin to brown a little.
Disclaimer: There are affiliate links in this post. That means I could make money if you purchase from my links.