This is a sponsored post in partnership with World Market. I was compensated in the form of a gift card to create today's recipe. As always all opinions are my own.
This recipe for One Pot Pasta with Pork Ragù Sauce will make you feel like you've stepped into Italy, bite-by-bite.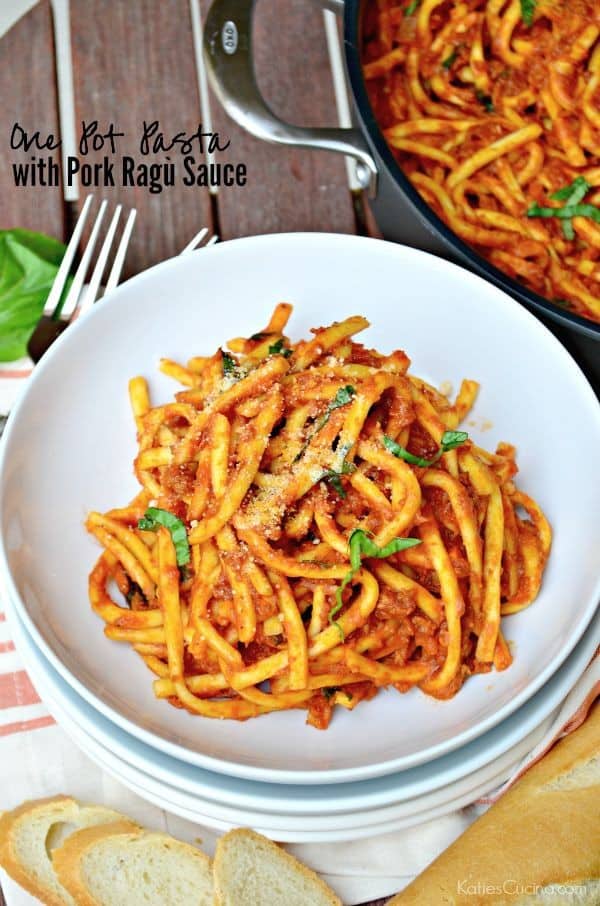 Get ready to take your tastebuds on a culinary adventure. Seriously, after I took my first bite of this One Pot Pasta with Pork Ragù Sauce, I felt like I was right back on the streets of Italy. Sitting outside at a small trattoria, and imersing myself in the Italian food and culture. Actually enjoying my food and sitting for hours sipping on house wine served from a tap and enjoying course after course. My favorite course was typically the primo (the pasta course).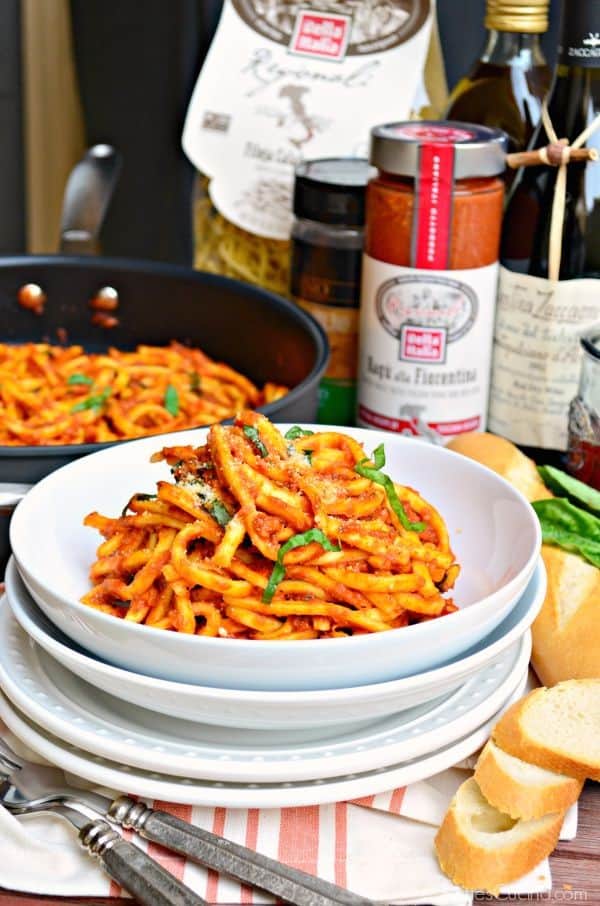 When my friends at World Market asked me to create an Italian dinner recipe I knew I wanted to dig deep and make a dish that felt like I was eating in Italy again. I ran to World Market to pick up a wide-variety of imported foods from Italy. I love Bella Italia products because it's as true to the source as you can get–the best of the best imported Italian products.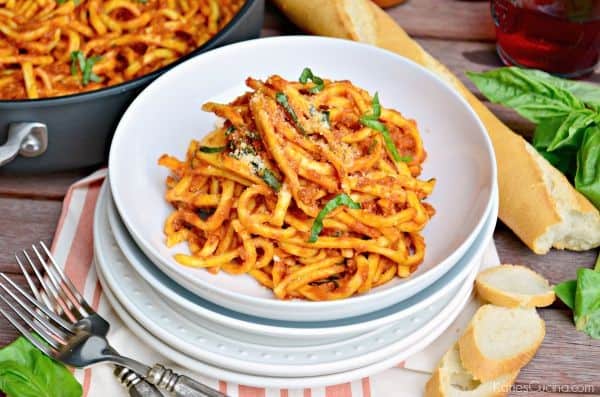 Sure, you can boil the pasta and cook the sauce separately; however, the key to making the One Pot Pasta with Pork Ragù Sauce so flavorful is cooking the pasta in the sauce. I know… mind blown. Crazy talk. But honestly, low and slow is the way to go. This recipe will take around 40 minutes, but I promises you'll thank me later.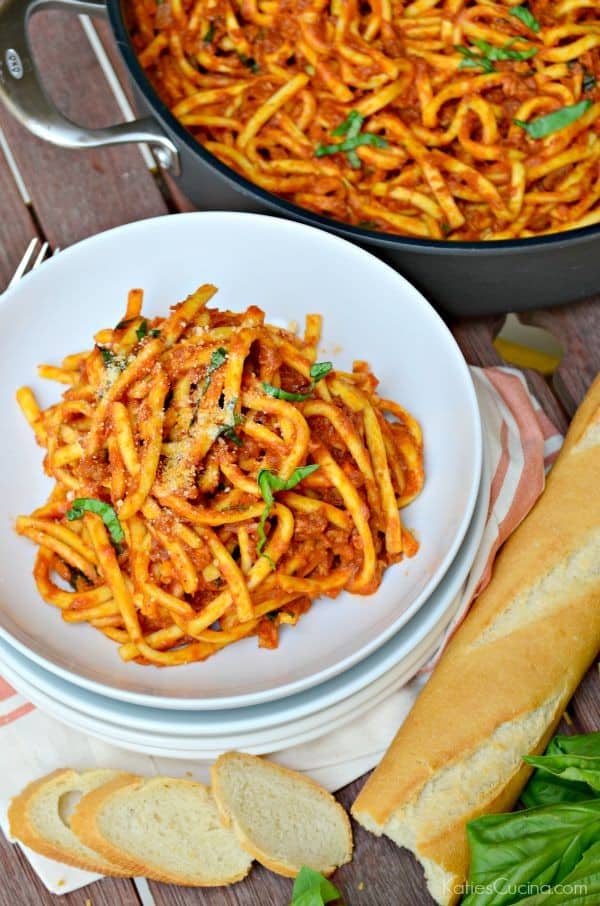 I sautéed a little onion, carrot, and garlic together in a little bit of olive oil. Then I toasted the pasta and added in a jar of Bella Italia sauce. Then, I filled the jar full of water, swirled it around making sure all the sauce was mixed into the water and poured it in the pot. I gave a good stir and placed the lid on the skillet. I let it cook for 10 minutes. Gave it a stir, then let it cook another 10 minutes. After that I added in 1 more jar of sauce because my husband loves his pasta really saucy. Then it was time to let it simmer for 5 additional minutes. I added in Italian seasoning and fresh basil. Mixed it well and divided the pasta among plates evenly. I love lots of grated parmesan cheese on top so I topped mine with lots of cheese.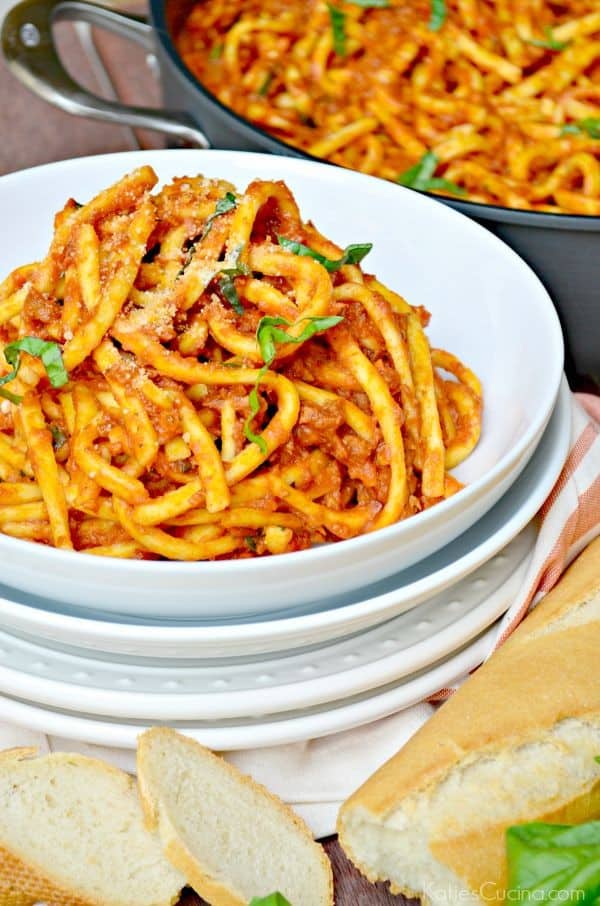 I served the pasta al dente, the true Italian way to serve pasta and my family loved it, but if you like your pasta cooked a little more you can cook it a little longer. Note: if you have leftovers and reheat the next day the pasta will cook thoroughly through. Giving it a totally different taste and of course adding even more flavor to the noodles! Pasta always taste better the next day, in my opinion. And just think you made this amazing home-cooked pasta recipe in one pot so very little clean-up! If your family loves pasta I would invite you to go shopping at World Market and make my recipe for One Pot Pasta with Pork Ragù Sauce.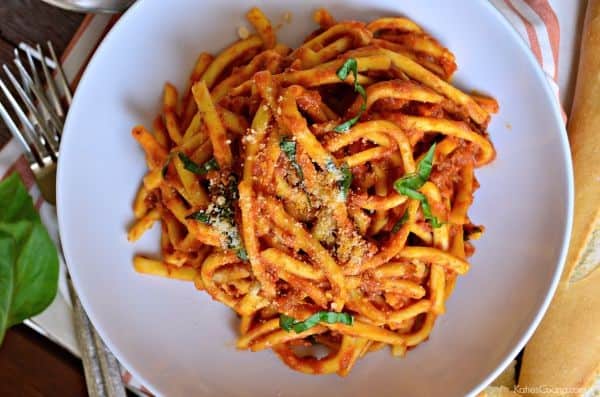 Product featured in today's recipe found exclusively at World Market: Bella Italia Italian Pork and Red Wine Ragu Sauce, Bella Italia Fileja Calabresi Pasta, Bella Italia Extra Virgin Olive Oil, World Market Italian Seasoning, Armanino 3 Cheese Blend Grated Cheese, Zaccagnini Montepulciano d'Abruzzo, white pasta bowl, Nantucket Salad Plates, Yellow and Rust Striped Kitchen Towel, Twig Dinner Fork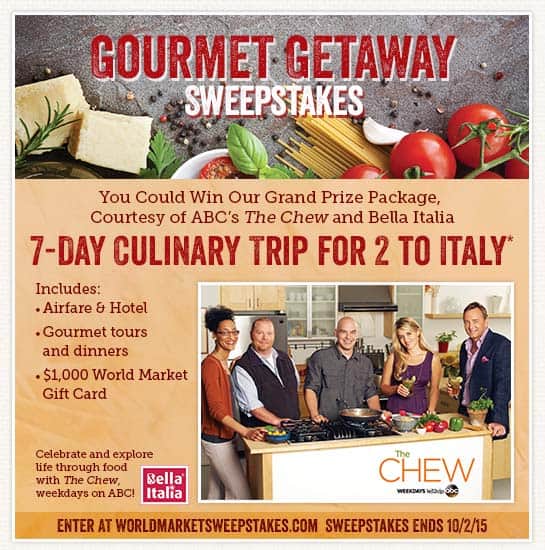 My friends at World Market have partnered with The Chew (I love that show and watch it daily). They have the Gourmet Getaway Sweepstakes running until October 2, 2015. Make sure you enter to win! The grand prize is a trip for 2 to Italy!
Grand prize: Culinary trip for 2 to Italy visiting Sorrento, Milan, and Capri!
Airfare & Accommodations
Italian cooking class + City and market excursions + Chefs Tasting dinners
$1,000 World Market gift card
Celebrating and exploring life through food, "The Chew," is an innovative and groundbreaking daytime series co-hosted by a dynamic group of engaging, fun, relatable experts in food, lifestyle, and entertaining. Produced by Gordon Elliott's Chew Productions for the ABC Television Network, "The Chew" serves up everything food — from cooking and home entertaining to food trends, restaurants, holidays and more — all aimed at making life better, fuller and more fun. Featuring celebrity chefs Mario Batali, Michael Symon, and Carla Hall, entertaining expert Clinton Kelly and health and wellness enthusiast Daphne Oz, "The Chew" is a leap forward into a delicious new kind of lifestyle series.
For more amazing Italian-inspired recipes please check out these recipes:
Italian Style Rice Peas from La Fuji Mama
Wild Mushroom Risotto from Pink Heels Pink Truck
Cacio e Pepe from Mom Favorites
Creamy Pumpkin Pasta from The Happier Homemaker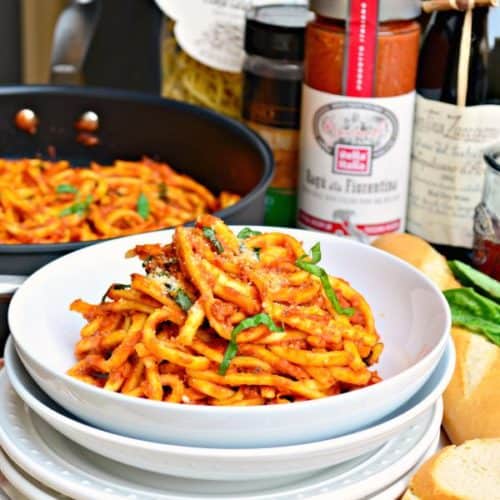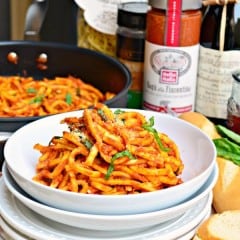 One Pot Pasta with Pork Ragù Sauce
This recipe for One Pot Pasta with Pork Ragù Sauce will make you feel like you've stepped into Italy, bite-by-bite.
Print
Pin
Rate
Ingredients
1

tablespoon

Bella Italia Extra Virgin Olive Oil

1/2

white onion

diced

1

carrot

peeled and small dice

2

cloves

of garlic

minced

1

lb.

Bella Italia Fileja Calabresi

scialatelli pasta

2 19.4

oz.

Jars Bella Italia ragù alla Fiorentia

19

oz.

water

1/4

teaspoon

World Market Italian Seasoning

1

teaspoon

granulated sugar

6

Fresh basil leaves

chiffonade

Armanino 3 cheese blend grated cheese to taste
Instructions
In a large skillet on medium heat, add one tablespoon olive oil. Then add in the onion and carrots. Cook with lid on for 5 minutes, stirring periodically. Then add in the garlic and cook for 1 minute. Stir together then add in the pasta cook for 1 minute, stirring and coating pasta with vegetables and oil. Then add in 1 jar of the ragù and then fill the jar full of water. Add it to the skillet and then mix well. Place a lid on the skillet cook for 10 minutes. Do not uncover or stir.

Once the 10 minutes is up, stir and place the lid on the skillet and cook for an additional 10 minutes (still on medium heat). Mix well, then add in 1 more jar of ragù. Mix well and cook for 10 additional minutes on medium-low heat, occasionally mixing. Once the pasta is cooked to al dente. Remove from the heat sprinkle a teaspoon of granulated sugar, mix well, and then add in the fresh basil. Divide evenly among plates and top with grated cheese.