Summer Vegetable Risotto with Grilled Chicken
This is a sponsored post on behalf of Le Creuset. As always all opinions are my own.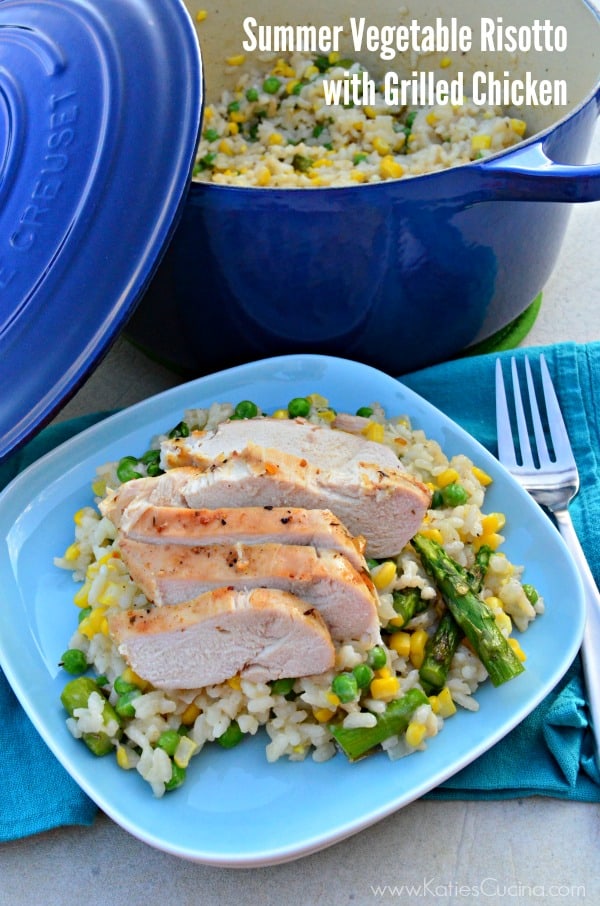 I love risotto. However, I don't like to stand at the stove top for 30+ minutes stirring. I mean don't get me wrong, it's a great arm work out and if your smart you can do some squats while standing at the stove top for a total body workout. Because after all you should burn off some calories before you indulge in the creamy rice blend. Now that I have a baby, risotto isn't the ideal meal to make. So I've reinvented the way I make risotto and thus I'm able to bring you this recipe for Summer Vegetable Risotto with Grilled Chicken.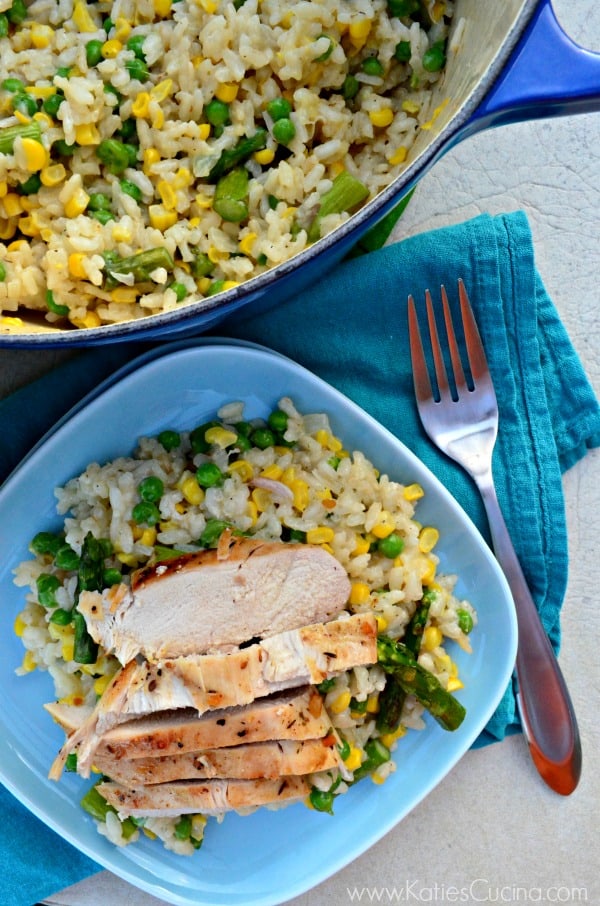 Last Month, I received a large box at my door which contained a Le Creuset Round French Oven in Lapis. The box is part of the "Pass it on Potluck" campaign. Basically the french oven travels from home to home. You get to cook with it for a week or two and then pass it on to the next lucky guest! Le Creuset and Williams-Sonoma will be documenting the French Oven's journey throughout the country and will be sharing your posts on their blogs, as well as Twitter and Facebook pages.
Earlier this year, Williams-Sonoma released a new signature color of Le Creuset in Lapis. Lapis is a deep blue color inspired by the semi-precious stone lapis lazuli which has been prized since antiquity for its intense color. This new color is available in a broad range of Signature cast iron and stoneware items online at Williams-Sonoma.com as well and can be found at one of Williams-Sonoma's 256 locations across the country.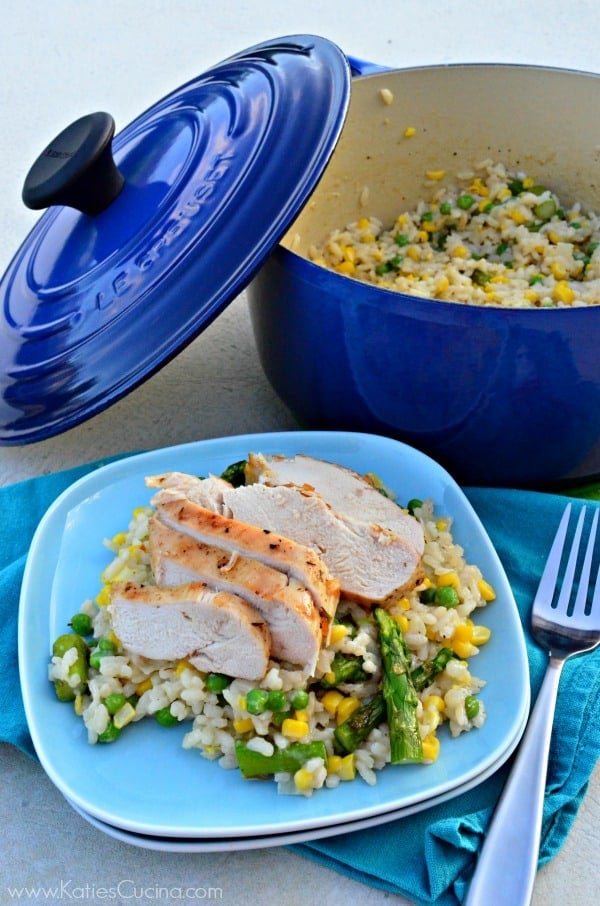 So you might be wondering what does risotto and the Le Creuset Lapis French Oven have in common? It's the perfect pot to make risotto in. The day I got the box I made this recipe and then made it a week later again because I love the creamy comfort food that risotto evokes for me. I toasted the arbor rice and placed all my liquids inside the French Oven allowing it to bubble and cook itself with minimal stirring! I can have risotto after all for dinner.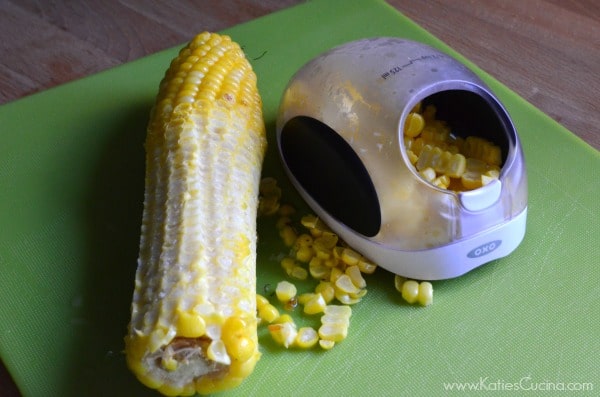 I used up some of the summer veggies I had in my refrigerator and put two plump chicken breast on the grill. We love to grill chicken and veggies on the grill just about every night! I'm all for minimal dishes to clean in the kitchen. This recipe for Summer Vegetable Risotto with Grilled Chicken requires just one dish! It's a one-pot dish with grilling! I grilled the corn and the asparagus and then added them to the risotto. I allowed the corn to cool first so I could remove the corn off the cob with my corn stripper. Easiest way to remove the corn kernels without a huge mess! Dinner was ready in 30-ish minutes. If you don't count all the times I had to stop and take care of the baby! Dinner in our home is definitely a team effort now. I'm enjoying my husband in the kitchen. Although the rolls have reversed now and I find myself doing dishes every night so my hubby can enjoy a little extra time with the baby, and well, mommy can spend a few minutes to herself. Even if it is scrubbing dishes!
Interested in trying out the Le Creuset Round French Oven in Lapis? Sign up at: Pass it on Potluck
Katie Original Recipe
Summer Vegetable Risotto with Grilled Chicken
Ingredients
1 tbsp unsalted butter
1 small onion (about 1/4 cup)
1 tbsp garlic, minced
1 cup Arborio rice
1/2 cup white wine
1 cup chicken broth
1/2 tsp tuscan seasoning
1 cup milk
1 cup frozen green peas
1/2 cup parmesan cheese
10 asparagus spears
2 ears of corn
2 chicken breast
1 tbsp McCormick Herb & Garlic Seasoning
Olive Oil
Directions
In the Le Creuset Lapis French Oven, melt one tablespoon of butter over medium-high heat. Add onions and sauté for 5 minutes until translucent (mix occasionally). Then add the minced garlic and the arborio rice. Toast rice for 2 minutes, stirring it around the pot to prevent it from burning. Then add in the white wine to deglaze the french oven. Mix around to remove any brown-bits from the bottom of the French Oven.
Add one cup chicken broth and cook for 10 minutes on medium-low heat with the lid on. Give the rice a stir once or twice. Once most of the broth has been absorbed add the tuscan seasoning, whole milk and frozen green peas. Mix well and cover for another 5-10 minutes until the milk is absorbed.
While risotto is simmering on the stove top, fire-up the grill. Pour olive oil over chicken breast and massage in McCormick Herb & Garlic Seasoning. Grill on medium-low heat for 15 minutes until the internal temperature reaches 165 degrees Fahrenheit. Flip once to ensure even cooking. While chicken is cooking add the asparagus spears and fresh ears of corn to the grill. Cook for 10 minutes on medium heat while the chicken is cooking. Turn the asparagus and corn frequently.
Remove the asparagus and corn from the grill, place it to the side to let it cool. Cut the asparagus in 1-inch pieces and remove the corn from the cob.
Add the parmesan cheese to the risotto and gently fold in the corn kernels and asparagus. Mix well and then plate. Slice the chicken breast and place on top of the risotto. Enjoy!
https://www.katiescucina.com/summer-vegetable-risotto-grilled-chicken/
This recipe is brought to you by Katie Jasiewicz of Katies Cucina
Warning
: Use of undefined constant rand - assumed 'rand' (this will throw an Error in a future version of PHP) in
/home/kjasiewicz21/webapps/katiescucina/wp-content/themes/katiescucina/single.php
on line
74
Leave a Comment