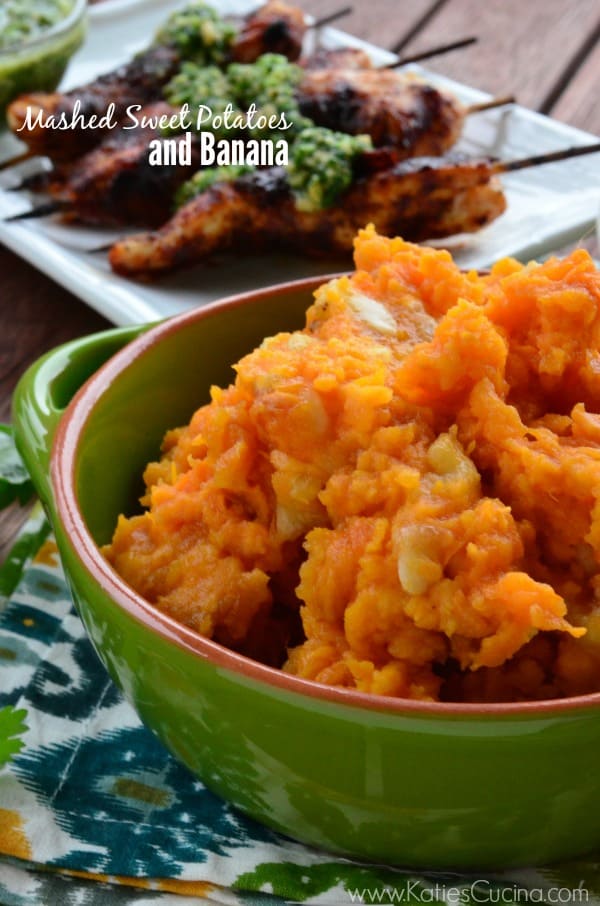 I eat bananas on an almost daily basis. Never in a million years would I think to mash it into a side dish. Let alone with sweet potatoes. But after reading a magazine last month I saw the idea and I felt the urge to try it. I love sweet potatoes. My husband on the other hand, not a huge fan but he will eat sweet potatoes or starve. I started a new fitness program called Baby Boot Camp at the beginning of last month. I've been working out 3 days a week with fellow mom's of babies ages 3 months (mine is currently the youngest) to 5 years of age. It's a boot camp style workout where you can bring your baby. No one judges at the screaming, crying, cheeri-o throwing tots that are with us, because we are all experiencing this thing called motherhood, together. Since I've started working out I've really been trying to eat a little healthier. Don't get me wrong, I'm still indulging (because you know I do need a few hundred extra calories a day since I'm breastfeeding) but for the most part I'm trying to make even more health conscious decisions. That's the good thing about always eating relatively well–eating healthier is not that difficult. And can I just tell you that I've dropped 7 lbs since starting boot camp and I've had to ditch my large stretchy maternity shorts for actual non-maternity shorts. I never knew how much I missed being sore until I started working out again. To say I'm addicted to it is an understatement. I've never been one too really want to work out but since joining Baby Boot Camp I'm in love with working out.
Each week, our fearless instructor, Kirstin, gives our group an ingredient of the week. It's a challenge to add it into your daily meals. A few weeks ago it was sweet potato and since I love sweet potato I was up for the challenge. I wanted to do something different other than just baking the sweet potato which is what I normally do. Of course, my recipe for twice baked candied sweet potatoes was not going to fly. Ironically, this week our ingredient of the week is bananas! So I felt it was fitting to post this recipe this week rather than wait a few more weeks. Sweet potatoes are loaded in fiber and are naturally high in vitamin A. Bananas are a heart-healthy food and a good source of potassium, dietary fiber, and vitamins B6 and C. (Banana Facts courtesy of Chiquita)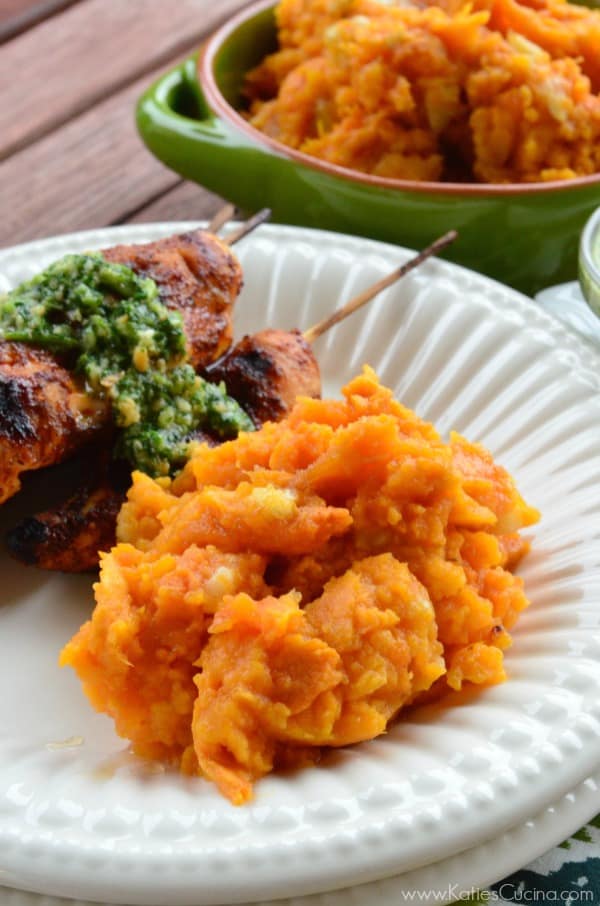 This side dish comes together in a flash. I used the microwavable sweet potato bags to expedite the process. I let them cool down once they were done cooking, cut them length-wise and scooped the insides into a bowl. Then I took one really ripe banana and mashed that into the sweet potatoes using a fork because I couldn't find and didn't have the time to look for my potato masher. I also added in fresh orange juice and a little brown sugar for good measure! This made 3 portions and was the perfect side dish to a tasty grilled chicken recipe I'll be sharing in the coming weeks. I did not tell my husband that I mashed a banana in with the sweet potatoes I wanted to see if he would notice. He noticed alright and at first wasn't sure if he liked it or not but after a few bites he said he loved it and actually prefers a side dish of sweet potatoes thanks to this recipe for Mashed Sweet Potatoes and Banana.
Katie Original Recipe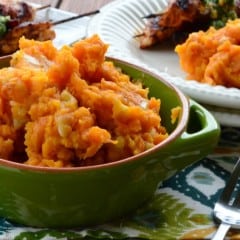 Mashed Sweet Potatoes and Banana
I eat bananas on an almost daily basis. Never in a million years would I think to mash it into a side dish. Let alone with sweet potatoes.
Print
Pin
Rate
Ingredients
1.5

lb.

petit sweet potatoes

about 4-5

1

ripe banana

peeled and sliced

2

tablespoon

brown sugar

¼

cup

orange juice

salt and pepper to taste
Instructions
Microwave sweet potatoes according to package. Let rest to cool 5 minutes, then slice lengthwise. Scoop out the insides of the sweet potatoes (discarding the skins) and place in a large bowl.

Place sliced ripe bananas in the bowl, add the brown sugar, and the orange juice. Using a fork, mash until desired consistency. Serve immediately.
Notes
If you cannot find or do not like to use microwavable sweet potato bags you can peel and dice 1.5lb of sweet potatoes. Boil in a pot of water with salt for 15 minutes until fork tender.
*Like it spicy? Add 1-2 tablespoons of minced jalapeño to the sweet potato mash!
Nutrition
Calories:
270
kcal
|
Carbohydrates:
65
g
|
Protein:
4
g
|
Fat:
0.3
g
|
Saturated Fat:
0.1
g
|
Polyunsaturated Fat:
0.1
g
|
Monounsaturated Fat:
0.02
g
|
Sodium:
128
mg
|
Potassium:
957
mg
|
Fiber:
8
g
|
Sugar:
24
g
|
Vitamin A:
32242
IU
|
Vitamin C:
19
mg
|
Calcium:
79
mg
|
Iron:
2
mg