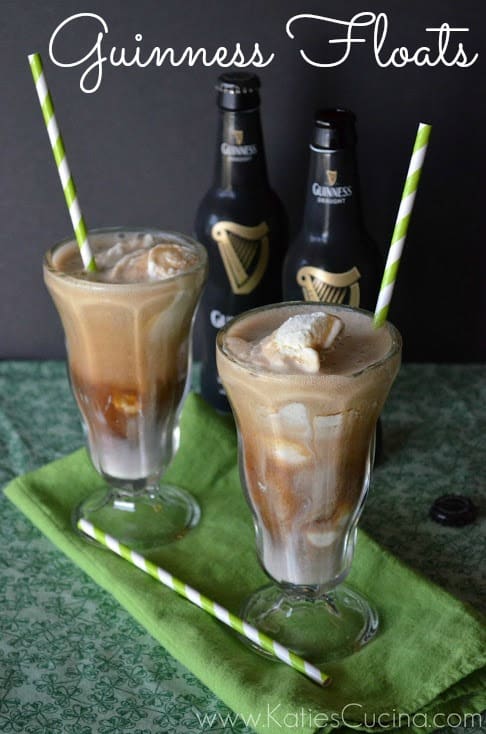 With St. Patrick's Day right around the corner I'm going to share with you a few of my favorite Irish recipes this week. While reading the current issue of Everyday with Rachael Ray I saw she made Guinness Milkshakes, and that's when a light bulb popped on! Why don't I make Guinness Floats? Similar concept just in float form.
Yesterday, when I shared my Slow Cooker Corned Beef and Cabbage recipe I shared that my husband home-brews. This past Sunday he had his "brew crew" over to brew for the day. Which gave me a great excuse to try out these Guinness Floats on the guys. It also gave me a great excuse to cook like a mad woman. I made them breakfast, lunch, and a few snacks plus dessert.
This my friends was dessert (and an easy adult dessert at that)! Simply layer a few scoops of homemade french vanilla ice cream in tall sundae/float glasses.
Slowly pour the Guinness into the glass. I started off with about a half bottle of beer per glass; however, the guys add more beer as they drank it! I told you this was a simple adult beverage/dessert in a glass. If you are entertaining this Sunday you could serve these Guinness Floats in tiny shot glasses with a tiny scoop of ice cream and a shot of Guinness!
I even served the Guinness Floats with the striped straws thinking the guys would be annoyed by them, but they all used them… slurping up each and every sip of Guinness and vanilla ice cream concoction. I would imagine these would taste just as good with chocolate ice cream too!
Katie's Cucina Original Recipe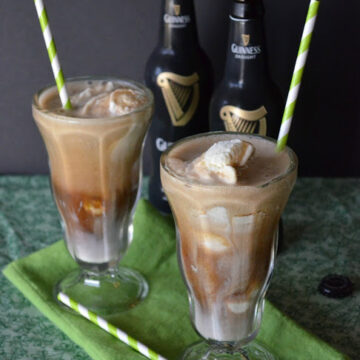 Ingredients
6

scoops Vanilla Ice Cream

2

bottles of Guinness Beer
Instructions
Add three scoops of vanilla ice cream to a tall (ice cream float) glass. Then slowly pour Guinness beer over top. You will only use 1 bottle of beer during the official pouring of the two floats. As your guest begin to drink the floats continue to add more Guinness beer to the glass.

Serve immediately and with a straw!