Looking for Irish recipes to celebrate St. Patrick's Day? I have 50 Irish Recipes for St. Patrick's Day to transport your taste-buds to Ireland!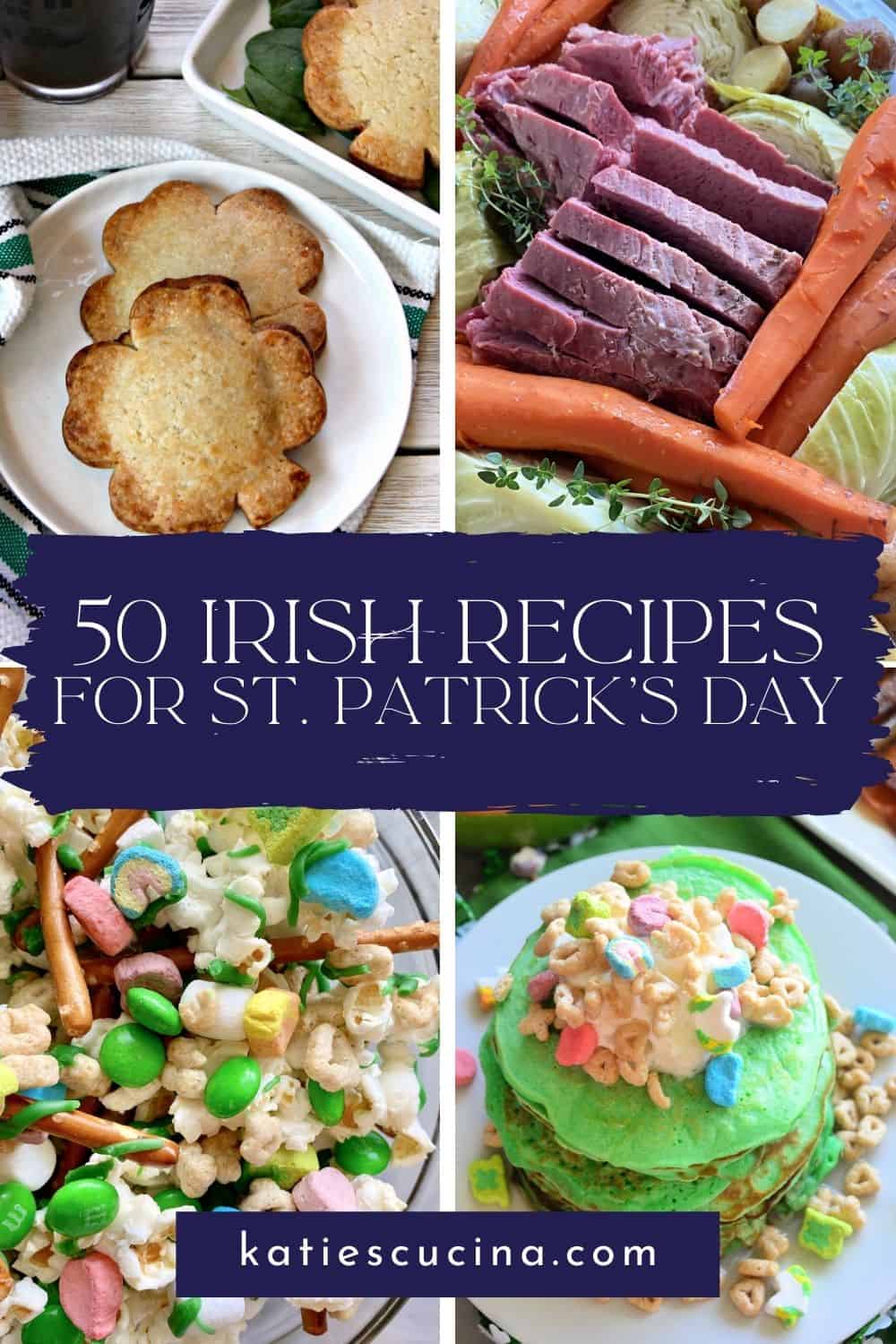 St. Patrick's Day is right around the corner. That's why I have 50 Irish Recipes for St. Patrick's Day both sweet and savory! Over the years this recipe round-up has become a Pinterest favorite. I have broken up the recipes by breakfast, appetizers, drinks, side dishes, main dishes and desserts. You are sure to find something you can indulge on come St. Patrick's day (or any other day of the year that you are craving Irish food)!
I'm not Irish, but I love the food. Whenever its cold out I crave a piping hot shepherds pie. Ironically, I feel like we eat the most Irish food when we go up north. Somehow we always manage to find ourselves at an Irish pub. That is what has inspired a lot of my Irish recipes here on Katie's Cucina.
Irish Breakfast Recipes
If you want to kick off your St. Patrick's Day with breakfast, you will love my Irish Breakfast Recipes. My kids love my St. Patrick's Day Lucky Charms Pancakes and my husband loves my Sweet Potato Corned Beef Hash recipe.
Irish Appetizers
If you want to start out your dinner with a little nibble. I suggest you try my Sweet Potato Irish Fries or my Baked Reuben Dip. Two of my absolute favorite Irish appetizer recipes.
Irish Drink Recipes
If you want to wet your whistle try one of these Irish Drink Recipes that are sure to put you in the mood to try and find that pot o'gold!
Irish Side Dish Recipes
Warm up to a big bowl of baked potato soup. Make my yeast-free beer bread and serve my Brussels Sprouts with Corned Beef the next time you have leftover corned beef!
Irish Main Dish Recipes
There is more to Irish food then just corned beef and cabbage. I mean I do have a stovetop, slow cooker, and Instant Pot version. However, I also love my Shepherd's Pie recipe and my Reuben Panini is a great way to use up leftovers!
Irish Desserts
After a hearty comforting meal you can't forget dessert. If you have wee lad's give my Lucky Charms Cereal Treats a try or whip up a batch of my Lucky Charms Snack Mix recipe.
Now, that you have read through 50 Irish Recipes for St. Patrick's Day. It's time to figure out what recipe you want to make first to fulfill your Irish food cravings!
If you make any of these recipes, I would be honored and love for you to take the time to leave a comment! I spend hours putting together these recipes round-ups and, and always love to hear feedback and user experience!
Don't forget to FOLLOW ME on Facebook, Pinterest, and Instagram, and subscribe to my email list!