Who loves bread? Who loves Cheddar Cheese Bread? Me!
Who doesn't like to work with yeast… me–well, the old me! In January, Julie from The Little Kitchen and I took a bread making class at Le Cordon Bleu Culinary School. It really helped ease my fear of yeast. We spent an entire day making breads of all kind. A few weeks prior to my bread making class I made this yeast-free bread Cheddar Cheese Bread.
A few years back, I made beer bread which consist of a few simple ingredients with no need for yeast. Mainly self-rising flour and a bottle beer among a few other items that make the bread delicious. I've found that most "breads" that do not require yeast are dense. Yet most of the times they are still moist but a dense thick bread. In my opinion perfect to pare with a hearty stew or Sunday roast. Or if you're not a fan of Irish Soda Bread like me, pair this with your St. Patrick's Day meal. The cheddar cheese compliments it well. So for all of you scared of yeast… this is the perfect recipe for you!
Adapted from Everyday with Rachael Ray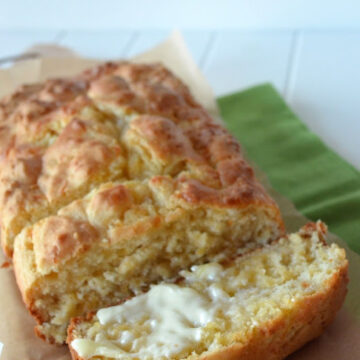 Ingredients
3 1/2

cups

unbleached all-purpous flour

1-1/2

tsp

salt

1

tsp

baking soda

3

tbsp

butter

softened

3/4

cups

sharp cheddar

coarsely shredded

1 3/4

cups

buttermilk
Instructions
Preheat the oven to 400 degrees . Using cooking spray, grease one 7x9 loaf pan.

In a stand mixer, place all the dry ingredients in the bowl (flour, salt and baking soda). Mix with a paddle attachment for 20 seconds on speed 2 until incorporated. Add two tablespoons butter into the flour mixture. Mix on speed 2 for 30 seconds to 1 minute until well incorporated (it should look like sand). Add the cheese; and mix until just coated. Then add the buttermilk and mix until the bread starts to come together about 30 seconds to 1 minute. Pour into the loaf pan; smooth the top.

Cut a shallow cross across the top of the loaf. Thinly slice the remaining 1 tablespoon of butter. Place the butter in the cuts in each loaf. Bake until the top is browned and a toothpick inserted in the center comes out clean, 25 to 30 minutes (depending on your oven). Let the breaad cool in the pan for at least 30 minutes. Then using a plate invert the bread to remove it from the pan. Slice the bread and serve.