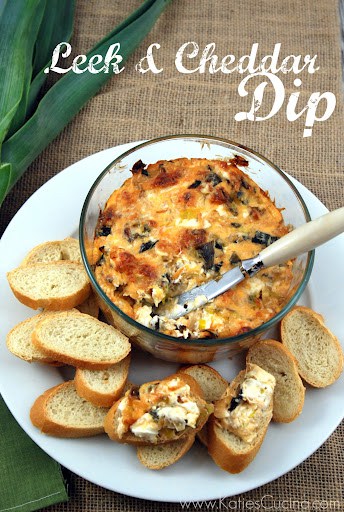 When I think of food in the month of March I think of all foods Irish. Even though the traditional Irish holiday, St. Patrick's Day is in the middle of the month I feel a need to eat Irish food all month long.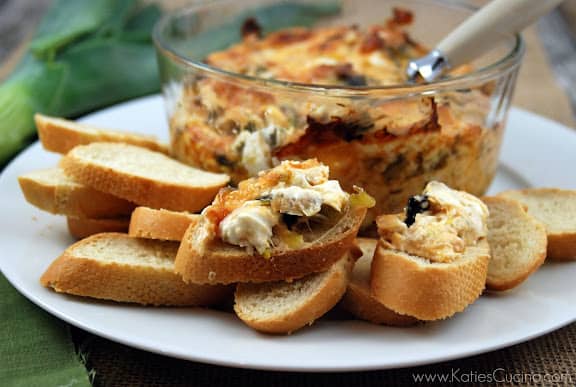 When I saw this dip in the March issue of Everyday Food I knew I wanted to give it a try. I just so happened to have all of the ingredients on hand and I had family coming over for dinner that evening. I typically like to stay within the type of food we are eating for dinner. That night we were having American BBQ and this recipe didn't really scream American BBQ to me–it screamed more Irish to me. I ultimately knew that my family would love this creamy–decadent dip.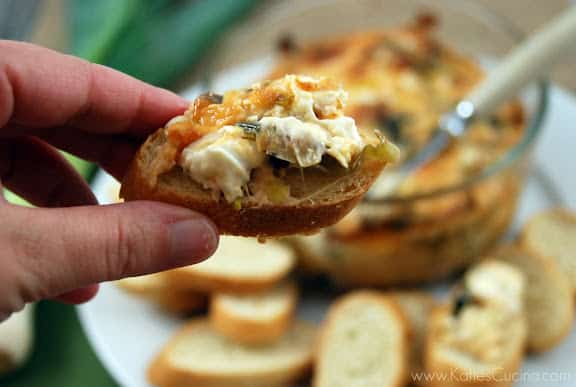 I was definitely correct. They absolutely loved this recipe. I loved the deep stout flavor that you could taste in each and every bite. This dip is creamy to the tenth degree. It's insanely creamy and rich. I think that everyone only ate a few pieces of bread and dip (not sure if its because they didn't want to spoil their appetizer or because this is truly a rich dish.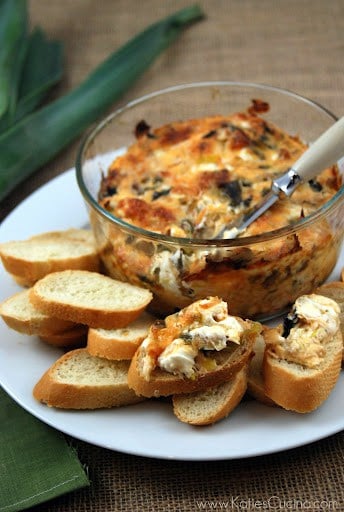 Adapted from: EveryDay Food, March 2012
Author:
Ingredients
1 tablespoon unsalted butter
1 leek, sliced into thin half-moons
8oz cream cheese
2 cups shredded cheddar
¼ cup mayonnaise
3 tablespoon stout
coarse salt to taste
*baguette for serving
Instructions
Preheat oven to 400 degrees.
In a large skillet, melt one tablespoon of unsalted butter over medium. Add one leek to the skillet and sprinkle with coarse salt. Cook until tender and slightly caramelized, about 12 minutes.
Transfer leek mixture to a large bowl and add 2 cups of shredded cheddar, 8 oz package of cream cheese, ¼ cup of mayonnaise, and 3 tablespoons of stout (such as Guinness–I used an Oatmeal Stout). Mix until smooth and well incorporated.
Transfer to a 1-quart baking dish and bake until bubbling and browned on top, 18 to 20 minutes. Serve on slices of baguette.