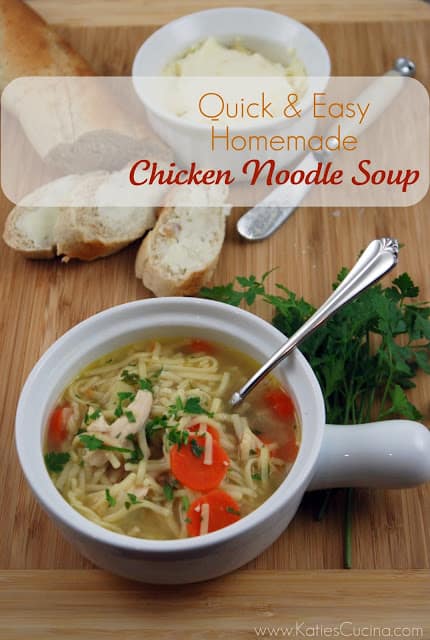 I don't know about you but when I'm sick all I want is a big bowl of homemade chicken noodle soup. A few weeks ago I wasn't feeling all that great and craved just this. Luckily I had leftover rotisserie chicken in the fridge and knew I could whip up a flavorful homemade chicken soup in less than a half hour!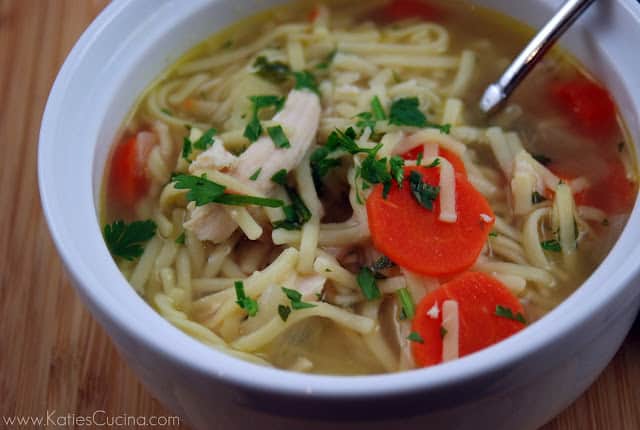 This soup has the same flavors you achieve when simmering for hours on end–yet just for a fraction of the time. The key is slicing the carrots thin (to cook them quickly) and using all the leftover "gelatin-like" juices from the rotisserie pan in your soup for flavoring. Combining the leftover chicken juice with a box chicken stock will intensify the chicken flavor and trick your mind in thinking that the soup has been simmering for hours.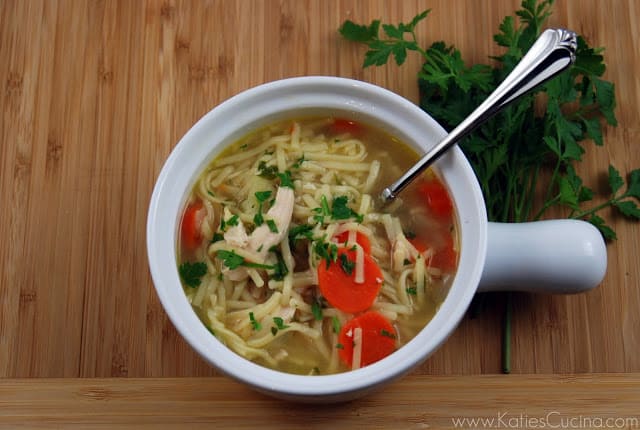 I love to whip up a quick chicken soup when I'm not feeling good. I hope you'll remember this recipe the next time you aren't feeling good and treat your self to a tasty bowl of homemade chicken soup.
Source: Katie Original
| | | |
| --- | --- | --- |
| Homemade Chicken Noodle Soup | | |
Author:
Instructions
In a large stock pot on high add ¼ cup chicken stock, carrots, onions, and celery. Place a lid on top of the pot and let the vegetables sweat out for 5 minutes. Stir vegetables and add chicken juices (will most likely resemble gelatin). Stir and mix well. *You will instantly start smelling the slow cooked flavors. Reduce the heat down to medium and let the vegetables cook for 5 more minutes *add additional broth if needed. You do not want your vegetables to burn more or less boil.
Add chicken stock, and let the soup boil for 10 minutes. While soup is boiling begin pulling the chicken off the bone.
Add chicken and half of the parsley. Mix well and then add thin egg noodles. Cook for an additional 10 minutes or until noodles are done. Serve immediately and accompany with Roasted Garlic Butter and whole wheat bread.
Accompany with Roasted Garlic Butter and whole wheat bread.