Stuffed Cabbage – a classic Polish delicacy that brings together the flavors of cabbage, ground beef, and rice in a harmonious blend. It's a dish that has been passed down through generations.
For those who don't know me in real life, I'm a quarter Polish, and my husband is practically 100% Polish. Growing up, we both had the privilege of savoring authentic Polish cuisine, with one dish in particular taking center stage besides pierogies, it would be Stuffed Cabbage. Although the culinary journey of our respective mothers differed, the love for Stuffed Cabbage united our families. While my mother's recipe leans towards the sweet side, thanks to the inclusion of brown sugar, my mother-in-law's version is a delightful salty twist. It's incredible how the same dish can transform with a few unique touches.
The tradition of making Stuffed Cabbage was passed down from our ancestors, and one day, we hope to pass it on to our children. Despite having dabbled in making it a few times, I can't claim to have mastered the art of rolling Stuffed Cabbage. It's a meticulous process, and in this post, we'll take you on a journey through this culinary tradition. This is why I often like to make my stuffed cabbage soup— no need for rolling the cabbage. Chop it and throw it in the soup pot.
The Stuffed Cabbage journey is a culinary adventure where the humble cabbage leaf meets hearty ground beef and fragrant rice, resulting in a dish that is not only scrumptious but also deeply rooted in Polish culture. Rolling these parcels with precision and care is an art, and getting the cabbage leaves to the right consistency without tearing them can be a challenging feat.
The time and effort invested are indeed worth it, as the end result is a plate of comfort and tradition. While it may seem like a daunting task, I encourage everyone, whether of Polish descent or not, to give Stuffed Cabbage a try at least once in their life. That is, of course, unless you have an aversion to cabbage or ground beef – we won't force you to try it if that's the case!
Why This Recipe Works
Cultural Connection: Making Stuffed Cabbage is not just about preparing a meal; it's about connecting with your heritage and the traditions of a specific culture. By trying your hand at this classic Polish dish, you get a taste of the culinary history that has been passed down through generations. It's a wonderful way to celebrate your cultural roots or explore new ones.
Flavorful and Versatile: Stuffed Cabbage is a flavorful and versatile dish that can be adapted to suit various tastes and dietary preferences. Whether you prefer the sweet and savory profile of a brown sugar-infused version or a saltier twist, you have the freedom to customize the filling and seasonings. You can even experiment with vegetarian or alternative fillings to cater to different diets.
Make Ahead and Freeze: Stuffed Cabbage is an excellent make-ahead dish. Once you've invested the time in rolling those delicious parcels, you can freeze them for future meals. This means you can enjoy the fruits of your labor without repeating the laborious rolling process every time. It's a convenient option for busy days when you crave a homemade, comforting meal with minimal effort.
FAQs
What makes Stuffed Cabbage a Polish delicacy?
Stuffed Cabbage is considered a Polish delicacy because it has been a part of Polish cuisine for generations. The combination of cabbage, ground beef, and rice, along with the unique sweet or salty twists, reflects the diversity of Polish cooking.
How do I achieve the right consistency for the cabbage leaves when rolling Stuffed Cabbage?
Achieving the ideal consistency for cabbage leaves involves blanching them in boiling water until they are pliable but not overcooked. This ensures they can be rolled without tearing.
What are the key ingredients for making Stuffed Cabbage?
The primary ingredients include cabbage leaves, ground beef, rice, and a flavorful tomato sauce. Additional seasonings may vary based on family recipes.
Tips and Tricks
Here are a few of my expert tips and tricks I've found helpful when making stuffed cabbage.
Prepare the cabbage leaves carefully: To make the rolling process smoother, remove the tough center stem from each cabbage leaf and blanch them until they are pliable but not mushy.
Get creative with fillings: While traditional Stuffed Cabbage includes ground beef and rice, you can experiment with vegetarian or alternative fillings like lentils or mushrooms for a unique twist.
Simmer to perfection: Allow your Stuffed Cabbage to simmer in a flavorful tomato sauce for a longer time, as this helps the flavors meld and the dish to reach its full potential.
Freeze for future feasts: Stuffed Cabbage freezes well, so you can make a large batch and enjoy it on various occasions without the need for extensive preparation each time
Polish Recipes
Craving more Polish food? Check out these other recipes.
If you make this stuffed cabbage recipe, I would be honored and love for you to take the time to leave a ⭐ star rating and comment! I spend hours developing and testing these recipes, and always love to hear feedback and user experience!
Don't forget to FOLLOW ME on Facebook, Pinterest, and Instagram, and subscribe to my email list!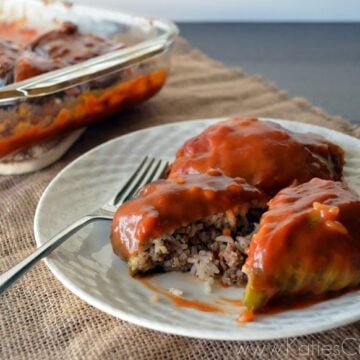 Stuffed Cabbage
Stuffed Cabbage – a classic Polish delicacy that brings together the flavors of cabbage, ground beef, and rice in a harmonious blend. It's a dish that has been passed down through generations.
Print
Pin
Rate
Equipment
Large Stock Pot

Skillet

Measuring Cups

Measuring Spoons

Baking Dish

Stove Top

Oven
Ingredients
1

small cabbage

12 leaves

1

pound

lean ground beef

2

cups

white rice

leftover is fine or fresh

½

white onion

diced

¼

teaspoon

paprika

salt & pepper

to taste

2

cans

Tomato Sauce

⅓

cup

brown sugar

¼

cup

half and half
Instructions
Fill a large stock pot with water, and cook on high until water is boiling.

In a large skillet place ground beef and onions in skillet, and cook on medium-high. Breaking up ground beef as it cooks, and mixing around until all the beef is cooked. Drain well and set aside.

While ground beef is cooking either cook white rice according to package or heat-up leftover rice and set aside.

Add white rice to the beef/onion mixture. Season with salt and pepper to taste and ¼ teaspoon paprika.

Clean the cabbage well and cut the core off. Slowly peal each layer off the cabbage until you have 12 leaves (I like to peal two extra's in case a few break or become over cooked in the pot)! Place a few leaves in the boiling water and cook for 2-3 minutes or until leaves are soft, but not falling apart. Gently remove the leaves, and repeat this step until ALL the leaves have been cooked. Rinse all the leaves under cold water and set aside.

In a sauce pan add both cans of tomato sauce and brown sugar mix well and heat for a few minutes on medium heat. Once the mixture is hot add the half and half and stir until well incorporated. Turn the heat off and let it sit with a covered lid.

In a 9×12 pan spray with cooking spray and then ladle a few spoonfuls of sauce making sure that the bottom is well covered.

On a clean work surface place a cabbage leave open and add 2 tablespoons of meat/rice mixture. Roll like a burrito and place seam side down. Repeat until all the cabbage leaves have been stuffed. If you have enough mixture for the remaining two extra and there is enough room in your pan make them (you won't regret it)!

Once all the stuffed cabbage is rolled and in your pan pour the remainder of your sauce over the top of the cabbage until all the rolls have been covered with sauce. Place tin foil on top of the dish and bake for 40 minutes. Let it cool for a few minutes outside the oven. Plate and ladle on more sauce before serving. Enjoy!
Notes
Prepare the cabbage leaves carefully: To make the rolling process smoother, remove the tough center stem from each cabbage leaf and blanch them until they are pliable but not mushy.

Get creative with fillings: While traditional Stuffed Cabbage includes ground beef and rice, you can experiment with vegetarian or alternative fillings like lentils or mushrooms for a unique twist.

Simmer to perfection: Allow your Stuffed Cabbage to simmer in a flavorful tomato sauce for a longer time, as this helps the flavors meld and the dish to reach its full potential.

Freeze for future feasts: Stuffed Cabbage freezes well, so you can make a large batch and enjoy it on various occasions without the need for extensive preparation each time
Nutrition
Serving:
1
g
|
Calories:
487
kcal
|
Carbohydrates:
84
g
|
Protein:
24
g
|
Fat:
6
g
|
Saturated Fat:
3
g
|
Polyunsaturated Fat:
1
g
|
Monounsaturated Fat:
2
g
|
Trans Fat:
0.3
g
|
Cholesterol:
50
mg
|
Sodium:
454
mg
|
Potassium:
1130
mg
|
Fiber:
5
g
|
Sugar:
25
g
|
Vitamin A:
578
IU
|
Vitamin C:
57
mg
|
Calcium:
108
mg
|
Iron:
4
mg