Polish Feast: Roasted Pork, Potato Dumplings, Sauerkraut, and Red Cabbage
Thank you Cost Plus World Market for sponsoring today's recipe. As always, all opinions are my own.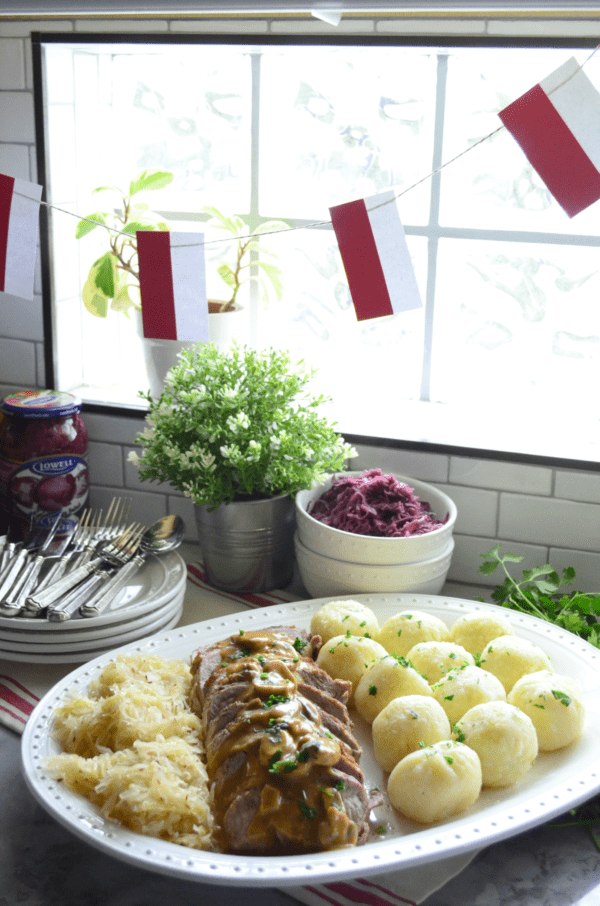 I'm so excited to share with you my families recipe for Roasted Pork, Potato Dumplings, Sauerkraut, and Red Cabbage. It's truly our Polish feast and you can find us enjoying this meal at least once a month (either at my home or my inlaws home). My friends at Cost Plus World Market reached out to me to share a recipe inspired by the big soccer game currently going on. Since the United States didn't qualify for the World Cup in Russia this year my family has been rooting for Poland. I'm a quarter Polish and my husband is 95% Polish. So it was a natural fit to cheer them on. Sadly, as we all know they are currently out, but that's okay. I'm excited to share some delicious Polish food.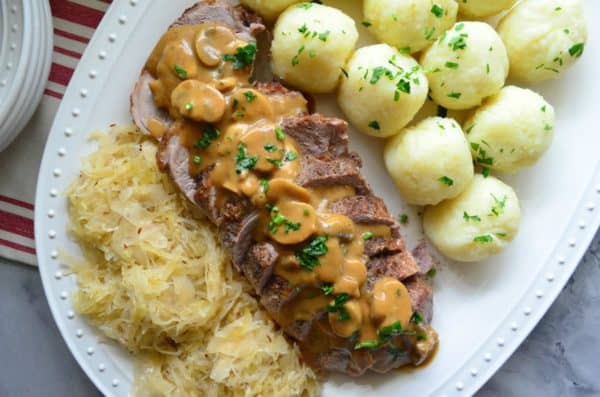 ((Like I mentioned above))  Most people may not know — I'm actually Polish. I'm part Polish, Italian (hence the "cucina" in the title of my blog) and German. I grew up eating a lot of Italian food and believe it or not, Polish food. So when I found out my hubby was Polish and they ate similar food that I grew up eating I was even more in love. I try to make a wide-variety of foods for my kids so that they continue to keep the Polish food tradition alive. It's normal to see kielbasa and pierogies on the menu or even stuffed cabbage. A staple in my inlaws home and ours too is a pork roast. It's a typical Sunday dinner in our home. When we want to make it Polish we add in potato dumplings and sauerkraut. Because I'm crazy and insist on veggies at every meal I typically serve green beans and a salad if I have a large group over. Mushroom gravy on pork roast is a must in our home.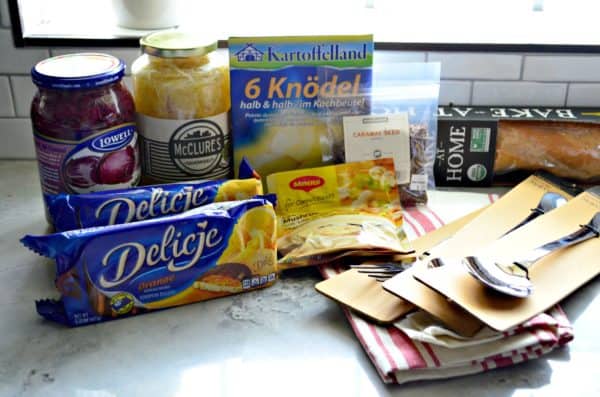 Luckily, Cost Plus World Market makes it easy to put together a feast like this that doesn't take all day to cook. They have all the Entertaining Essentials. I like to go the semi-homemade route. The Sunday I made this feast I had my in-laws over. I'll be honest–I was a little worried my semi-homemade route was going to turn them off but my mother in-law was intrigued. Instead of making my potato dumplings from scratch I used the Kartoffelland Potato Dumplings.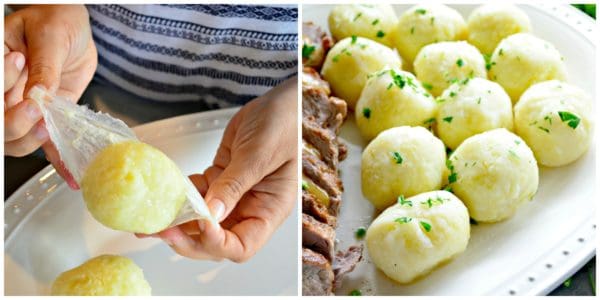 She loved how much easier they were to make and they tasted very similar to our homemade version. Of course–homemade can never be beat out but this is a great alternative if your craving potato dumplings and don't want to do the work!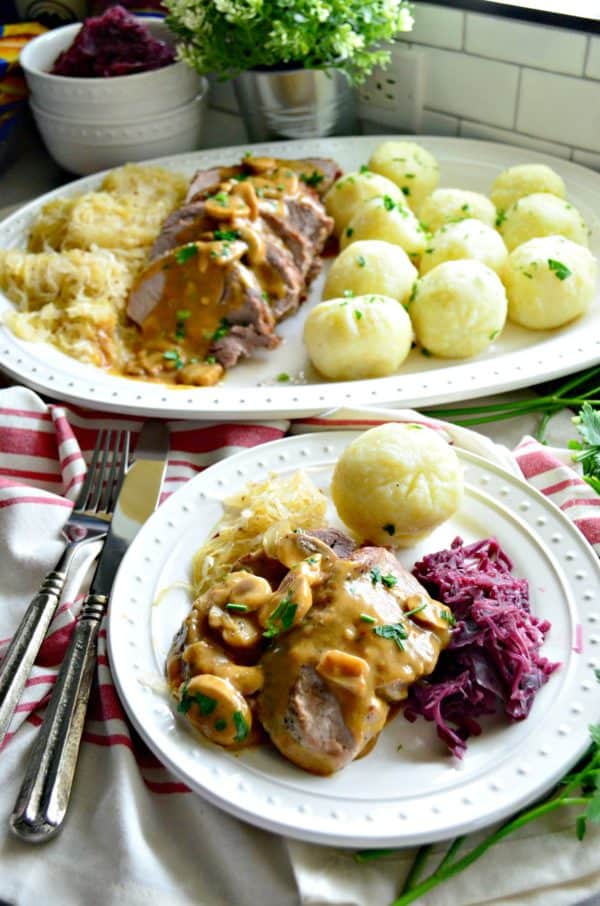 My family has been watching soccer whenever its on. But we really like it when we can all get together on Game Day. I'm finding I need to make a "feast" for everyone to enjoy during the game. This is where Cost Plus World Market comes into play. They have a  wide-variety of International Food items you can pick up to create your own feast. I found almost all the ingredients for this recipe at my local store in Winter Garden, Florida. You can check out where your local store is here.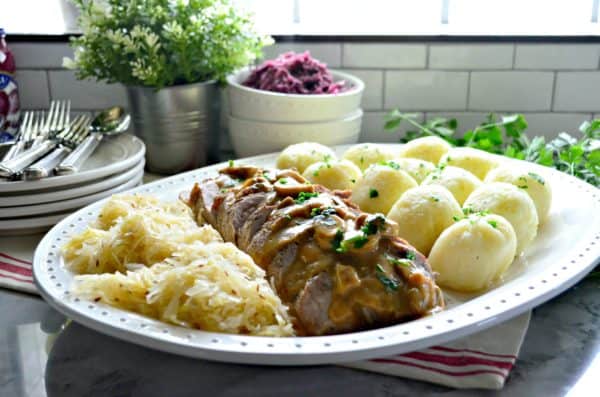 If you've never had Polish food and want to try to branch out and try some new flavors I highly suggest you try my recipe for Roasted Pork, Potato Dumplings, Sauerkraut, and Red Cabbage. In my opinion, it's the perfect introduction into Polish food!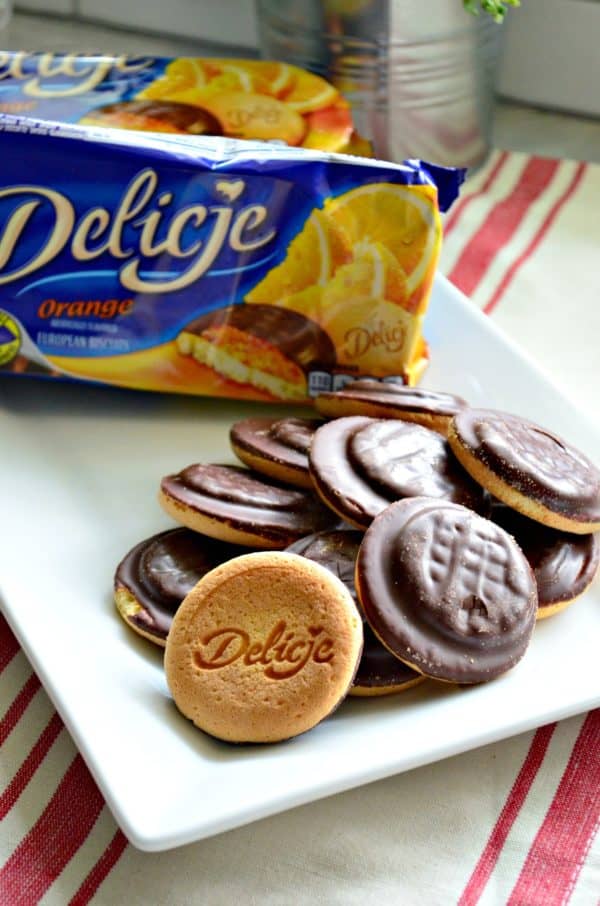 Oh and you can't forget the Delicje Polish Cookies! They are a must.

Shop This Post: David's Kosher Salt | World Market® Garlic Powder | World Market Olive Oil | McClure's Sauerkraut | World Market® Caraway Seeds | Lowell's Red Cabbage Salad | Kartoffelland Potato Dumplings | Maggi Cream of Mushroom Soup | Essential Baking French Baguette | Delicje Raspberry and Chocolate Cookies | Nantucket Serving Platter | White Nantucket Dinner Plates | Nantucket Serving Bowl | Danieli Flatware Collection | Stainless Steel Buffet Serving Spoon | Pierced Stainless Steel Buffet Serving Spoon | Red Villa Stripe Napkins | Red Villa Stripe Placemats | kitchen timer | Taylor Adjustable Digital Thermometer | Lodge 5-Quart Double Dutch Oven

Polish Feast: Roasted Pork, Potato Dumplings, Sauerkraut, and Red Cabbage
Yield: 6
Prep Time: 15 minutes
Cook Time: 60 minutes
Total Time: 1 hour, 15 minutes
Ingredients:
For the Pork Roast:
2 tsp David's Kosher Salt
1 tsp ground black pepper
1 tsp World Market® Garlic Powder
1 tbsp World Market Olive Oil
3 lb pork roast
1 white onion, thinly sliced
2 cups water
For the Saurerkraut:
1 32 oz. jar McClure's Sauerkraut
4 tbsp butter
1 white onion, diced
1 tbsp World Market® Caraway Seeds
1 cup low-sodium chicken broth
For the other sides:
1 jar of Lowell's Red Cabbage Salad
2 packages Kartoffelland Potato Dumplings
Essential Baking French Baguette (optional)
Delicje Raspberry and Chocolate Cookies (for dessert)
For the Gravy:
8 oz White Mushrooms, sliced
1 packet Maggi Cream of Mushroom Soup
1 1/2 cups cold water
1/4 cup fresh parsley, divided
Directions:
Warning
: Use of undefined constant rand - assumed 'rand' (this will throw an Error in a future version of PHP) in
/home/kjasiewicz21/webapps/katiescucina/wp-content/themes/katiescucina/single.php
on line
74
Leave a Comment