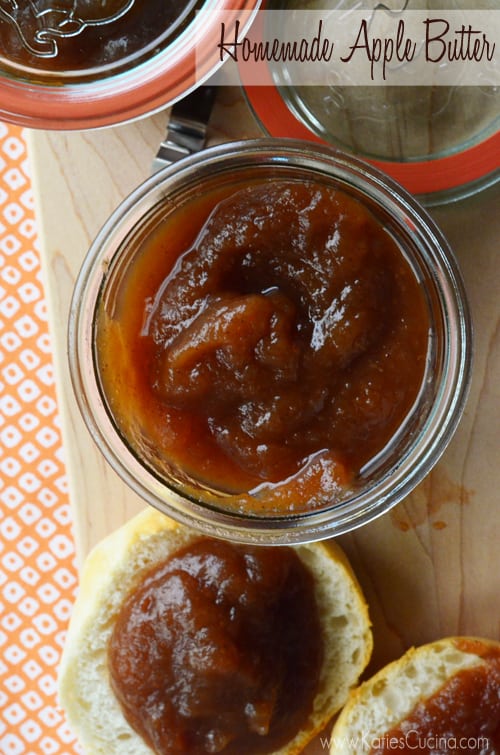 After returning back from Washington state last month, I felt like fall was finally here (except when I walked off the plane the 80 degree weather hit me smack dab in the face). I hoarded brought back tons of apples from Washington State (half of my suitcase was filled with apples), one would have thought that these apples were made of gold. To me they were, some of the apple varieties I can not get in Central Florida–so they were gold to me! Needless to say, I had quite a few to use up. I knew I wanted to make my favorite homemade apple sauce recipe, but I was also hankering to try making homemade apple butter.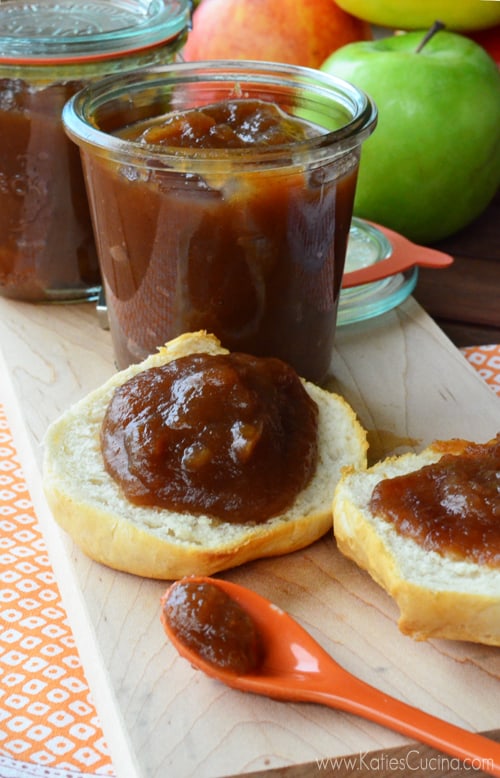 While flying home I read through multiple food magazines on my iPad, and all the magazines I read featured apple recipes. I think I read the apple butter recipe multiple times. So that would explain my craving for apple butter. Even though I read the recipe over and over again for some reason I missed the part that this butter had to slow cook in the oven for 3 hours! 3 hours is like an eternity when your home smells amazing and all you want is the apple butter. That same morning I made biscuits, so as soon as I pulled the apple butter out of the oven I slathered it on a biscuit to try it! And then it cooled and I took my pictures followed by another biscuit full of apple butter. I froze the extra and hope that it will taste just as good in another month or two! So don't be intimidated… give this homemade apple butter recipe a try!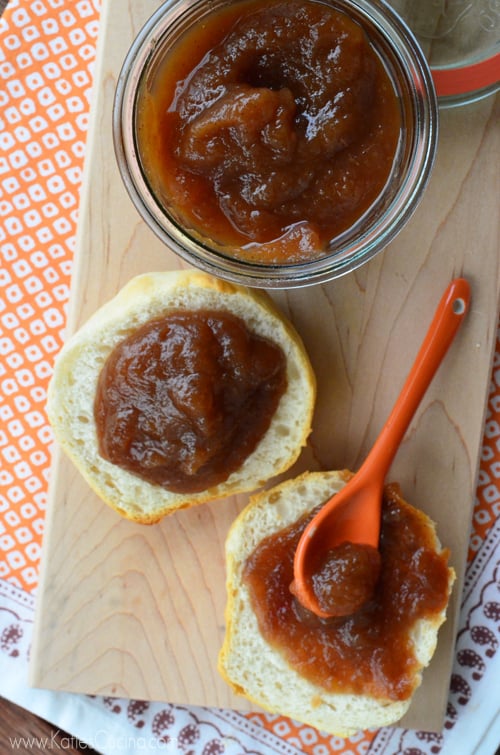 Recipe adapted from Food Network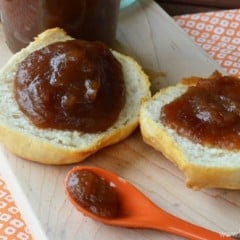 Ingredients
3

pounds

assorted apples

peeled and chopped

2

cups

apple cider

1

cup

packed light brown sugar

Kosher salt

1

tablespoon

fresh lemon juice

1

teaspoon

ground cinnamon

1

teaspoon

vanilla extract

Dash of ground cloves and nutmeg
Instructions
Preheat the oven to 250 degrees Fahrenheit.

Combine the apples, apple cider, brown sugar and ½ teaspoon salt in a large French oven over medium heat. Bring to a simmer (partially covering) and cook until the apples are soft, about 20 minutes.

Remove from the heat and stir in the lemon juice, cinnamon, vanilla, cloves and nutmeg. Puree the mixture using an immersion blender.

Once pureed, bake uncovered, stirring every 30 minutes, until thickened and deep amber (about 3 hours). Remove from the oven and let the apple butter cool completely, then transfer to airtight containers and refrigerate up to 5 days.