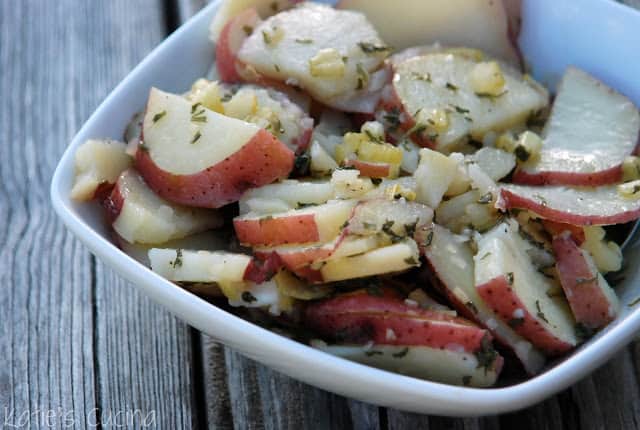 There is no denying it. I love potatoes, and when I made the
barbecue beef brisket
I knew I wanted to serve a potato salad with it. I called my mother to find out how to make her mother's light and fresh potato salad. My mother graciously told me what ingredients I needed; however, it's one of those unwritten recipes and because of this she had no measurements to give me. I had to figure it out on my own.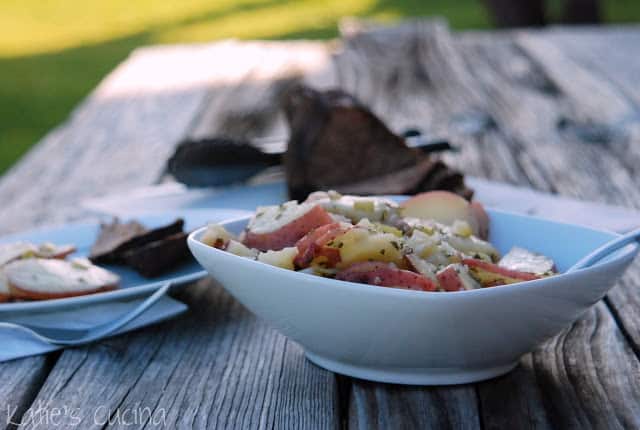 Can I just tell you how excited I was when I nailed it on the first try! Because I was making the potato salad to accompany dinner I was able to lure my mother over for a late dinner once she was off from work. When she got to my home and saw the potato salad she then realized she forgot to tell me one extra ingredient! Mayonnaise. I was so mad that she failed to tell me that key ingredient; however, I had already tried some of the potato salad and knew it was spot on. I could have sworn that I never-ever remembered this potato salad having mayonnaise in it. But then again it had been an easy 5+ years since my mom had last made it. After my mom took her first bite she was beyond pleased, and actually liked my version better than her own mothers. *Now, if you'd like to add the mayonnaise you only need a tablespoon or two depending on your taste. I don't ever plan to add mayonnaise into this potato salad. It is beyond amazing and I could not be happier with this recipe.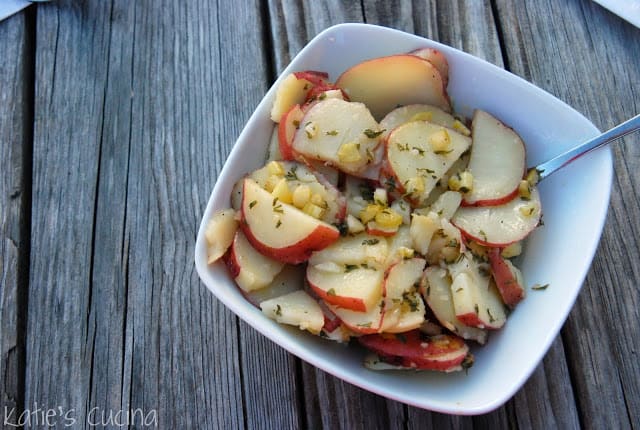 As we sat down for dinner I had to remind my husband that this potato salad would be nothing like his mother's potato salad which is full on mayonnaise based (and delicious). I was really concerned that he wouldn't like my version, but he was beyond pleased with it and couldn't stop dishing spoonfuls of it onto his plate! I hope you will enjoy this recipe as much as I do.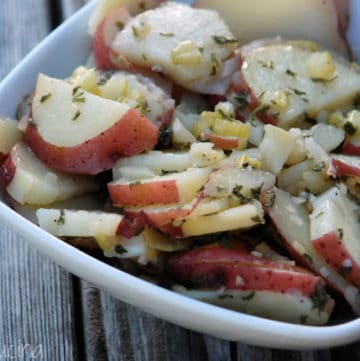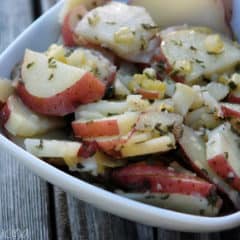 Grandma's Potato Salad
There is no denying it. I love potatoes, and when I made the barbecue beef brisket I knew I wanted to serve a potato salad with it.
Print
Pin
Rate
Ingredients
6

large red potatoes

1

tbsp

salt

1

tbsp

minced dried onions

1

tbsp

dried parsley

1

tbsp

sugar

1/4

canola oil

3

tbsp

apple cider vinegar

salt and pepper to taste

1

stalk celery

diced
Instructions
Slice the red potatoes at about a quarter-inch thick. Add the sliced potatoes to a large pot with enough water to cover the potatoes, and add one tablespoon salt to the pot of water/potatoes. Boil on medium-high heat until soft but not falling apart. Depending on your stove top this should take around 25 minutes. *Keep a close eye to make sure the potatoes don't get too soft and begin to fall apart.

While the potatoes are cooking you can make the dressing. In a bowl add the minced dried onions, parsley, sugar, canola oil, apple cider vinegar, and salt and pepper. Mix well, then add the diced celery.

Drain the potatoes in a strained and set aside. In a larger serving bowl add a quarter of the dressing to the serving bowl, followed by 1/3 of the potatoes. Pour another quarters worth of the dressing over the potatoes, followed by more potatoes, and repeat until completed. You will want to be very cautious of mixing this potato salad since you want to keep the slices as whole as possible. Gently mix, chill for as little as an hour. Serve and enjoy.
Nutrition
Calories:
244
kcal
|
Carbohydrates:
55
g
|
Protein:
6
g
|
Fat:
1
g
|
Saturated Fat:
1
g
|
Sodium:
1806
mg
|
Potassium:
1487
mg
|
Fiber:
6
g
|
Sugar:
8
g
|
Vitamin A:
22
IU
|
Vitamin C:
29
mg
|
Calcium:
41
mg
|
Iron:
2
mg