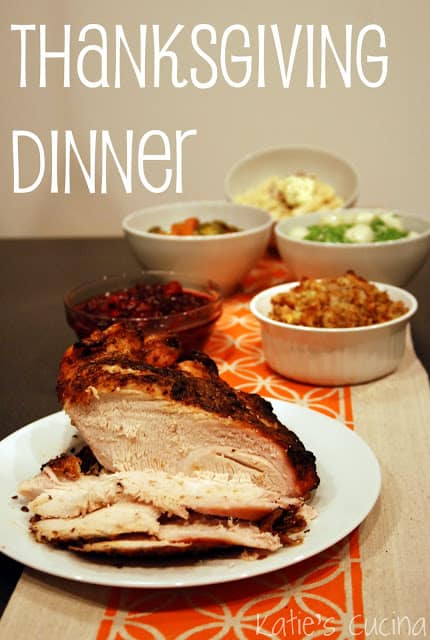 Let's talk turkey! Thanksgiving is a little over a week a way and like most American's I'm finalizing my menu, planning my grocery list, and make a schedule as to when everything needs to be cooked. One thing that has definitely made my Thanksgiving menu is this Brown Sugar Grilled Turkey Breast. See, ever since I can remember my mom has been cooking turkey breast on Thanksgiving. No one in my family likes the dark meat, so why waste it when you can just buy a turkey breast instead!
I've never grilled Turkey before, so this was a first for me. The same goes with the brining and the wood chips… all new, and a bit intimidating; however, very easy, once I cooked my way through the recipe! The flavors in this turkey are like something I've never tasted before. This savory and smoked turkey will complete any Thanksgiving dinner!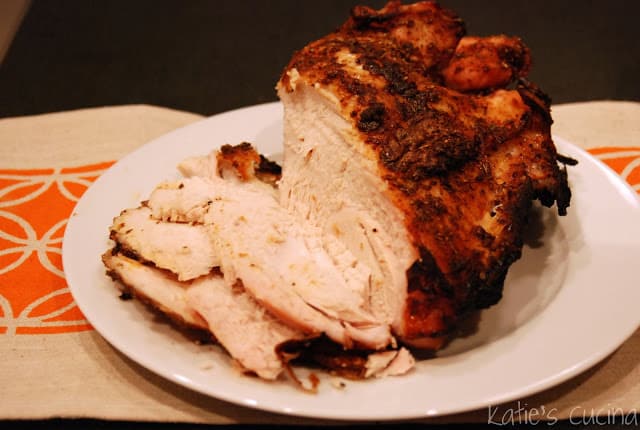 Source: Orlando Sentinel, June 2011
Prep Time: 30 minutes
Brine: 3 to 6 hours
Cook: 1 hour
Servings: 8-10


Brown Sugar Rub: Mix together in a small bowl ¼ cup packed dark brown sugar; 1 tablespoon each salt and chili powder; 1-½ teaspoons each ground cumin and oregano; and 1 teaspoon each dry mustard and smoked paprika.


Ingredients:
1 whole (4-6lbs) bone-in Turkey Breast, w/ skin, split into halves
4 quarts water
½ cup packed dark brown sugar
½ cup salt
3 cloves garlic, crushed
4-5 bay leaves
2 cups apple wood or hickory chips
Brown Sugar Rub


Directions:
1. Put water, sugar, salt, garlic and bay leaves into a large food-safe plastic bucket OR container. Stir to dissolve sugar and salt. Put the turkey breast halves in the brine; place a plate on top if necessary to be sure its completely immersed. Refrigerate 3 t 6 hours. Remove turkey from brine. (This can be refrigerated up to 2 days.) Discard brine.


2. Pat turkey dry. Rub all over with a generous coating of the rub. (Refrigerate up to several hours.)


3. Soak wood chips in water to cover, 30 minutes. Heat a gas grill to medium-high or light a charcoal fire and let it burn just until the coals are covered with gray ash and very hot. Turn off the heat in the center of the gas grill or set up the charcoal grill for indirect cooking by baking all of the coals to the sides.


4. Place the turkey in the center of the grill (not directly over the heat source). Cover grill to maintain a steady 325 degrees. Cook until an instant-read thermometer registers 160 degrees and the juices run clear, 50 to 60 minutes.


5. Let turkey rest, 10 minutes. Serve thinly sliced.