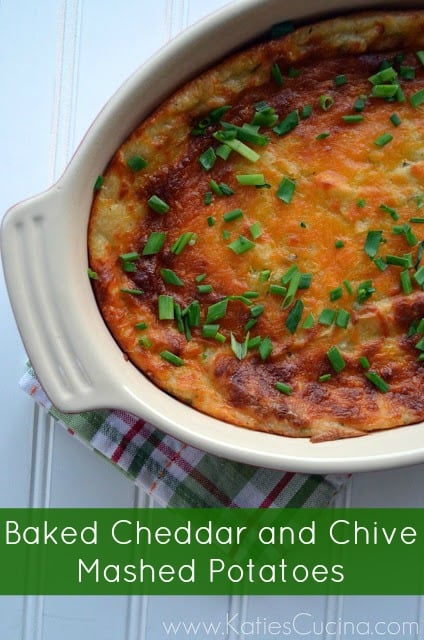 Who loves baked mashed potatoes? I do! There is something about the additional step of baking mashed potatoes that just makes it all come together. Granted, this requires an additional step in the cooking process, but the extra time spent is well worth the end result. I somewhat dreamed up a meal last weekend that I wanted to bring to life. These Baked Cheddar and Chive Mashed Potatoes were part of my dream.
I also dreamed that I was challenging myself to make 12 different types of mashed potatoes throughout 2013. Yes, this is what I really dream at night. And I realize this is obtainable since last month I blogged about my Olive Oil Mashed Potatoes and Cauliflower. So I think the challenge is on. I think in the past I was too intimidated to blog about mashed potatoes because mashed potatoes in general require a lot of precise measurements. And because I've been making them for so many years I've never spent the time to measure them out. But I like the challenge this year, and it is going to help me think outside of the box and introduce all sorts of fabulous mashed potato recipes that I love. I love mashed potatoes. I probably eat them at least once a week… from scratch. Never from a box because that is unacceptable. Making a simple mashed potato only takes about 30 minutes and is way better than any box of spuds. I've now taken it to the next level with the baked variety: Baked Cheddar and Chive Mashed Potatoes.
Do you see that in the background? It is a glimpse of whats to come tomorrow. Yep… I went there. Individual Bacon-Cheddar Meat Loaves! Come back tomorrow to make your Sunday meal complete or a regular week night meal. Or perfect if entertaining and you want your guest to have a very comfort food heavy meal!
Katie Original Recipe
Ingredients
2

lbs

9.5 oz of Russet Burbank Idaho Potatoes (about 7), peeled and diced

1

tbsp

salt

4

tbsp

salted butter

1

cup

shredded cheddar cheese + 1/2 cup

1/4

cup

chives

diced + 2 tbsp

1/2

tsp

black pepper

1/4

cup

whole milk

Cooking Spray
Instructions
Peal and evenly dice your potatoes. Rinse them well and add them to a large pot of water. Add one tablespoon of salt to the water. Boil on high for 30 minutes. If they start to boil over reduce heat to medium. Once the potatoes are cooked through and fork tender, remove from heat, and drain.

Preheat oven to 350 degrees.

Place the potatoes back in the pot. Add butter, 1 cup of shredded cheddar cheese, 1/4 cup of diced chives, black pepper and whole milk. Using a blender mix well until smooth and creamy (about 2 minutes).

Spray a baking dish (at least 9 x9 but I used a large oval dish) with cooking spray, then pour the potatoes into the dish. Smooth out and top with additional half cup of shredded cheddar cheese and diced chives. Bake for 30 minutes until the cheese is golden brown and bubbly. Remove from the oven and carefully spoon out portions of potatoes.
Notes
*Remember every cook top cooks differently. If your potatoes are done 10 minutes early by all means take them off the burner and drain them. You know your stove better than I do.
*If your potatoes hold a lot of water in them you may need less milk.