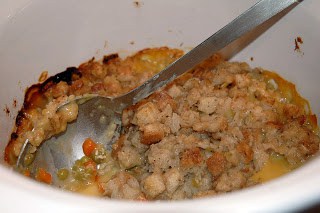 I
found this recipe while browsing like I normally do on one of my new favorite blogs;

Smashed Peas and Carrots

. This is mainly a craft/sewing blog (which for those that don't know me in real life I love to make crafts and have recently gotten interested in sewing my own clothes), but when I saw a tab labeled "recipes" I new I had to see what she had, and boy am I glad! One of my favorite meals in life is Thanksgiving Dinner with all the "fixings". This was a very simple way to re-create my favorite meal, and allow me to do stuff around the house instead of cooking all day and night! I would imagine you could use a turkey breast instead of the individual chicken breast if you wanted too! I know this isn't the most complex recipe; however, I have a lot of friends/readers who have very busy lives and only have time to make crock-pot meals!
Total:
3-8 hours (depending on the method you choose)
Ingredients:
4 frozen chicken breasts (or thawed/fresh)

1-10 oz package of frozen vegetables

1 can cream of chicken soup (although I used a half/half can of cream of chicken/mushroom)

1 6 0z box stuffing (and ingredients needed to make your stuffing…see your package directions!)

Salt and pepper to taste
Directions:

1. Pour in the bag of frozen veggies into the bottom of your crockpot. I like to use a peas, carrots, green beans and corn mixture (but use whatever you fancy)!


2. Place your frozen chicken breasts on top of your veggies (or the fresh).
3. Open one can of Cream of Chicken soup and pour on top of your chicken breasts.
4. Cook your stuffing according to the package directions and place the stuffing on the top of the cream of chicken that has been poured over your chicken breast.
5. Turn
your crockpot on low for 6-8 hours or high for 3-4 hours. The stuffing will be nice and brown and the chicken juices should run clear when done!
Side suggestions:
Mashed potatoes, cranberry sauce, steamed broccoli, and a side salad