Pumpkin Pie Bread Pudding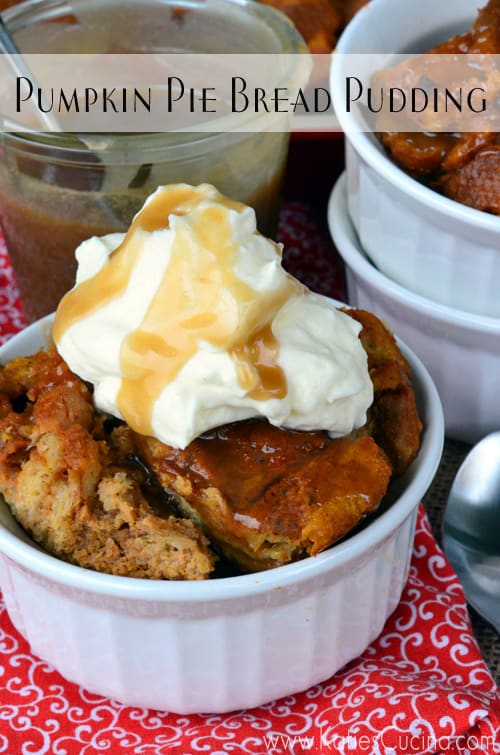 Are you a hater of pie? Not confident in your pie making skills? Just plain and simple don't like it, but love the pumpkin flavor? This Pumpkin Pie Bread Pudding recipe is the recipe for you this holiday season! It all stemmed from a rock-hard baguette that I had in the kitchen. It was so hard I could have used it as a weapon if an intruder had broken into our home–that's how hard it was. Me being the frugal person I am did not want it to go to waste. So I decided to chop it up and make some bread pudding out of it. Pumpkin pie bread pudding to be exact!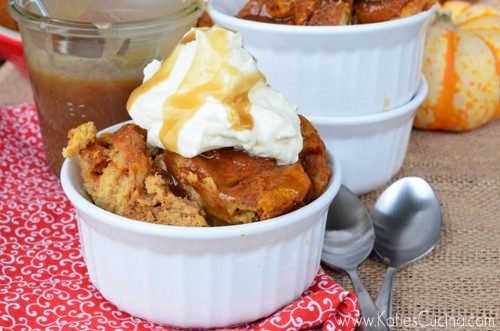 Of course, what made this Pumpkin Pie Bread Pudding over the top was the homemade whipped cream I made and topped with the salted maple caramel sauce I shared the other week! Yep, I went there. I can't get enough of the stuff! And I decided to bake it and serve it in a deep dish pie plate, to give it the "pie" like feel! I like pie, but when I have the choice I love bread pudding way more, and since I've been on the pumpkin kick lately, this pumpkin pie bread pudding did it for me. Best of both worlds in a dessert! So if you want to switch it up this Thanksgiving, go buy a baguette now so its as hard as a baseball bat come Thursday, and make this pumpkin pie bread pudding for your guest!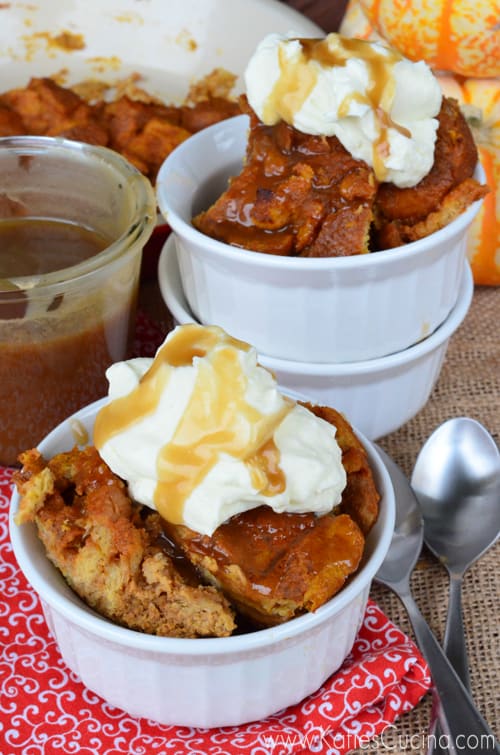 Katie Original Recipe
Pumpkin Pie Bread Pudding
Ingredients
4 cups whole wheat baguette, cubed
1 cup whole milk
4 eggs
2 tsp pumpkin pie spice
1/4 c brown sugar
1/2 tsp vanilla extract
1 cup pumpkin puree
For Topping: Fresh Whipped Cream & Salted Maple Caramel Sauce
Directions
Cut bread into cubes, and set to the side.
Preheat oven to 350 degrees Fahrenheit.
In a large bowl, mix whole milk, eggs, pumpkin pie spice, brown sugar, vanilla extract, and pumpkin puree with a hand mixer for 30 seconds until well combined. Place the bread into the pumpkin mixture. Let soak for 5 minutes.
Use a deep dish pie pan and spray with cooking spray. Pour mixture into pan and bake at 350 degrees Fahrenheit for 35 minutes.
Let the dish cool. Top with Salted Maple Caramel Sauce and freshly whipped cream.
https://www.katiescucina.com/pumpkin-pie-bread-pudding/
This recipe is brought to you by Katie Jasiewicz of Katies Cucina
Warning
: Use of undefined constant rand - assumed 'rand' (this will throw an Error in a future version of PHP) in
/home/kjasiewicz21/webapps/katiescucina/wp-content/themes/katiescucina/single.php
on line
74
9 Responses to "Pumpkin Pie Bread Pudding"
Trackbacks/Pingbacks

Leave a Comment