Pumpkin Buttermilk Waffles
These fluffy pumpkin buttermilk waffles will make your fall complete. Make a few batches and freeze for later eats!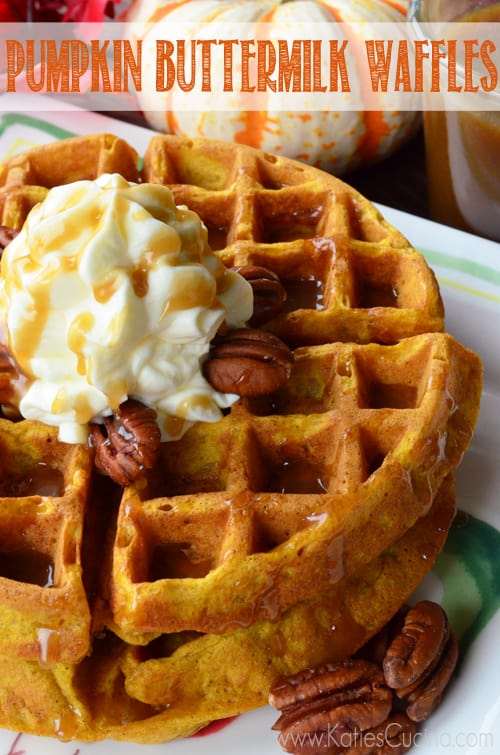 As promised earlier this week, I'm sharing a pumpkin recipe. My recipe for the fluffiest Pumpkin Buttermilk Waffles! Then of course, I topped these waffles with freshly whipped cream, pecans, and my sinfully delicious salted maple caramel sauce.  I can't wait to share this recipe with my family when they travel to our home for Thanksgiving.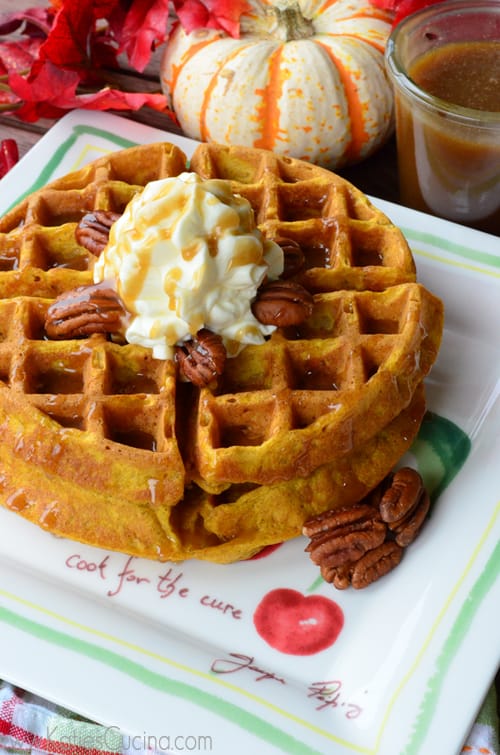 I've partnered up with KitchenAid on a very special program called "Pass the Plate". Last month, was Breast Cancer Awareness Month (I realize I'm a little late to the party–and yes, its the baby's fault). Here is how the program works:
The recipe is a snap: make a meal, serve it on our uniquely-marked Villeroy & Boch
plates, and share it with someone special. That person then keeps it and passes it on
to the next. The best part is once your plate is registered, each recipient can add to the
plate's journey, and we'll add to the donation total. For every person who registers their
plate, we'll give $5 to Susan G. Komen®.  
This year, Jacques Pepin created a unique design on a Villeroy and Boch plate. It's beautiful and a nice large plate to share a large meal on it with the ones you love–like my Pumpkin Buttermilk Waffles. KitchenAid has been a long standing partner with Susan G. Komen® and the Cook For the Cure program. I love the idea of sharing a meal with someone you love and passing on the plate–all to raise money for a great cause!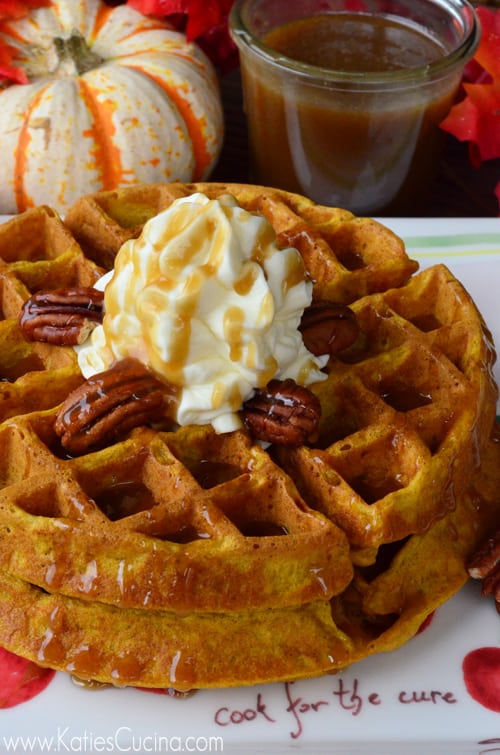 Just because its not October any more doesn't mean, you can't still participate in the "Pass the Plate" program. We need to raise awareness and money for breast cancer research year-round not just during the month of October. So how far will your plate go? And if you serve these pumpkin buttermilk waffles on them… well I'm sure it will go a tad-bit further!

Pumpkin Buttermilk Waffles
Yield: 4.5
Prep Time: 10 minutes
Cook Time: 3.5 minutes
Total Time: 17 minutes
Ingredients:
2 large eggs
1-1/2 cups buttermilk
1 stick unsalted butter, melted and cooled
1 tsp vanilla extract
1/2 cup pumpkin puree
1-3/4 cups all-purpose flour
2 tsp pumpkin pie spice
3 tbsp sugar
2 tsp baking powder
1 tsp baking soda
1 tsp salt
freshly whipped cream, pecans, and salted maple caramel sauce
Directions:
Preheat KitchenAid Waffle Baker.
In a KitchenAid Stand Mixer, mix on "stir" setting the eggs, buttermilk, unsalted butter, vanilla extract, and pumpkin puree for 30 seconds.
In a separate bowl, combine all the dry ingredients, all-purpose flour, pumpkin pie spice, sugar, baking powder, baking soda, and salt.
Add the dry ingredients to the wet ingredients, mix on "stir" setting for 10 seconds then bump up to speed 2 for an additional 20 seconds. Scrape down the sides of the bowl and mix again for another 5-10 seconds.
Spray the KitchenAid Waffle Baker with cooking spray, ladle 1 cup batter into Waffle Baker. Cook for 3 minutes and 15 seconds.
Serve with freshly whipped cream, pecans, and salted maple caramel sauce
Disclaimer: I received the plate for free; however, I was not compensated to create this recipe. I love KitchenAid and support the cause. As always all opinions are my own. 
Warning
: Use of undefined constant rand - assumed 'rand' (this will throw an Error in a future version of PHP) in
/home/kjasiewicz21/webapps/katiescucina/wp-content/themes/katiescucina/single.php
on line
74
22 Responses to "Pumpkin Buttermilk Waffles"
Trackbacks/Pingbacks

Leave a Comment