Salted Maple Caramel Sauce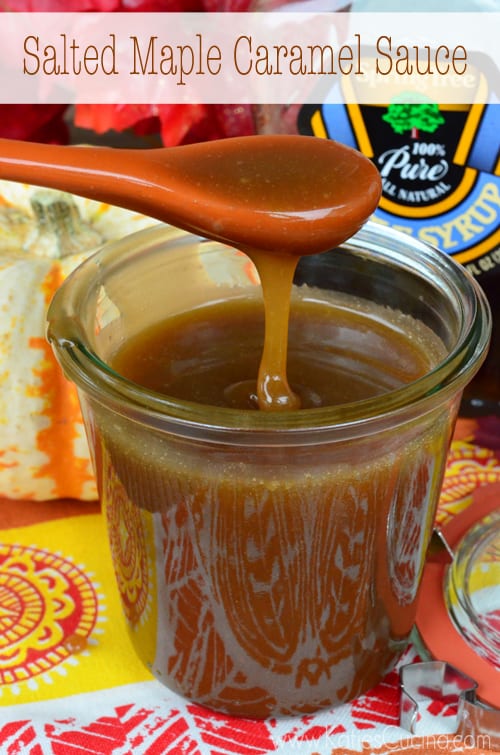 I can't believe its really November. Where has this year gone? I realized over the weekend that I had yet to make anything pumpkin and knew that had to change. Of course, I had to have my kitchen available for me to cook in. My husband completely highjacked the kitchen this weekend to finish working on our kitchen revamp project. He added in the subway tile backsplash… can I just tell you how in love I am with it–and the grout isn't even in yet! So while I sat kitchen-less I brainstormed up a few recipes. A few of my recipes involved caramel sauce and thus this Salted Maple Caramel Sauce was born!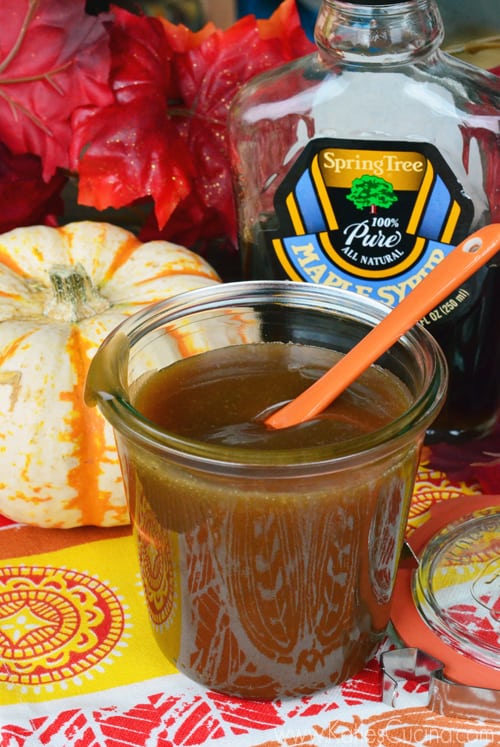 Caramel sauce is incredibly easy to make at home. If you have butter, sugar, and cream you can make caramel sauce. Some methods even require no cream! I prefer my caramel sauce with cream because who doesn't love extra calories (I kid)?!?! I wanted to give my caramel sauce a taste of fall so I decided to get wild and crazy and add in some maple syrup oh and I used brown sugar instead of traditional white sugar! I didn't have any on hand but if you happened to have maple extract on hand you could always give it a few drops to really intensify the flavor.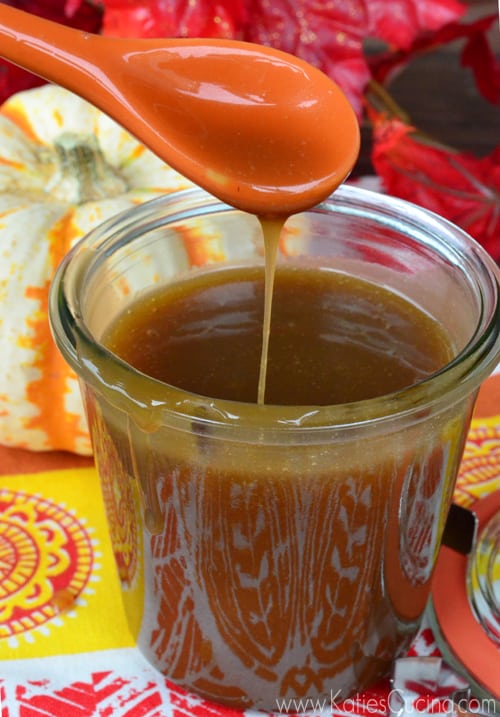 So stay tuned over the next few weeks as you see how I've incorporated this decadent Salted Maple Caramel Sauce into so many delicious recipes!
Katie Original Recipe
Salted Maple Caramel Sauce
Ingredients
1/2 stick unsalted butter
1 cup brown sugar
1/2 cup heavy cream
1/4 cup maple syrup
1/4 tsp coarse sea salt
Directions
In a saucepan, add the 1/2 stick of butter. Heat on medium heat until its melted.
Using a wooden spoon, begin to stir in the brown sugar. Continue stirring until well incorporated. Then slowly start to mix the cream into the saucepan. Stirring continuously. Bring the caramel sauce up to a boil (and continue to mix until it becomes thick and to the consistency of your liking). Turn the heat off, mix in the maple syrup and coarse salt, mix one last time and remove from heat. Let cool on stove top (mixing periodically). Use right away or store in an airtight container for up to one week.
https://www.katiescucina.com/salted-maple-caramel-sauce/
This recipe is brought to you by Katie Jasiewicz of Katies Cucina
Warning
: Use of undefined constant rand - assumed 'rand' (this will throw an Error in a future version of PHP) in
/home/kjasiewicz21/webapps/katiescucina/wp-content/themes/katiescucina/single.php
on line
74
12 Responses to "Salted Maple Caramel Sauce"