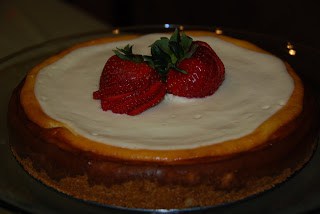 My mom grew up very close to her next door neighbor, so close that she was truly apart of her family. Every weekend her family would go over to Annie's for dinner. Annie was famous for her cheesecake, and before she got too old to remember how to make it my mom made her write down the recipe (since it was stored in her head and not on a recipe card). My mom never attempted to make Annie's cheesecake until after she was dead. Two years ago, at my bridal shower, my mom passed on Annie's recipe to me. I finally gained enough courage to make Annie's cheesecake last month, and I think Annie would have been very proud of me!
*This picture was taken by a good friend of mine, Christy. She has a photography blog, and posts new pictures weekly, go check it out!
Prep:
20 minutes
Total:
4 hours (includes chilling)

Serves:
8-10
Ingredients:
1-1/2 cups finely ground graham crackers
5 tbsp unsalted butter, melted
1/3 cup sugar
1/8 tsp salt
3 8oz packages of cream cheese (room temperature)
1 cup sugar
1 tsp vanilla
5 eggs
1 cup sour cream
1/4 tsp vanilla
1/4 cup powdered sugar
Directions:
Invert bottom of springform pan (to make it easier to slide cake off bottom), then lock on side and butter pan. Stir together graham cracker, melted butter, sugar and salt in a bowl. Press onto bottom and 1 inch up sides of buttered pan. Fill immediately or refrigerate for up to 2 hours.
Put a rack in the middle of over and preheat oven to 350 degrees farenheit.
Beat cream cheese in a large bowl with an electric mixer at medium speed until fluffy. Reduce speed to low and add eggs one at a time, mixing well after each addition. Add 1 cup sugar and 1 teaspoon vanilla and mix until well combined, scraping down sides of bowl with a spatula as needed.
Put springform pan with crust on a baking sheet with sides, to catch any drips. Pour filling into crust. Bake until cake is set 3 inches from edge but center is still slightly wobbly, about 45 minutes. Cool in pan on a rack for 5 minutes. (Leave oven on).
Stir together sour cream, vanilla, and powdered sugar in a medium size bowl. Pour sour cream topping in the middle of cheesecake-with a spatula smooth all over cake leaving a half inch of cheesecake exposed. Bake cake for 10 minutes more.
Run a knife around top edge of cake to loosen it, then cool completely in pan on rack. (Cake will continue to set as it cools).
Refrigerate cake, loosely covered, for at least 6 hours. Remove side of pan, transfer cake to plate, and bring to room temperature before serving.
Notes: The chesecake can be refrigerated for up to 3 days. You can top this cheesecake with jam, caramel sauce (pictured above), chocolate sauce, fresh fruit, etc. The sky is truly the limit!