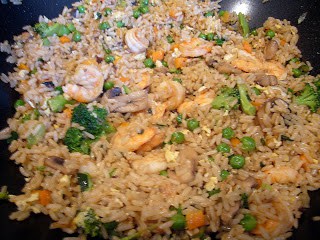 Here is another dish that I adapted from that same Ladies Home Journal article on "50 Great Budget Dinners" I wrote about on Sunday. I adapted this recipe from the article and added a few more ingredients to spice it up! This turned out to be my best fried rice yet… the trick is using day old white rice!!! This is also a great alternative to ordering out take-out chinese, and healthier for you too!
Cook: 15 minutes
Serves: 2
Ingredients:
2 cups cooked day old white rice
1 cup peeled and deveined shrimp
1 cup frozen pea and carrot mix
1 cup fresh or frozen broccoli, chopped
½ cup fresh mushrooms, sliced
3 sliced scallions
1 egg, scrambled
1 teaspoon peanut oil
2 teaspoon sesame oil
3 tablespoon soy sauce
1 tablespoon teriyaki
Directions:
1. In a hot wok add sesame and peanut oils; followed by broccoli, mushrooms, frozen peas and carrots, and green onions. Saute for 2-3 minutes or until warm through.
2. Add shrimp, soy sauce, and teriyaki sauce–cook until shrimp become pink.
3. Add rice and mix so that everything is well incorporated. Fry for 5 minutes, tossing often.
4. Move the rice to the sides and make a hole. In a
bowl
scramble egg and add to the hole in the
wok
. Let it sit for one minute slowly mixing in the middle so that the egg becomes cooked and scrambled. Once the egg is almost fully cooked then mix throughout rice. Cook for an additional minute or two and serve hot.