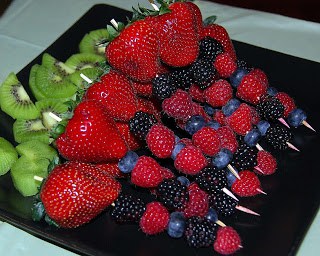 This is one of the easiest and healthiest desserts one could make! It also makes for a healthy snakc and is great for entertaining! I made these a few weeks back for my Shutterfly House Party and they were a huge hit!!!
This picture was taken by a good friend of mine, Christy. She has a photography blog, and posts new pictures weekly, go check it out!
Prep: 10 minutes
Serves: 5 (2 per person)
Ingredients:
1 large container of strawberries
1 pint of blueberries
1 pint of raspberries
1 pint of blackberries
4 kiwi fruit
bamboo skewers
Directions:
1. Wash all of your fruit.
2. Take a small bamboo skewer place a strawberry, followed by the remaining berries in what ever order you'd like. You can choose to place a piece of kiwi fruit on the end or layer it within the berries. Repeat until you've made enough kabobs for everyone to enjoy!