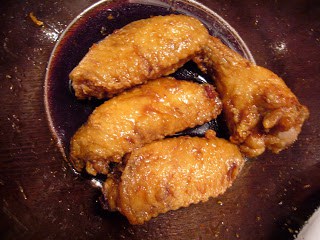 Well, the title really says it all! I came up with this simple wing sauce a while back, and each time I whip it up everyone would rather all the wings be tossed in this sauce instead of the traditional BBQ or Buffalo sauce. Even my husband who is a devout buffalo sauce guy… who might I add, would NEVER order a teriyaki sauce at a wing place.The key to using this sauce is making a breaded wing. The sauce absorbs really well into the breading making these wings even more so savory! This is super easy for entertaining or even having a casual "wing night" dinner!
Prep: 5 minutes
Cook: 5-8 minutes
Serves: 4
Ingredients
1 lb bone-in chicken wings

(or you can use chicken strips if you prefer)

½ cup of flour
1 tablespoon season salt
1 tablespoon grated ginger
2 tablespoon honey
½ cup teriyaki sauce
Directions
1. Pre-heat the deep fryer.
2. In a large container with a lid mix flour and season salt together. Add wings. Seal container, and shake until well coated. Place each wing–one by one into the deep fryer, and cook until golden brown (about 5-8 minutes depending on your fryer and how many wings you put in at once). Repeat again until all the wings are cooked.
3. While the first batch of wings are cooking make your sauce. In a large mixing bowl pour ½ cup teriyaki sauce, honey, and grate ginger. Using a whisk slowly mix until the honey has broken down and it's a smooth liquid.
4. Once the first batch of wings are done, remove one by one and place them on a plate with a few paper towels on it–this will allow the oil to drain onto paper towels. Then while the wings are still hot toss them in the sauce. They can sit in the sauce until they are ready to be consumed. Repeat–until all the wings have been cooked! Enjoy
Side Suggestions: celery & ranch/ bleu cheese dressing, curly fries