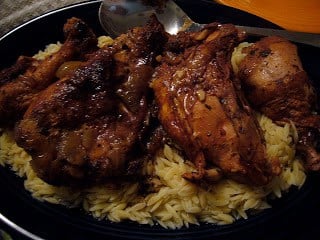 This would be the second post from our Greek dinner at my parents house last week. Some of you might be wondering if I'm Greek, and the answer is, no. My family just likes a wide variety of food! My mom had a Greek theme going for dinner last week, and it was so good I wanted to blog about it! Some may wonder why I would want to blog about other people cooking food–I just want to share a wide variety of recipes with my reader! Even if I didn't make it I want to share it! This recipe first came out last year when Cat Cora went on the Oprah show to talk about frugal home-made meals. My mom then adapted this to be a much quicker version by using the crock pot! She says it's comes out just as good if not better! If you don't want to use the crock pot you can go to the recipe and read the stove top directions instead.
Prep: 10-15 minutes
Cook: 8 hours
Ingredients:
1 chicken (2 ½ to 3 pounds), cut into 8 pieces (legs, breast and thighs)
3 tbsp. ground cinnamon
2 tsp. kosher salt
1 tsp. freshly ground black pepper
5 cloves garlic , peeled and minced
2 Tbsp. extra-virgin olive oil
1 large yellow onion , peeled and coarsely chopped
2 cups water
1 can (6 ounces) tomato paste
1 Tbsp. dried Italian herb seasoning
1 cup orzo , cooked according to package directions
½ cup grated Parmesan cheese
Directions:
1.
The night before you want to cook the chicken you will want to "prep" it. Pat the chicken dry with paper towels. Mix the cinnamon, salt and pepper in a small bowl. Rub the chicken pieces on all sides with the seasoning. Place in a zip lock baggie and let it marinate until the next day.

2. The next day before your about to put the chicken in the crock pot you'll need to do a little stove top prep. Mince three of the garlic cloves. In a small frying pan on medium-high heat add the onions and minced garlic. Cook for about 3 minutes, stirring constantly, until the onions have softened and are a rich golden brown. Add about ½ cup of the water and scrape the bottom of the pan with a spatula or spoon to deglaze the pan, loosening any particles stuck on the bottom. When the water has evaporated, add the remaining 1 ½ cups of water, tomato paste, Italian seasoning and remaining 2 garlic cloves, minced.

3. Place the marinated chicken in the crock pot. Pour the liquid from the frying pan over the chicken. Cook on low for 4 TO 8 hours, or until the chicken is tender and thoroughly cooked. Season the finished sauce with kosher salt and pepper to taste. Serve over orzo, cooked according to package directions, and sprinkle Parmesan cheese on top.
Side Suggestions: Greek Salad, hummus & pita