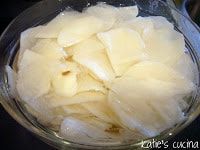 A few years back we had this amazing Italian pizza shop (The Saucy Bella) not too far from our house that we would frequently visit. They had very creative and delicious dishes, and with all there sandwiches they served home-made Parmesan potato chips! Sadly, they closed a little before there first anniversary, and it's the one thing that I miss the most. I was recently craving there chips, and wanted to attempt to make my own. They didn't come out all that bad, and was fairly easy to do; however, you really need a mandoline to cut the potatoes super thin. I used the shredder attachment that attaches on to my Kitchen aid mixer, and it worked well, but I know that a thinner more accurate slice would have been the ticket! Also, don't plan on saving these to eat the next day… they were very soggy and non-edible.
Cook: 2-3 minutes per batch
Serves: 4
Ingredients:
2 large baking potatoes, peeled
shredded Parmesan Cheese to taste
Salt to taste
Vegetable oil (enough to fill your deep fryer)
Directions:
Peel your potatoes, and slice using a mandoline. The thinner the slice the less the potato will need to cook. Once all the potatoes are sliced rinse them very well under cold water. Then place the potato slices in a large bowl with cold water and ice (make sure all the potatoes are fully covered by the water). Let these sit for at the very least 10 minutes.
Add your oil to the deep fryer, and pre-heat.
Once the potatoes have sat and the water looks very milky (the starch will start to come out of the potatoes), drain them, and then lay them out on paper towels or clean kitchen towels. You will need to pat dry all the potatoes you are frying. If they are wet you could start a grease fire, and that's the last thing we want!
Slowly add the dried potatoes to the deep fryer, and let them cook until they are golden brown. As soon as you pull them out place them on a paper towel so that the oil can drain on to the paper towel, and sprinkle them with salt and Parmesan cheese. Repeat this step until all of your potatoes have been fried!