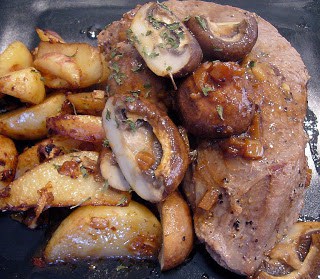 My husband and I tried this sample at the local grocery store, and instantly fell in love with it. However, when I made this at home I wasn't as pleased. A few of my co-workers also made this dish and loved it, so that's why I'm posting it up for my readers to try. The original recipe can be found
here
.
Cook: 20-25 minutes
Serves: 4
Ingredients:
2 tbsp extra-virgin olive oil
1 tbsp minced garlic
1 tsp Montreal steak seasoning
½ tsp salt
1 ½ lb top sirloin steak
⅓ cup butter
8 oz whole baby portabella mushrooms
1 (20-oz) package refrigerated red potato wedges
1 packet onion soup mix (about 1 oz)
2 tbsp extra-virgin olive oil
Directions:
Preheat oven to 400°F.
Combine in medium bowl, oil, garlic, steak seasoning, and salt. Cut steak into four portions; add to garlic mixture, turning to coat (wash hands). Let stand 10 minutes.
Combine onion soup and extra-virgin olive oil in a bowl; whisk together well. Then add potato wedges. Spread in single layer on baking sheet. Bake 10 minutes.
Preheat large sauté pan on medium-high 2–3 minutes. Place steaks and garlic mixture in pan; cook 5 minutes (do not turn).
Reduce heat to medium and turn steaks; cook 6–8 more minutes or until 145°F (for medium-rare).
Turn potatoes; bake 10 more minutes or until tender.
Add butter, turning steaks to coat. Remove steaks and cover to keep warm. Add mushrooms to pan and cover; cook 5–7 minutes or until tender.
Plate both potatoes and steak, and enjoy!
Side Suggestions: salad, steamed green beans, crusty breaad