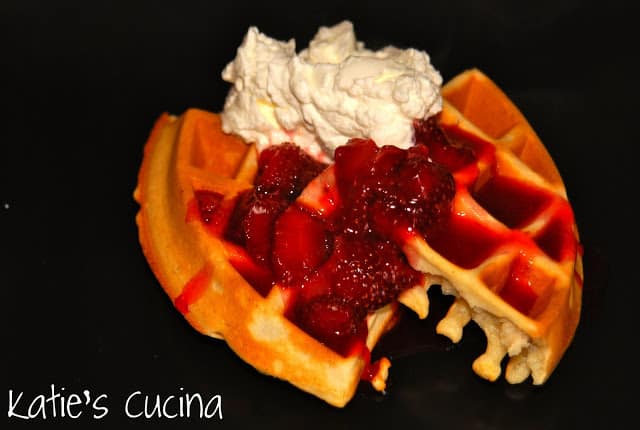 *Pay no mind to my very "hot" picture–my lighting was poor and this was prior to fixing my lighting issues!
First off, Happy Easter! Now onto the story…
It had been a while since I had made a batch of Crisp & Golden Waffles and didn't want to eat it with just plain maple syrup. That's when I got the genius idea to make a strawberry compote to pour over the waffles.
Back in February I blogged about the most amazing
Lemon Ricotta Pancakes with Blackberry sauce
. I also mentioned about the "blackberry fiasco of 2011" (the mess that over took my kitchen). I knew that the key to making my compote was to keep the heat at medium and to attend to the compote at all times! That's what I did this time around and it turned out wonderful! My husband informed me at brunch that this was the best waffle to date and at the same time informed me that he wasn't a big fan of waffles, but yet he loved this one because of the strawberry compote! I was shocked that he told me this… for YEARS I've been making waffles… at one point on a weekly basis! We have a massive waffle machine as well… why am I finding this out now, after almost 5 years of home-made waffle making?
I even whipped up a batch of home-made whipped cream to top on the waffles. *To make homemade whipped cream you take one cup heavy cream to a 1/4 cup white powdered sugar. Beat on medium-low until the cream starts to thicken then beat on high until soft peaks form.

Ingredients:
2 cups diced strawberries
1/4 cup sugar


Directions:
1. Combine the strawberries and sugar in a medium saucepan over medium heat. Cook, stirring occasionally, until the berries begin to release some of their juices and the mixture is simmering. Remove from the heat and keep warm if desired.