I'm sharing with you today the absolute best buttermilk pancake recipe! Light and fluffy pancakes that will knock your breakfast socks off!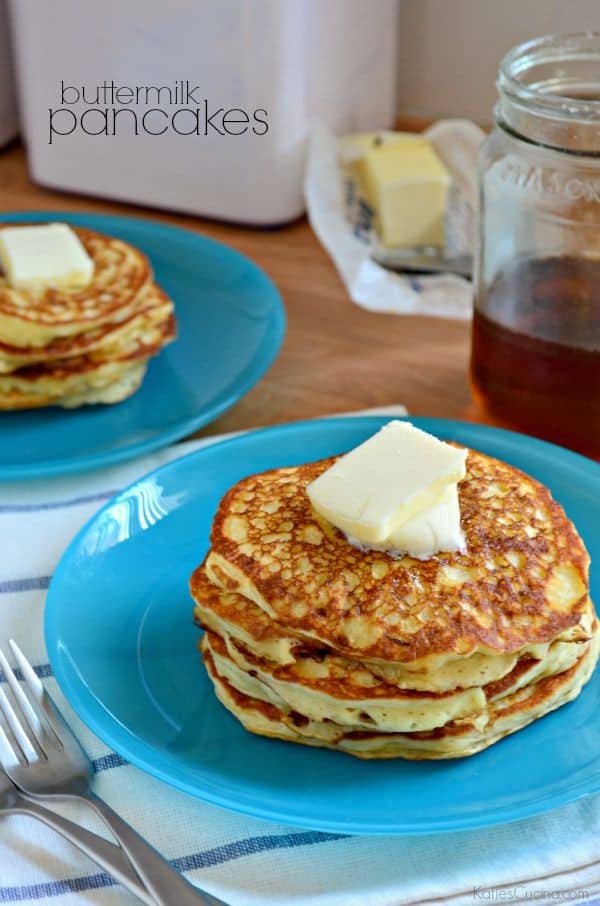 This is a recipe I shared back in 2010 when my blog was only a few months old. I had no clue about food photography and was just learning about blogging. I make these buttermilk pancakes at least twice a month and I felt that I needed to re-share this recipe for anyone who is looking for the most delicious and divine buttermilk pancake recipe. If I can make these on a week day with a toddler, then I know you can make them too. I promise.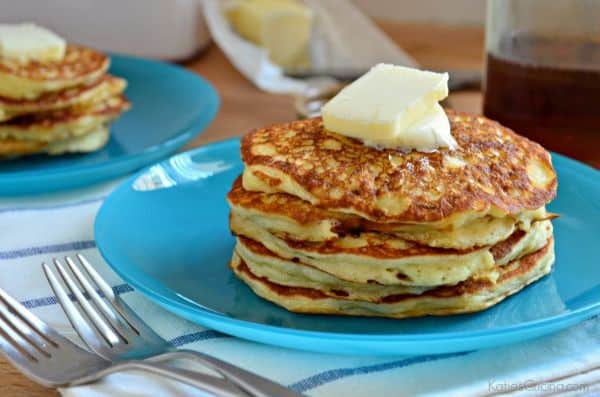 Growing up, we never had pancakes from scratch. Sorry mom. I know your reading this and probably cursing me out at the computer or on your phone but it's the truth. It was the shake and pour version (which back then to me was delicious), but now not so much. The only time I will eat pancakes if I know they are buttermilk pancakes. Something about a light and fluffy buttery pancake that will get me every time. I'm a sucker for breakfast and like to feast. Like I order the largest breakfast ever.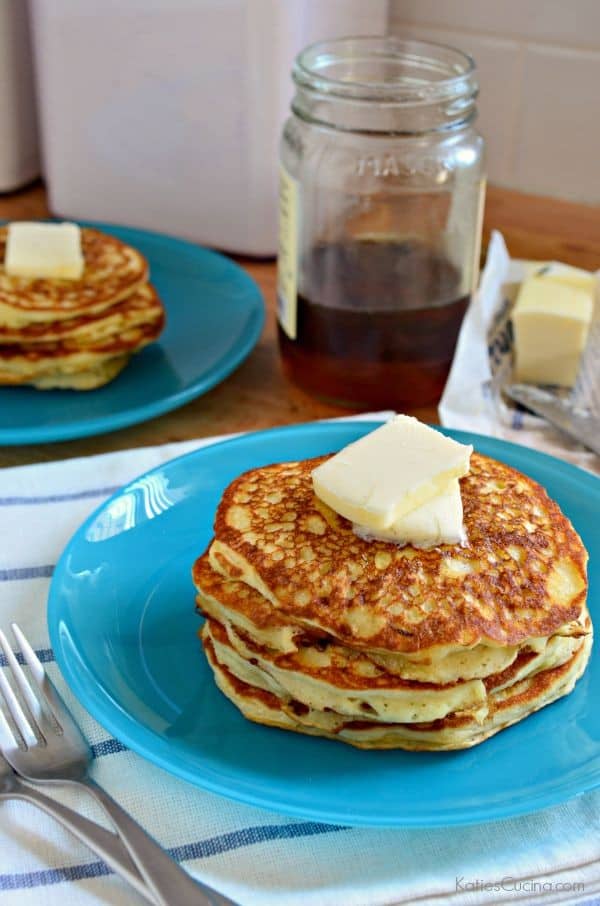 My husband, isn't a huge fan of pancakes, but will happily eat my buttermilk pancakes when I make them. I don't think I've ever seen him order pancakes at a restaurant. That's why I typically only make them twice a month. I alternate them and waffles which I adore. Along with the traditional eggs, sausage and breakfast potatoes.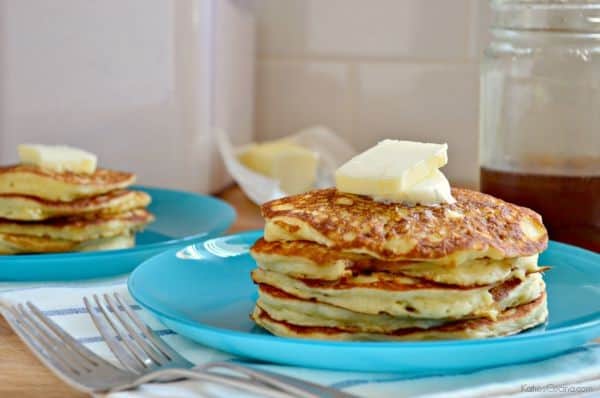 My toddler, also loves these pancakes. So much so that I normally freeze a batch and reheat throughout the week. He is definitely not a creature of habit. He needs a variety of breakfast foods to stay interested in breakfast throughout the week. I've tried mixing in bananas into the pancake mix but he could careless for the fruit version. He likes them just like I do.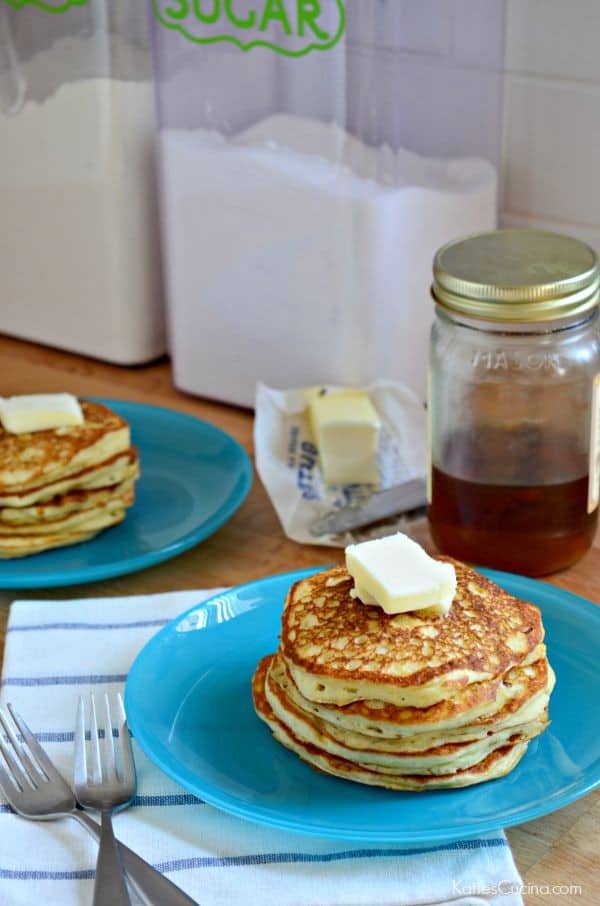 And most recently I've introduced him to maple syrup. I'll dip the tiniest piece into maple syrup and then feed it to him. He loves it. Of course, why wouldn't he? I grew up eating the fake stuff so I'm happy to introduce him to the real stuff early in age. My hopes are that he will try the fake stuff and think its disgusting! Speaking of the real stuff, I just spent the weekend in Vermont, Maine, and New Hampshire. I loaded up on the real stuff… maple syrup that is. I'll be sharing my trip soon on the blog. It was a blast and I can't wait to go back and take my family on vacation.
If your craving buttermilk pancakes, I hope you'll give my recipe for buttermilk pancakes a try!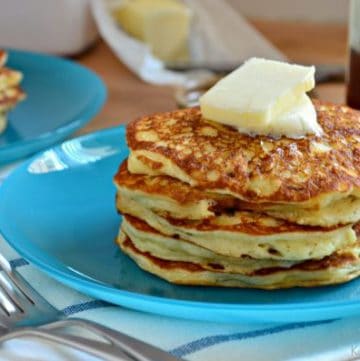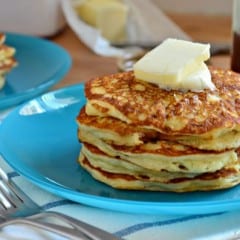 Buttermilk Pancakes
I'm sharing with you today the absolute best buttermilk pancake recipe! Light and fluffy pancakes that will knock your breakfast socks off!
Print
Pin
Rate
Ingredients
1

cup

of all-purpose flour

1

tbsp

white sugar

1

tsp

baking powder

1/2

tsp

baking soda

1/4

tsp

salt

1

cup

buttermilk

3

tbsp

milk

1

egg

2

tbsp

butter

melted and slightly cooled
Instructions
In a large bowl, combine flour, sugar, baking powder, baking soda, and salt. Then add in the  buttermilk, milk, eggs, and melted butter. Mix for 30 seconds and all ingredients are blended.

Heat a lightly oiled griddle or frying pan over medium-high heat.

Pour the batter onto the griddle, using about 1/4 cup for each pancake (or less if you want silver dollar pancakes).

Brown on both sides. Remove from griddle and repeat until all the batter is used. Serve hot with butter and maple syrup.