Get ready for your new go-to pasta bake that everyone in the family will love. My recipe for chicken parmesan baked ziti is a great way to use up leftover cooked chicken.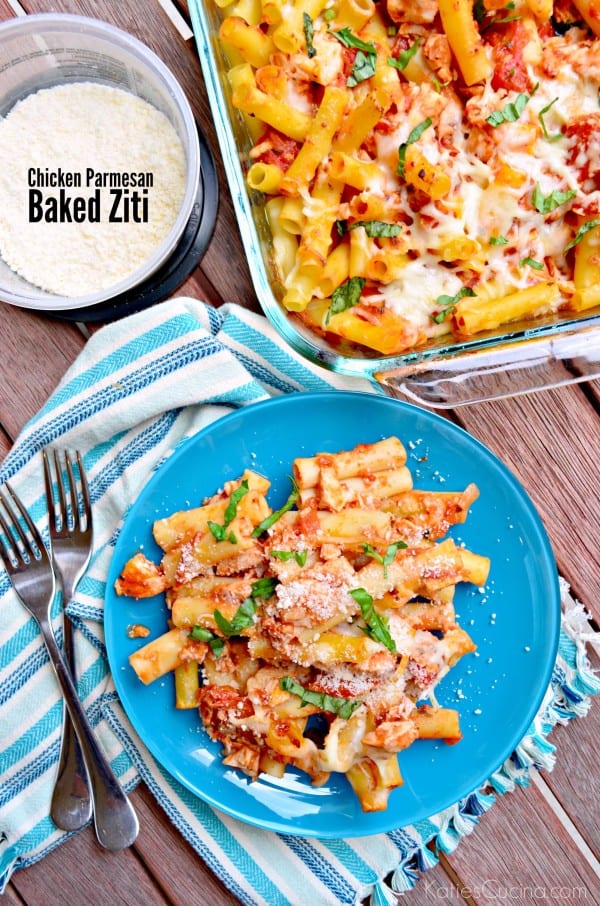 A few weeks ago, I had leftover rotisserie chicken. I had ideas of a pasta bake but wasn't sure what route I wanted to go. And then I thought of my husbands favorite meal–chicken parmesan! That's when I decided to make this chicken parmesan baked ziti. Since moving into our rental I'm trying to make an effort to use up pantry items so it's less to move later this month to our new house. I had mozzarella cheese that was soon to expire plus some Parmesan cheese and ziti pasta I wanted to use up. And add in the leftover rotisserie chicken, and this recipe was meant to be made!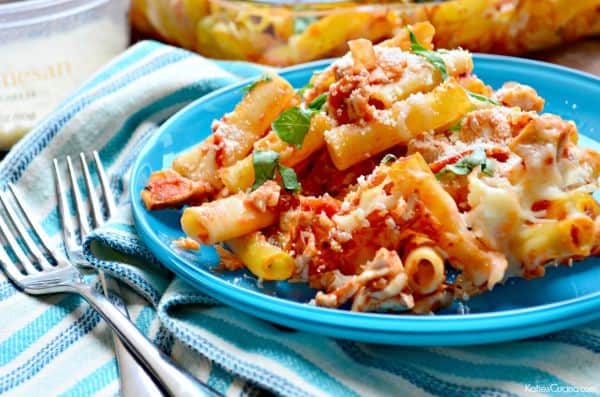 I preheated the oven and while the pasta cooked I whipped up a very quick batch of marinara sauce. Of course you can use your favorite jarred pasta sauce instead of making your own. I just didn't have any on hand so I made my own. After the pasta and sauce were ready I sprayed a large baking dish with olive oil cooking spray. I like to use the olive oil version over butter when making Italian food. Then I poured a little bit of the marinara in the baking dish as well as all the pasta, the chicken, half the mozzarella plus the rest of the sauce. I gave it a good stir and then topped it with the remaining mozzarella and Parmesan cheese. In the oven it goes to bake for 25 minutes. The night I made this recipe, instead of serving it with garlic bread I served it with a salad flatbread. A simple flatbread topped with fresh tomatoes and spring salad mix with a drizzle of sweet balsamic reduction sauce. I felt like it was a great two-for-one recipe that covered both the salad and the bread!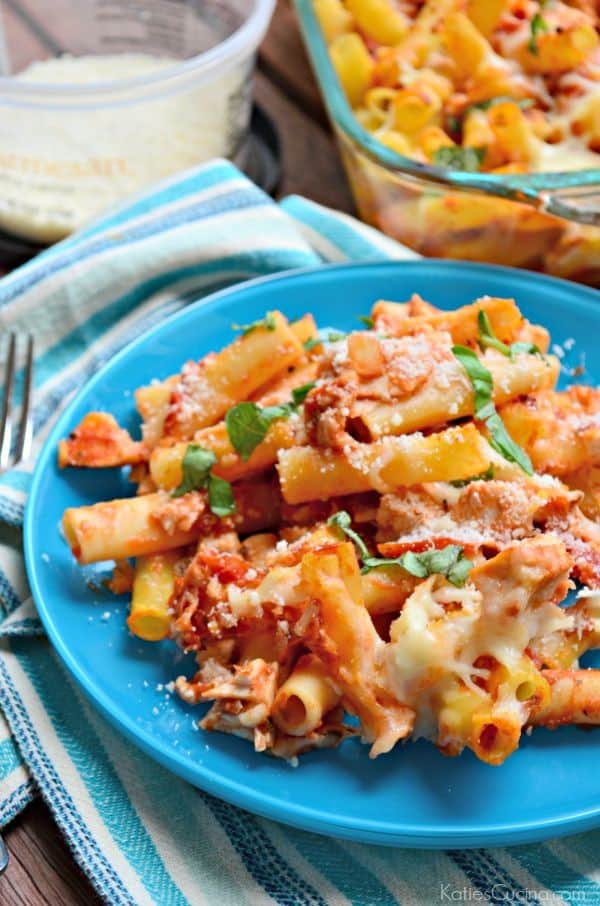 The night I made this Ryder had ate dinner earlier than us. We opted to eat dinner on the couch while he played in the living room. We never do that, we always eat dinner as a family at the table. But we didn't think he would be happy sitting in the high chair as we ate. We also didn't feel like hearing a screaming tantrum stricken toddler. So the couch it was. However, Ryder kept walking to my plate to take a bite of food. After the 4th time we moved dinner back to the table and Ryder ate a whole other dinner! This kid can eat. It's amazing that he's only in the 2% of his weight for his age. But then again he eats all whole food, very little sugar, and rarely anything processed! As you can read the pasta was a big hit in my house and I hope my recipe for chicken Parmesan baked ziti is a hit in your home too!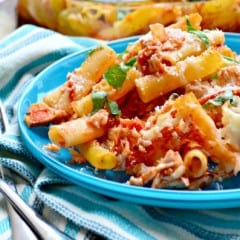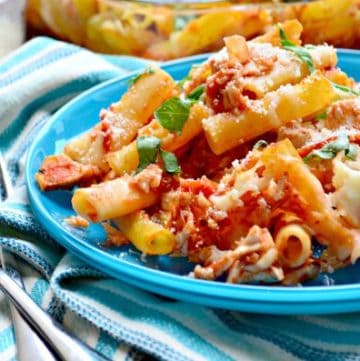 Chicken Parmesan Baked Ziti
Get ready for your new go-to pasta bake that everyone in the family will love. My recipe for chicken parmesan baked ziti is a great way to use up leftover cooked chicken.
Print
Pin
Rate
Ingredients
4

cups

marinara sauce

1

box

ziti

Olive oil cooking spray

2

cups

cooked chicken

diced

1

cup

shredded mozzarella cheese

¼

cup

grated Parmesan

6

basil leaves

chiffonade
Instructions
Preheat oven to 425 degrees.

Cook ziti in a large pot of salted boiling water for 10 minutes. Drain and set to the side.

In a large 9 x 12 baking dish, lightly coat with olive oil cooking spray. Pour 1 cup marinara sauce in the baking dish. Then pour in the drained pasta along with 2 cups of sauce, all the chicken, and ½ cup of the mozzarella cheese. Mix well and then top with remaining mozzarella and grated Parmesan cheese. Bake for 25 minutes.

Remove the chicken parmesan baked ziti from the oven. Top with basil chiffonade. Add additional marinara sauce if desired and enjoy immediately.
Notes
You may also use penne. Since the pasta is cooked alone, you can also use whole wheat or gluten-free if desired. Just make sure to cook them no further than al dente as they will soften more in the oven.
Nutrition
Calories:
468
kcal
|
Carbohydrates:
66
g
|
Protein:
32
g
|
Fat:
9
g
|
Saturated Fat:
4
g
|
Polyunsaturated Fat:
1
g
|
Monounsaturated Fat:
2
g
|
Cholesterol:
58
mg
|
Sodium:
1003
mg
|
Potassium:
795
mg
|
Fiber:
5
g
|
Sugar:
8
g
|
Vitamin A:
900
IU
|
Vitamin C:
12
mg
|
Calcium:
177
mg
|
Iron:
3
mg