Zoodle Veggie Stir Fry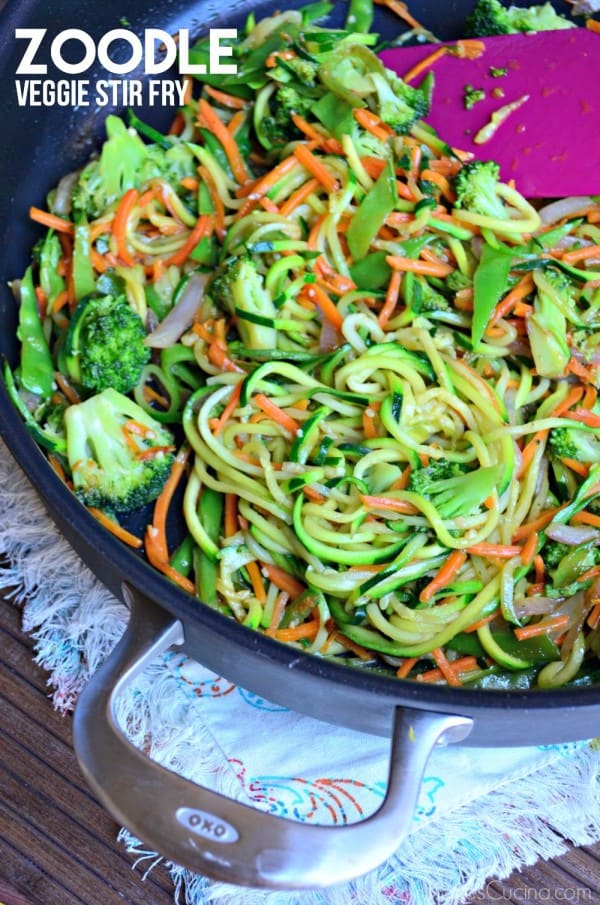 I think I might be the last food blogger on the planet to jump on the zoodle bandwagon. I resisted for a long time. Then got interested in the thought earlier this year but did nothing to give it a try. Then, my friends at OXO emailed me earlier this month and informed me that they were coming out with a Hand-Held Spiralizer and they wanted to send me one to try. So I agreed to give it a try and the rest was history.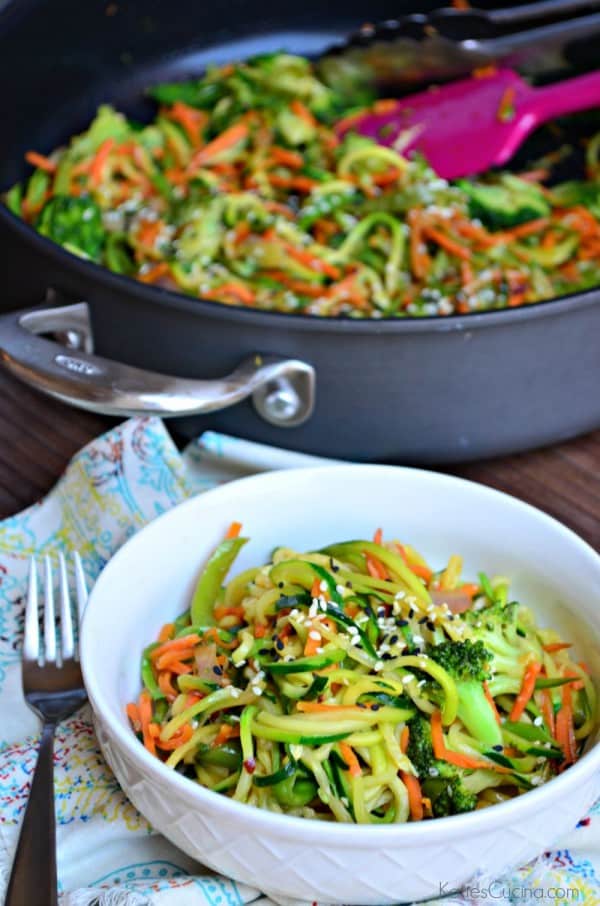 Seriously, it felt like Christmas morning when I received the package with my Hand-Held Spiralizer in the mail. As soon as I got home, I gave it a whirl and made this zoodle veggie stir fry. I've made this stir fry 3 times now. Each time I've made it the recipe has improved to the point that now I feel comfortable to share the recipe.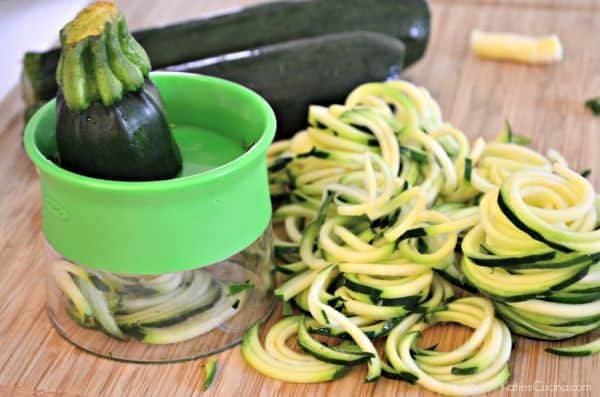 I'm kind of mad at myself for not jumping on the bandwagon years ago. I feel like I've missed out on so much! So if your like me and have resisted–please stop resisting and join the spiralizing revolution. I love all OXO products and love the Hand-Held Spiralizer just as much as my other hand-held tools. You can use it two ways. The first way is hold the tool in the air and cranking with your hand–think pencil sharpener. Or you can place it on a cutting board, hold the vegetable in one hand and crank the spiralizer with the other hand. This is the method I prefer. I find I have more control and I can make the zoodles quicker. Either way works though.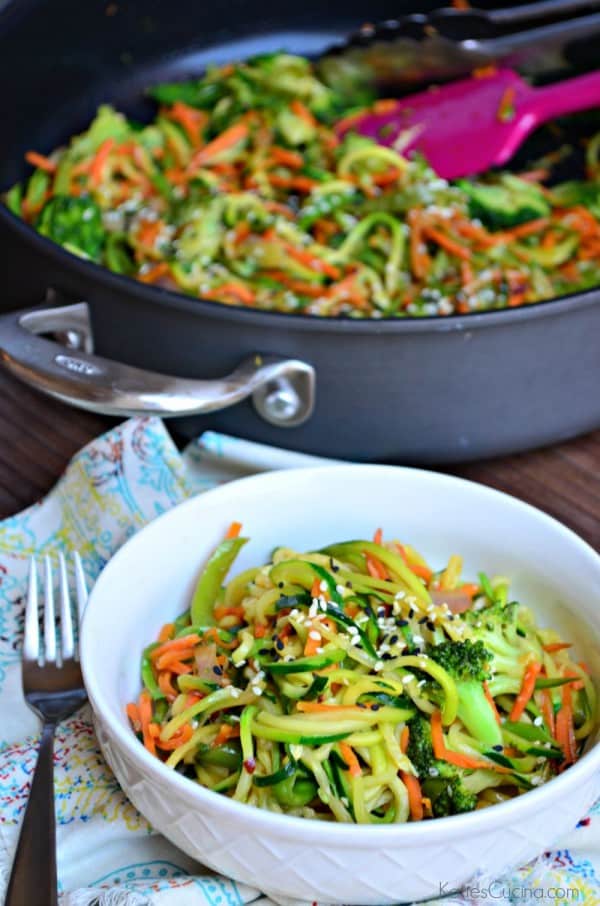 So far I've only spiralized zucchini and I have a soup recipe I'll be sharing next month as the weather gets warmer. I think you'll love it!  I plan to start experimenting with cucumbers and sweet potatoes in the coming weeks. And as I test recipes in my kitchen I'll share them once they are perfected (like always).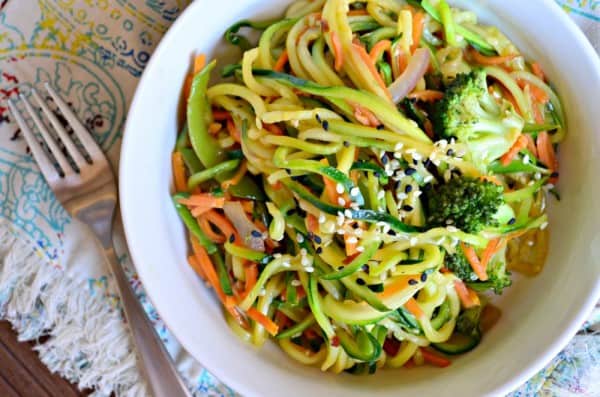 If your looking for a healthy lunch (or dinner) that you can make in under 20 minutes then I invite you to give my recipe for zoodle veggie stir fry. This recipe only makes 1 serving so if your cooking for more than just yourself remember to double, triple, or even quadruple your recipe!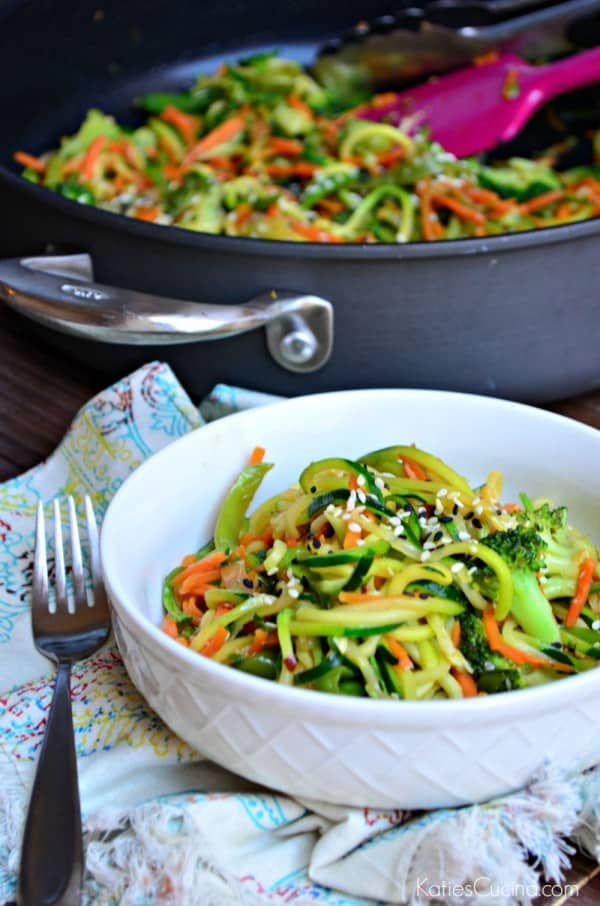 Zoodle Veggie Stir Fry
Yield: 1
Prep Time: 15 minutes
Cook Time: 5 minutes
Total Time: 20 minutes
Ingredients:
For the veggie stir fry:
1 tablespoon grape seed oil
1 tablespoon sesame oil
2 zucchini, spiralized
1 cup matchstick carrots
1 cup snow peas, julienne sliced
1 cup fresh broccoli, chopped
1/4 red onion, sliced
1/4 teaspoon kosher salt
For the sauce:
1/4 teaspoon ground ginger
1 teaspoon minced garlic in water
1 tablespoon soy sauce
1 tablespoon vegetable stock
Dash of red pepper flakes
1 teaspoon cornstarch
Sesame seeds for garnish
Directions:
Begin prepping the vegetables. This is the part that takes the longest so do it all before you begin to cook.
Once all vegetables are cleaned and cut, preheat a large skillet or wok on high heat with both oils. Then place the carrots, onions, snow peas, and broccoli in the skillet. Sprinkle salt on top and mix the vegetables so the oil evenly coats the vegetables. Then place the lid on and reduce heat to medium. Sweat the vegetables for 3 minutes, mixing periodically.
While vegetables are cooking, in a small bowl, mix together the ground ginger, minced garlic in water, soy sauce, vegetable stock, dash of red pepper flakes, and cornstarch. Mix well and set to the side.
Once the vegetables have sweat for 3 minutes add in the zucchini noodles. Mix well and place the lid on the skillet. Increase the heat to high and let cook for 2 minutes. Mix after the 1 minute mark. Then pour in the sauce, mix well and serve immediately. Top with sesame seeds for garnish if desired.
Disclaimer: I received the Hand-Held Spiralizer for free with no other compensation. All opinions are my own. 
Warning
: Use of undefined constant rand - assumed 'rand' (this will throw an Error in a future version of PHP) in
/home/kjasiewicz21/webapps/katiescucina/wp-content/themes/katiescucina/single.php
on line
74
8 Responses to "Zoodle Veggie Stir Fry"
Trackbacks/Pingbacks

Leave a Comment