Kale Carrot and Broccoli Stir-Fry
Learn how to make a healthy vegetarian kale carrot and broccoli stir-fry in just minutes! Perfect for a quick lunch or dinner for two!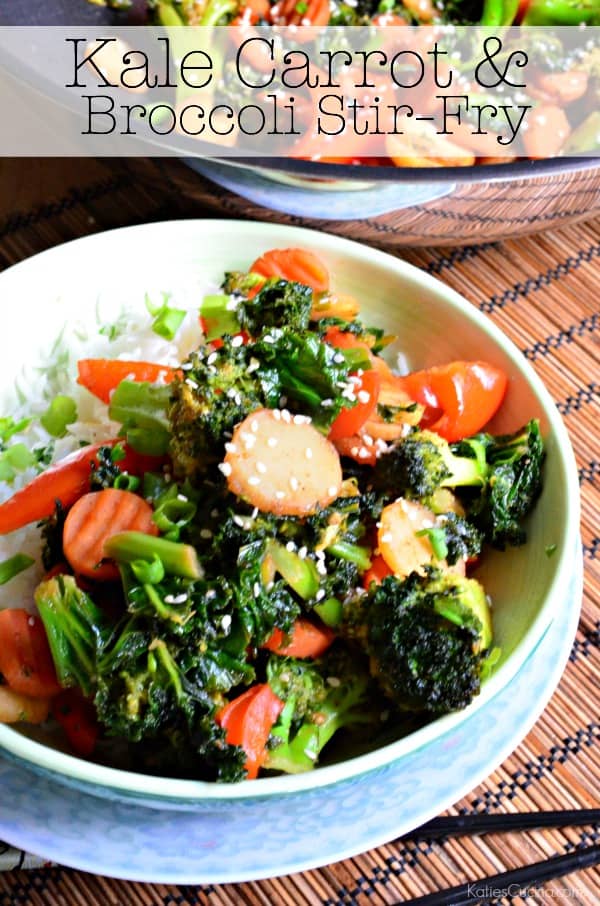 I've been trying to eat better lately. If I don't have a plate of leftovers for lunch I typically either make a really big salad or a stir-fry of sorts. Lately, I've been stir-frying a lot of kale, and I'm loving it. I've perfected my kale stir fry of sorts and so excited to share this Kale Carrot and Broccoli Stir-Fry. It makes enough for 2 servings. You have no excuse that you can't make a delicious and healthy lunch. I make this stir-fry at least once a week with a crazy loud 10 month old in a high chair by my side! So if I can do it… you can too!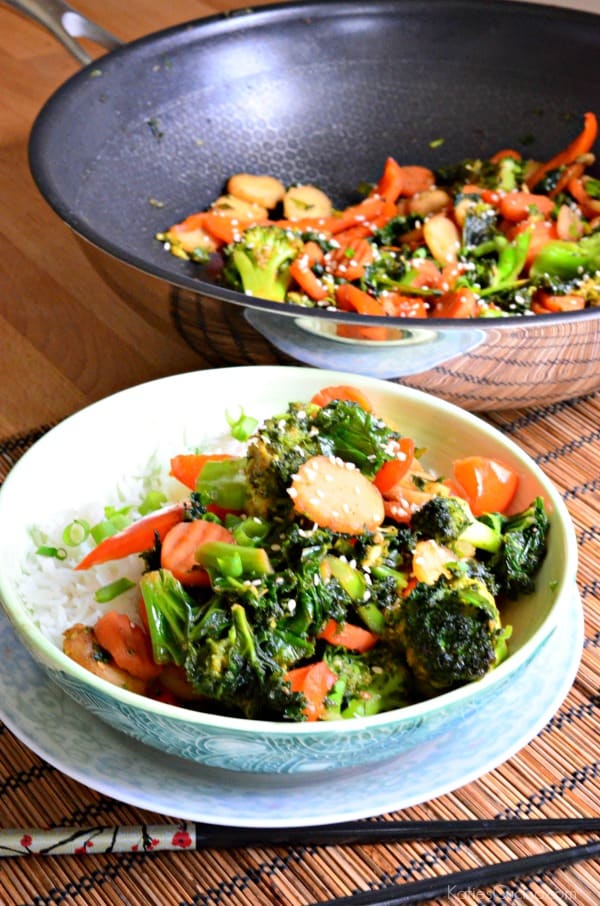 A few months ago I received the new Black Cube™ Wok by Frieling. I haven't had a wok in a few years, so as soon as I got this one I was stir-frying again like crazy. The Black Cube™ combines all the benefits of stainless steel and nonstick cookware in one. I'm in love with the wok (and I have a traditional frying pan that I love as well). It cooks evenly and nothing sticks! And it's easy to clean! If your looking for an inexpensive and great quality wok–I highly recommend this one!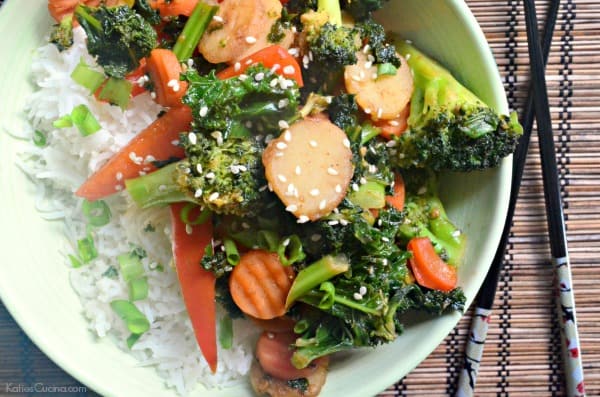 This Kale Carrot and Broccoli Stir-Fry makes two servings. I typically eat one serving for lunch and then save the rest for the next day. Some days I will eat it with a little rice if I have it on hand and other days I'll eat it as is. And then maybe throw in an asian salad, miso soup, or even some steamed chicken dumplings. Of course if I have protein on hand like leftover rotisserie chicken or shrimp I'll throw that into my stir-fry too. I like that this stir-fy doesn't have a lot of sauce. It's just enough and when you make the sauce your going to think that their isn't enough and that your stir-fry is going to be bland. Not the case–it's full of flavor and has just the right amount of sauce.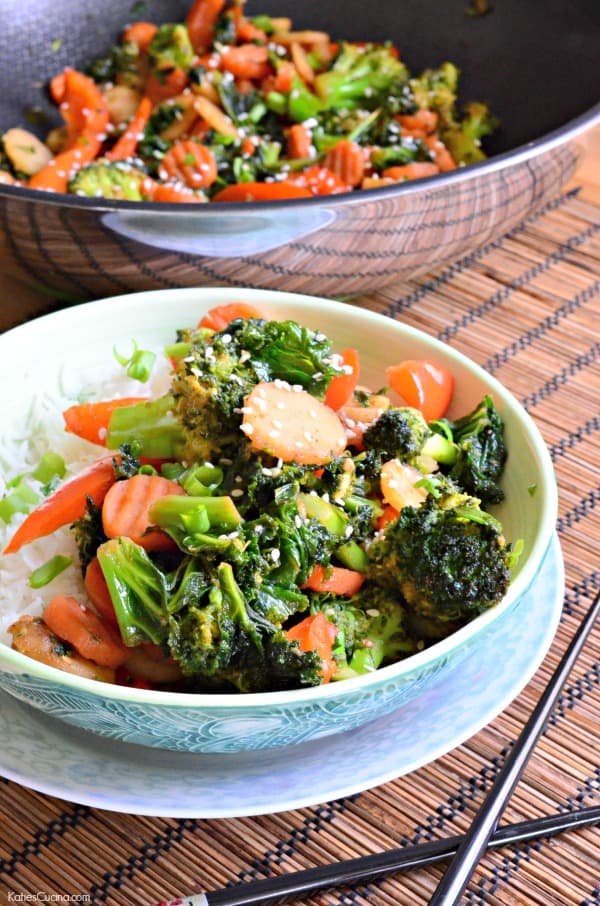 I also like to use pre-sliced carrots and broccoli florets so it's less work I have to do. I use just one tablespoon of grapeseed oil. Grapeseed oil is ideal for stir-fry's. It has a very high smoke point and has little to no flavor. So all the flavor is concentrated on the star of the meal the veggies and sauce! Whether or not you like kale I think you should give my recipe for Kale Carrot and Broccoli Stir-Fry a try.

Kale Carrot and Broccoli Stir-Fry
Yield: 2
Prep Time: 10 minutes
Cook Time: 7 minutes
Total Time: 17 minutes
Ingredients:
1 tablespoon grape seed oil
2-1/2 cups kale, chopped
1 cup sliced carrots
1 cup brocoli floretts
1/2 red bell pepper, sliced thin
8 oz. sliced water chestnuts, drained
1/4 cup green onions, sliced and divided
2 teaspoons rice wine vinegar
2 teaspoons lower-sodium soy sauce
1 teaspoon peeled and minced fresh ginger
1 teaspoon minced garlic
1 teaspoon honey
1 teaspoon sesame oil
1 tablespoon hoisin sauce
1 teaspoon sesame seeds
Directions:
To make the sauce combine, 1 tablespoon finely chopped green onions, 2 teaspoons rice wine vinegar, 2 teaspoons lower-sodium soy sauce, 1 teaspoon peeled & minced fresh ginger, 1 teaspoon minced garlic, 1 teaspoon sesame oil, 1 teaspoon honey, 1 tablespoon hoisin sauce. Mix together and set to the side.
Heat the wok on high heat. Pour the grape seed oil in the wok and swirl. Heat for one minute and then place the kale, broccoli, carrots, and red bell pepper  in the wok with 2 tablespoons water. Mix well and place a lid and cook for 3 minutes (stirring occasionally--this will help steam the vegetables).
Add the water chestnuts and continue cooking vegetables and mixing the vegetables around the wok so that they don't burn. Once the vegetables are al dente (about 5-7 minutes total) pour in the sauce. Mix constantly until everything has been coated with sauce. Cook for one 1 minute, remove from heat. Plate and sprinkle the remaining green onions and sesame seeds on top. Enjoy.
*Make sure you prep all of your vegetables ahead of time before firing up the wok. The key to a successful stir fry is having everything ready and then cooking.
Warning
: Use of undefined constant rand - assumed 'rand' (this will throw an Error in a future version of PHP) in
/home/kjasiewicz21/webapps/katiescucina/wp-content/themes/katiescucina/single.php
on line
74
Leave a Comment