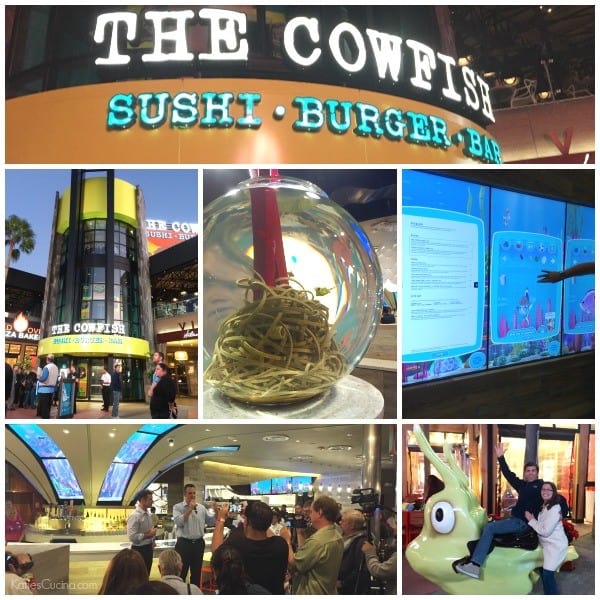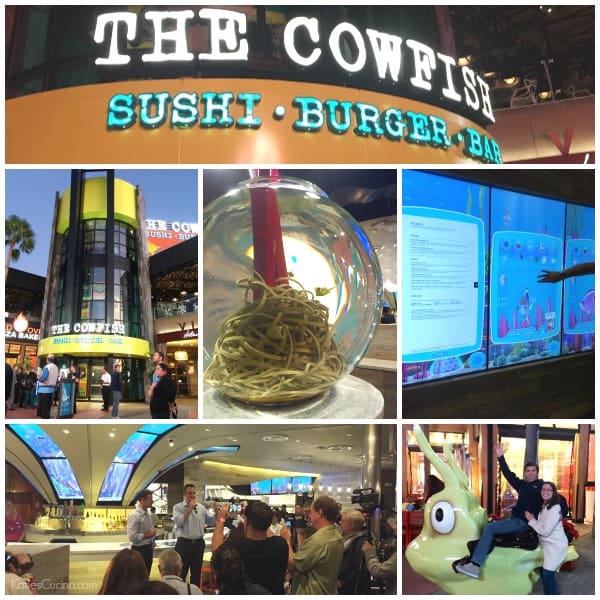 If you love Burgers and you love Sushi you'll love The Cowfish™ at Universal Citywalk in Orlando Florida. My husband and I had the opportunity to try the new restaurant back in December. It made for the perfect "date night" out. I had never heard of the The Cowfish™; however, after listening to the founders of The Cowfish, Marcus Hall and Alan Springate, tell their story about how their restaurants merged into one (and listening to the room buzz about eating at the original restaurant in North Carolina), I knew we were in for a treat. Long story short, each owner owned a tiny restaurant next door to one another (a burger bar and a sushi bar). After realizing that they had both outgrown their restaurants they decided to knock down the wall dividing their restaurants and combine both burger and sushi bar. And that is how Burgushi® was born. This is the ideal restaurant for couples or families who like one or both of the featured items. No need to argue about where to eat because there is truly something for everyone.
The restaurant is three stories tall with both indoor and outdoor seating available. We dined on the second floor (the main floor). Bathrooms can be found on the top floor. You can venture up all three flights of stairs or take the elevator. Upon entering the main floor you can create a virtual fish that will swim around the restaurant on large screens that can be found throughout all three floors. I put together a short commercial of our experience at The Cowfish to give you a good idea of what it's like.
Burgers and sushi. Sushi and burgers. Certainly unusual, absolutely great. That's The Cowfish™, the first and only Sushi Burger Bar, focused on offering both the best sushi AND the best burger in town. Our signature creations are what we call "Burgushi®"! A cutting edge fusion of burger and sushi, Burgushi® items include sushi rolls created using burger components, and pick-up style sandwiches created using sushi ingredients.

The Cowfish™ is a one-of-a-kind dining experience, thriving on its ability to fuse two niche products seamlessly on the same menu. Fresh, innovative and delicious, the sushi segment of the menu is far beyond what you're accustomed to. All natural, creative and hearty, the burgers entice with fresh, never frozen, ingredients and bold flavors. Spiked hand-spun milkshakes, premium sakes, craft beers, wine and 10oz exotic martinis round out a huge bar menu that is sure to please. The Cowfish™ aims to offer something for the entire family. Scrumptious appetizers for sharing, entree-sized salads, homemade desserts and a fun kid's menu. If you can't make up your mind, try a bento box to sample a mini-burger along with your choice of sushi roll and three tasty side items!
While we were there we had the chance to try a variety of menu items.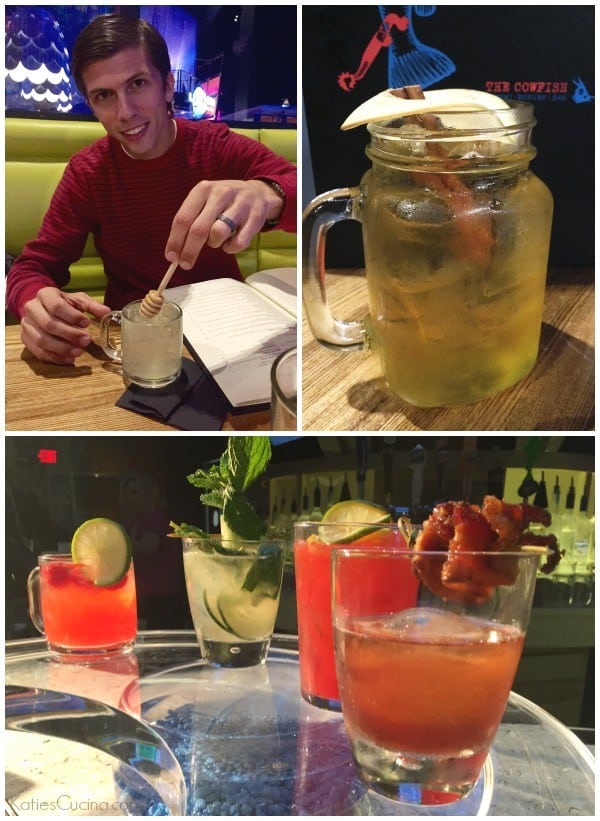 A few drinks we sampled:
Bees Knees: Miller's gin, lemon and lime juice, honey, soda
Buffalos and Bacon: Buffalo Trace bourbon, cherry liqueur, angostura and orange bitters, honey, candied bacon

Hokkaido Nights: 44 North Nectarine vodka, lemongrass syrup, fresh

basil and mint, cucumber

Ruby Panther: Deep Eddy Ruby vodka, simple syrup, lemon juice,

pink lemonade, raspberries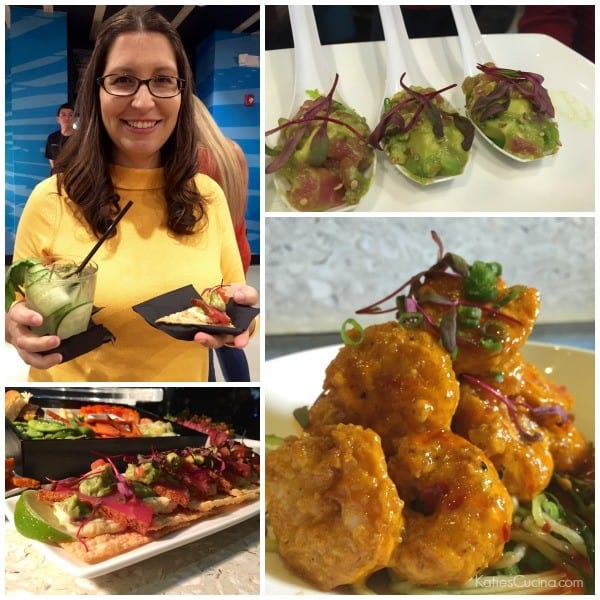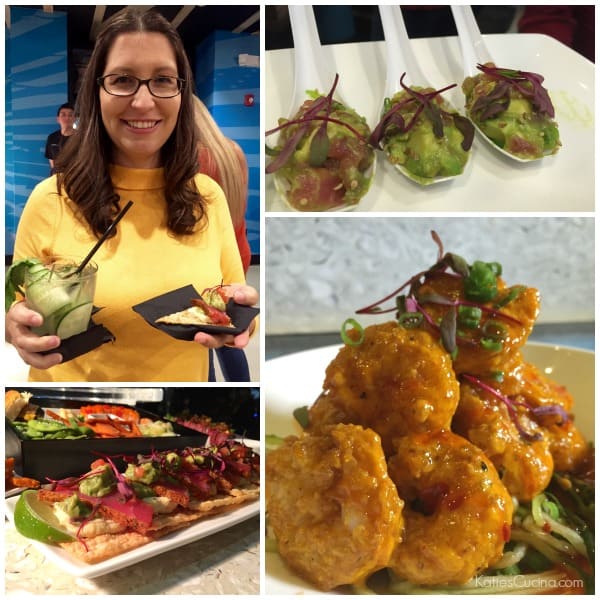 Our favorite appetizers were:
CRAB RANGOON DIP (12): Creamy crab rangoon with parmesan panko crust, wonton crisps, sweet chili sauce and chives
TUNA & AVOCADO-TINI (12): Cubed yellowfin tuna and ripe avocado in ginger dressing
BLACKENED TUNA NACHOS (13): 5 wonton chips with Crab Rangoon Dip, avocado salsa, tomatoes, seared rare blackened yellowfin tuna and microgreens
PARMESAN TRUFFLE FRIES (8): House fries with truffle and parmesan cheeses, applewood bacon and chives

SPICY TOGARASHI SHRIMP (13): Flash fried shrimp in spicy Japanese chili sauce. Served over Asian slaw with pounded ginger sauce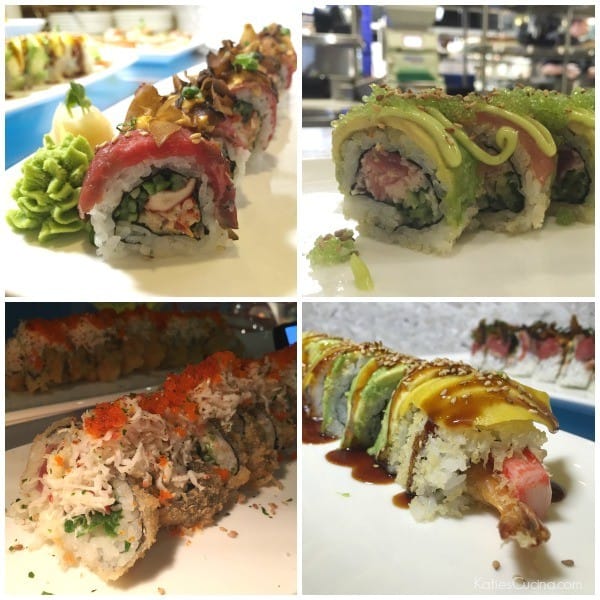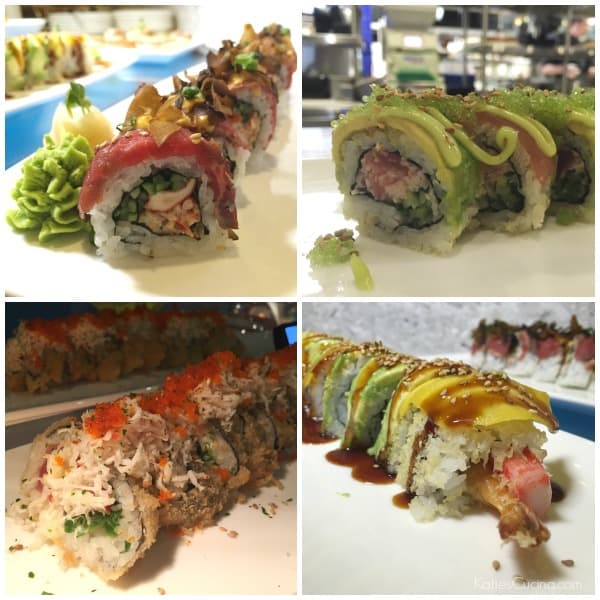 The Sushi:
THE PRIME TIME" FILET & LOBSTER ROLL (23):

Lobster and cucumbers inside, topped with seared rare seasoned filet mignon, pan-fried portabella mushroom slices tossed in truffle oil, green onions and spicy mayo. Served with a side of pounded ginger sauce

BLACKENED TUNA ROLL (17): Lump crabcake mix and cream cheese inside, coated in tempura flakes. Topped with seared blackened tuna, avocado salsa and jalapeño
*GEORGIA ROLL (18): Tempura shrimp, kani inside, coated with tempura flakes. Topped with yellowfin tuna, eel and sweet eel sauce. Served with a side of spicy mayo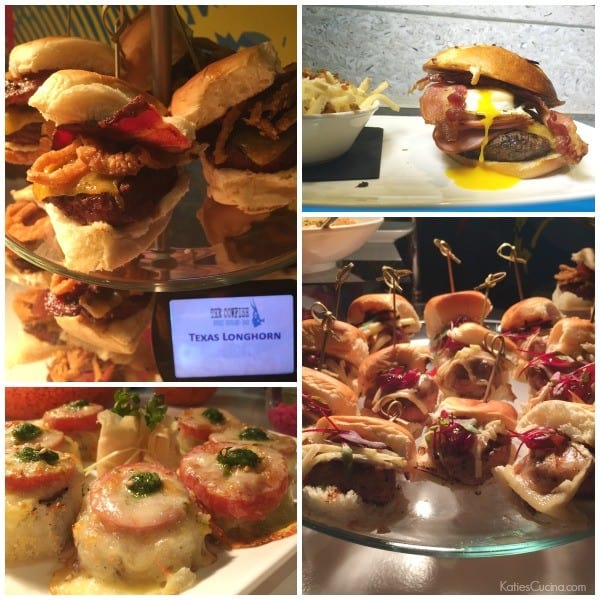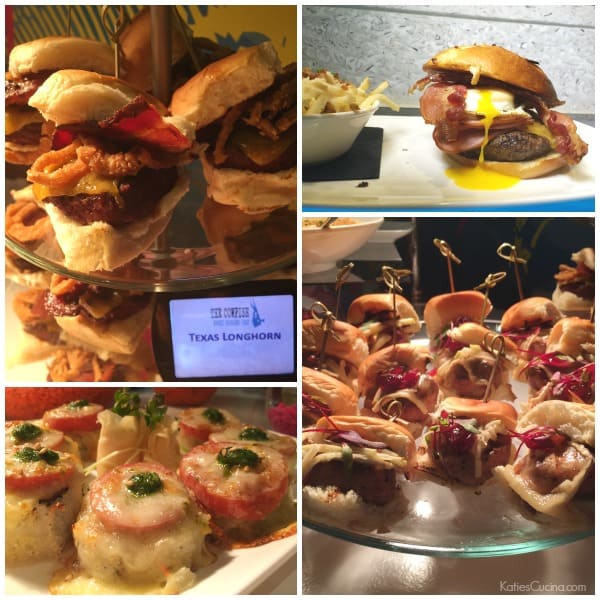 The Burgers:
THE RISE & SWINE BURGER (15): Beef burger, cheddar cheese, grilled black forest ham, sunny-side-up egg, applewood bacon, grilled onions, Cowfish sauce, onion roll
THE TEXAS LONGHORN (14): Beef burger, cheddar cheese, onion strings, jalapeño bacon, tangy BBQ sauce, lettuce, tomato, brioche bun
THE COWFISH HAS OFFICIALLY LEFT THE BUILDING (17): Full-pound beef burger, creamy peanut butter, fried bananas, applewood bacon, brioche bun
THE BOURSIN BACON BURGER (13): Beef burger, garlic & herb boursin cheese, applewood bacon, sautéed mushrooms, grilled onions, lettuce, tomato, onion roll
Burgushi:

THE TASTE EXPLOSION ROLL (15): Seasoned natural Angus ground beef, applewood bacon, jalapeños, spicy mayo inside, coated with tempura flakes. Topped with Roma tomato and pepper jack cheese, then baked. Drizzled with cashew cilantro pesto
THE BIG SQUEAL (15): Beef burger, pulled pork, smoked gouda cheese, onion strings, bacon coleslaw, BBQ sauce, lettuce, pickles, brioche bun
THE HIGH CLASS HILLBILLY – SOUTHERN STYLE BAR-B-Q-SHI (16):Pulled pork, caramelized onion and BBQ sauce, potato wrapped and flash fried. Topped with housemade bacon coleslaw and chives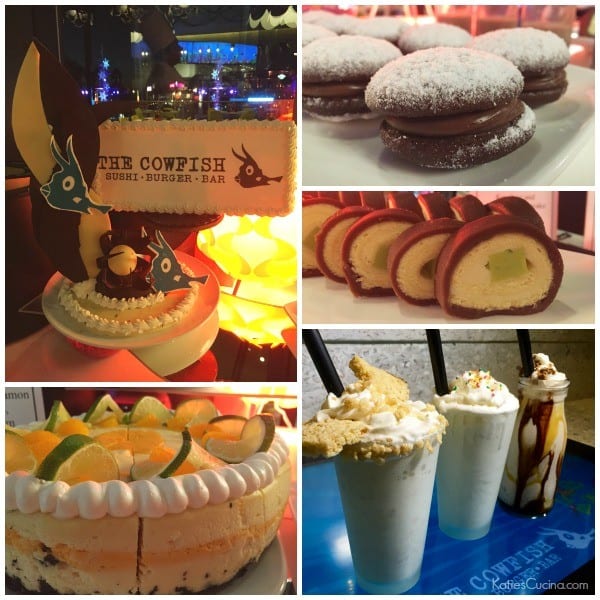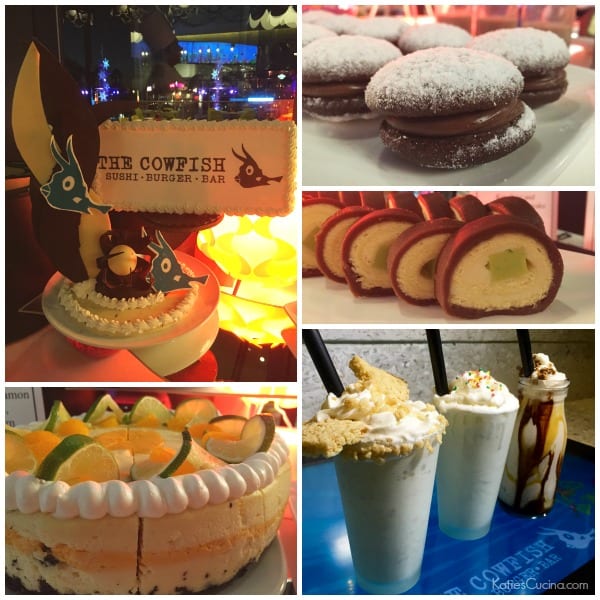 For dessert we had a sampling of desserts plus milkshakes!
CAKE SHAKE: Vanilla ice cream with the guest's choice of Vanilla or Chocolate birthday cake mix

THE MARSHMALLOW CRISP: Rice Krispies and mallow cream with vanilla ice cream. Topped with crispy toasted marshmallows

THE KING LIVES: Cruzan rum, 99 Bananas liqueur, vanilla ice cream, banana, peanut butter cups

STICK IN THE MUD: Collingwood Canadian whiskey, vanilla ice cream, malt, caramel drizzle, pretzel rod
Click here for menu
Click here for kids menu
Click here for beverage menu
The Cowfish™ Sushi Burger Bar
6000 Universal Boulevard
Orlando, FL 32819
(407) 224-2275
Hours: Sun-Sat: 11:00 AM –12:00 AM
Disclaimer: We were provided media passes to sample food from The Cowfish Sushi Burger Bar. I was not compensated to create a post. As always all opinions are my own.