Use up stale bread and make my easy and flavorful recipe for french toast muffins! Perfect for entertaining for breakfast or brunch.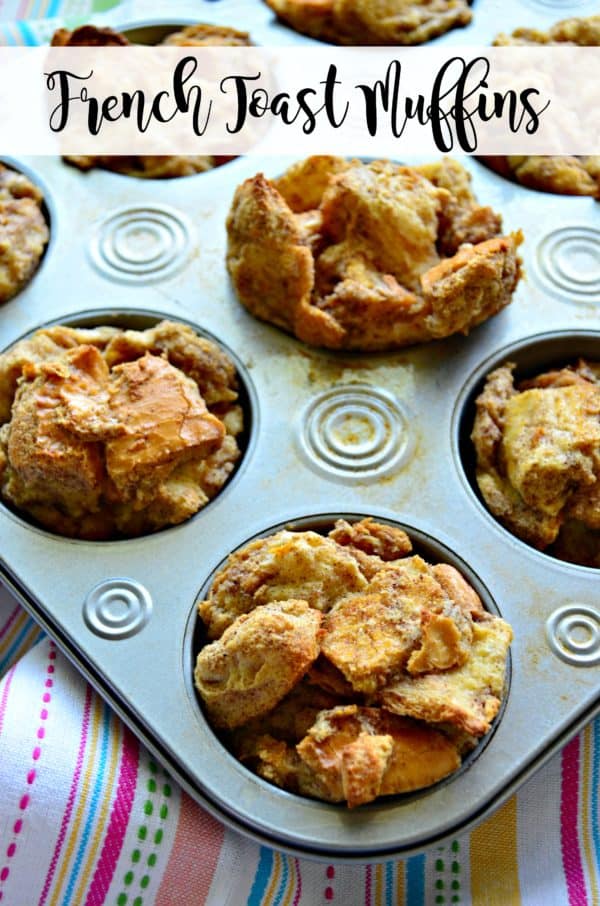 Let's talk breakfast today. Or if you prefer, brunch. It's been a while since I've last shared a breakfast recipe and I'm finally sharing my recipe for French Toast Muffins. So incredibly easy to make and super kid friendly. Even better you can prep these muffins the night before and then bake them the next morning. But don't worry, if you forget to prep the night before you can whip them up in 15 minutes that morning for breakfast. Since Father's Day is next weekend, I figure this might be a fun and easy recipe to make for dad!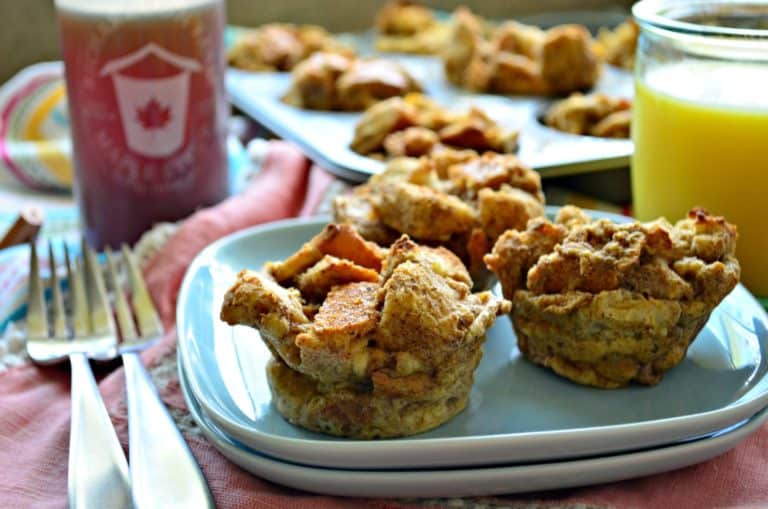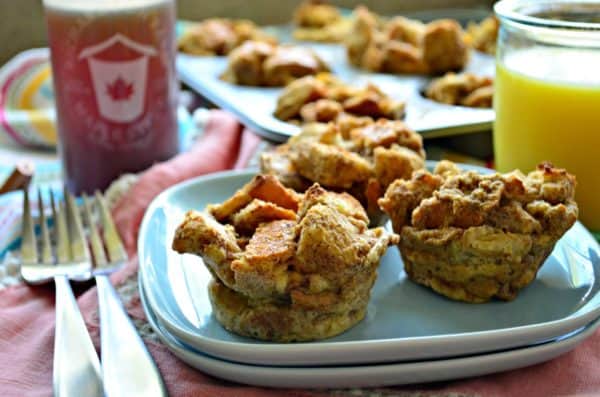 My two-year old like many toddlers has started to form his own opinion. And, boy has he formed his opinion on just about all meals. Most meals I'm lucky if he eats 4-5 bites. You would think his mother is the worst cook in the world if you sat in on one of our dinners. The faces he makes just cracks me up and partly makes me cringe inside. So I've really made an effort to base all dinners around foods that he likes (or that he liked yesterday, but of course changes his mind in present time that he no longer likes that food). He is currently in a phase of not eating any eggs. Gags the minute they touch his mouth. I've even tried giving him my egg whites and he has the same reaction. But one thing the kid loves is french toast. I mean who doesn't love french toast?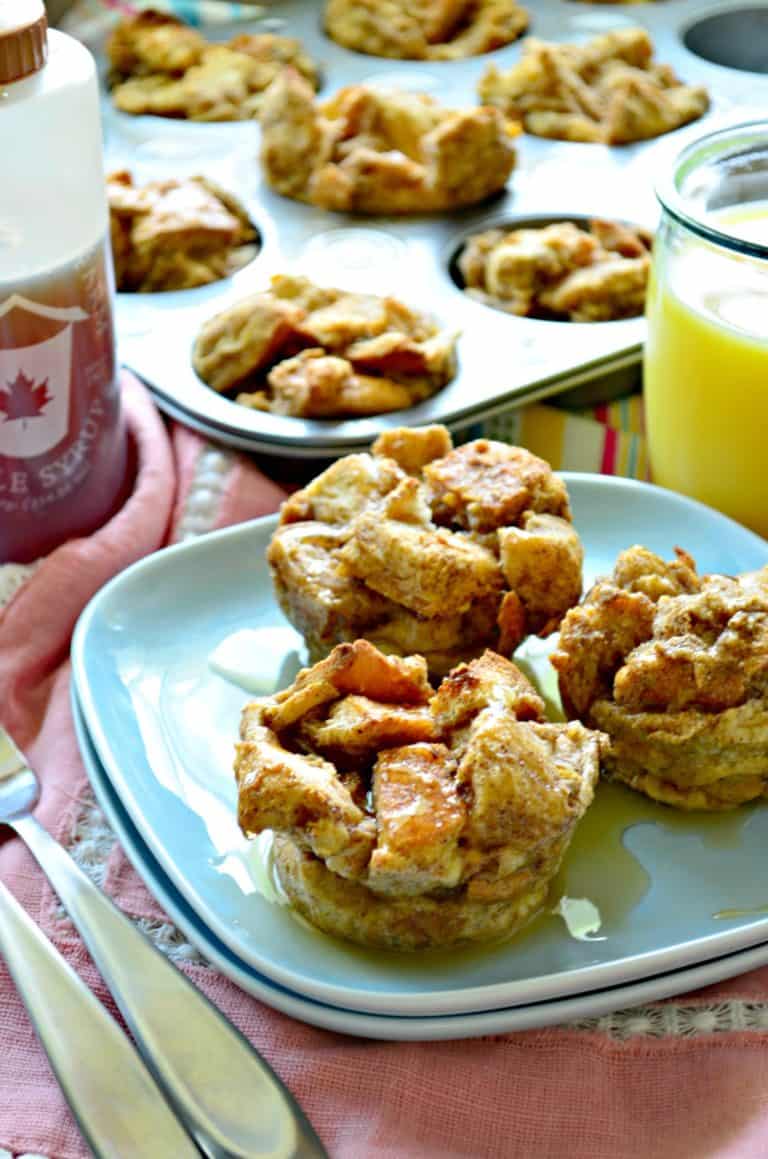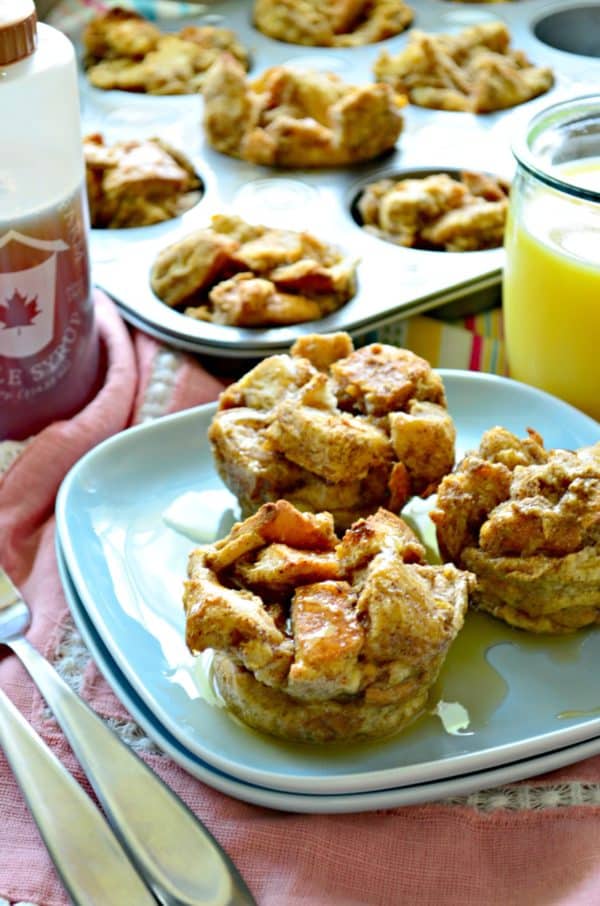 I had ¾ of a loaf of leftover stale french bread and I knew I was going to make french toast with it. However, instead of frying each individual piece like I normally do, I opted to cut the stale bread into 1-inch cubed pieces. And instead of make a french toast casserole like I sometimes make, I opted for muffins. I simply used a muffin tin and an ice cream scoop or a cookie scoop would work too, to place the french toast into the muffin tins.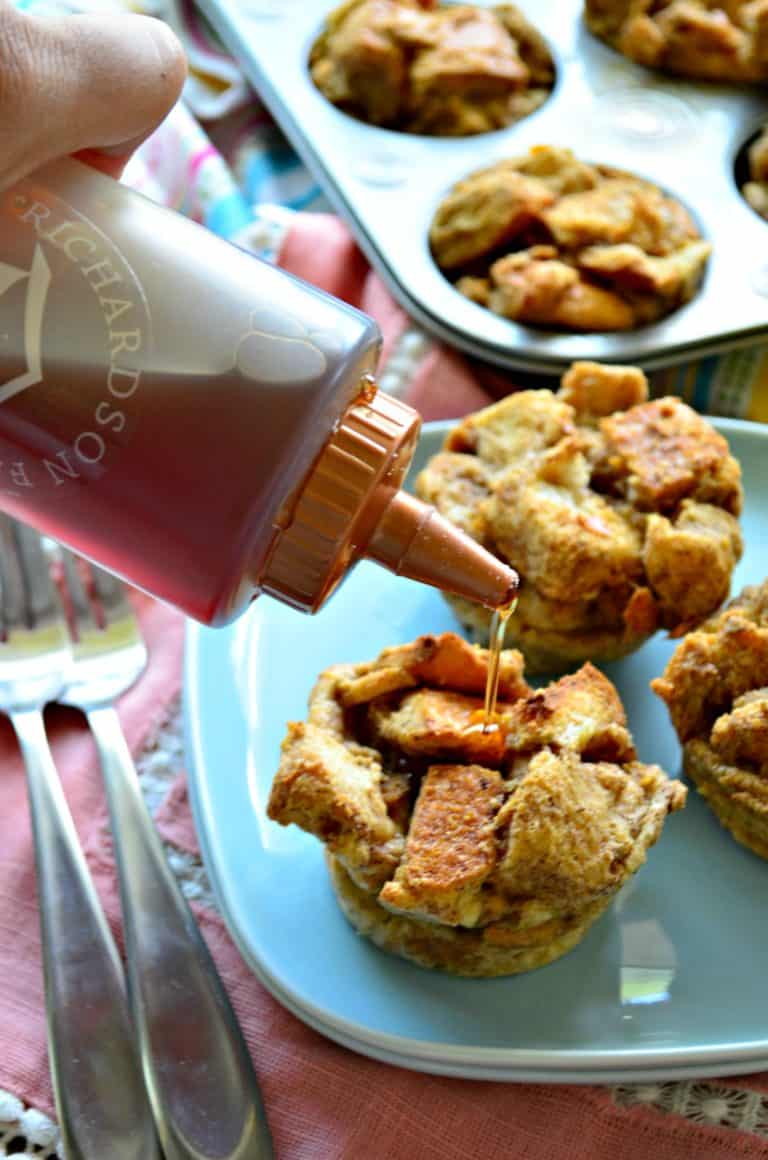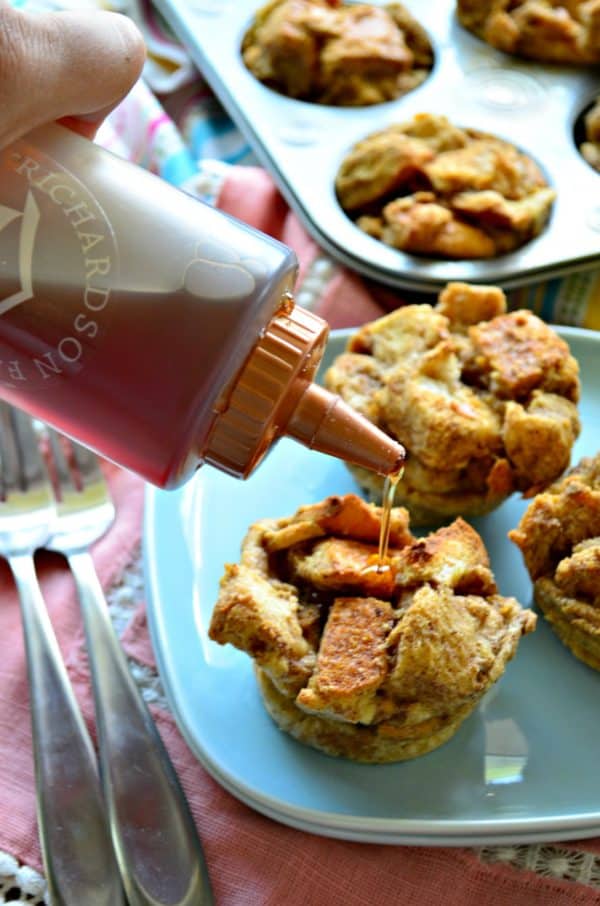 They were a big hit with my picky toddler. Even better, we had leftovers and I was able to feed him one each morning for breakfast. Of course, you need to serve these with a form of "dip" as my 2 year old calls it. I try to serve his with whipped cream, but he's recently learned all about maple syrup. So I give him the smallest little drop of maple syrup so he can dip his french toast into it. I'm crushing right now on Richardson Farm Maple Syrup from Vermont. It is the purest maple syrup I've ever tasted and I simply could drink it. True story, folks. Although, fear not, I haven't drank it yet… but I might drench all breakfast products in it! It's expensive stuff, but it's the best you can get. Worth every penny to me!
If you are looking to change up your breakfast routine, have stale bread to use up, and want breakfast throughout the week, I challenge you to make my french toast muffins!
Disclosure: There are a few affiliate links in this post. This is not a sponsored post. I truly enjoy the brands I talk about and want to share with my readers. As always, all opinions are my own.
DiscloSave
Save
Save
Save
Save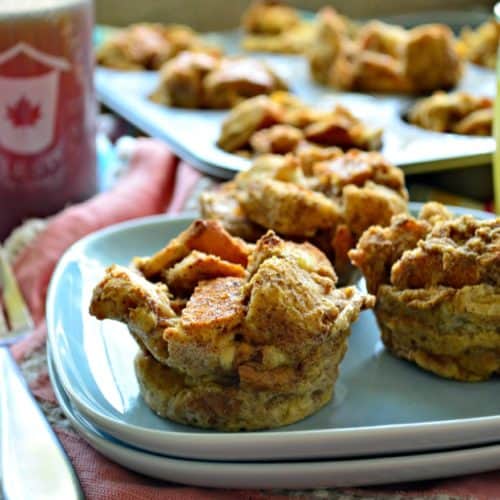 French Toast Muffins
Use up stale bread and make my easy and flavorful recipe for french toast muffins! Perfect for entertaining for breakfast or brunch.
Print
Pin
Rate
Ingredients
1

tablespoon

white granulated sugar

1

tablespoon

brown sugar

1

tablespoon

vanilla extract

2

teaspoons

cinnamon

⅛

teaspoon

nutmeg

5

eggs

1

cup

2% milk

½

cup

heavy cream

10

cups

french bread

cubed into 1-inch pieces

Coconut Oil Cooking Spray

Maple Syrup for topping
Instructions
Preheat the oven to 350 degrees Fahrenheit.

In a large bowl, mix together the white granulated sugar, brown sugar, vanilla extract, cinnamon, nutmeg, eggs, milk, and heavy cream. Whisk until fully smooth and incorporated.

Cut the french bread into 1-inch cubed pieces. Place in the milk mixture bowl, fully submerge until all the pieces have absorbed the mixture.

Spray a 12-cup muffin tin really well with coconut oil cooking spray. Begin to scoop the french toast mixture into each cup. Once all the mixture is in the cups, bake at 350 degrees Fahrenheit for 30 minutes.

Carefully remove the muffins from the oven. Let them sit for 5 minutes. Carefully, scoop each muffin out. Top with maple syrup and serve immediately.
Nutrition
Calories:
159
kcal
|
Carbohydrates:
19
g
|
Protein:
6
g
|
Fat:
6
g
|
Saturated Fat:
3
g
|
Cholesterol:
83
mg
|
Sodium:
176
mg
|
Potassium:
94
mg
|
Fiber:
1
g
|
Sugar:
4
g
|
Vitamin A:
265
IU
|
Calcium:
55
mg
|
Iron:
1
mg