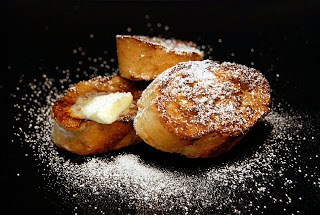 I don't make french toast that often, and most of the times if I do I use plain old sandwich bread just so I can use it up. My husband had bought a baguette for an appetizer I was making the night before and we still had half of it left the next morning. Instead of making t hat baguette into fresh bread crumbs or croutons I decided to make it into french toast. Using the baguette was the magic ingredient for this french toast. I guess I'll never be aloud to serve my plain sandwich bread french toast ever again.
Prep:
5 minutes
Total:
15 minutes
Serves:

4
Ingredients:
Cooking Spray

1 day old foot long baguette

1 egg

½ cup of half and half

2 tbsp cinnamon

1 tsp vanilla extract

powder sugar, butter, and syrup for topping
Directions:
1. Preheat a griddle pan on high and spray generously with cooking spray. While the pan is heating up combine the egg, half and half, cinnamon, and vanilla extract in a shallow plate/bowl. Whisk together until fully incorporated.
2. Cut the baguette into 1-½ to 2 inch pieces. Place a few pieces in the milk mixture and let sit for 15-20 seconds. Turn over the baguette and let it sit for an additional 15-20 seconds. Add soaked baguette pieces to the hot pan and cook on medium-high for a few minutes or until the pan side down is browned but not burnt. Turn them over and repeat for an additional minute or two.
3. Plate the french toast and sprinkle powdered sugar over the top of the dish. Add a pat of butter and serve with syrup if desired.
Side Suggestions: Southern Style Breakfast Potatoes