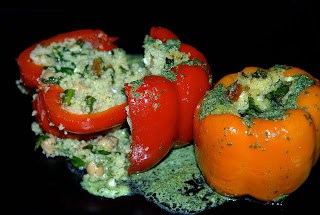 While lounging around the house last weekend I started to watch endless hours of Food Network–that's when I saw Giada make this dish! My mouth was watering as soon I she started talking about it. I knew I had to try it. I was also intrigued to make this dish because I've never cooked with crème fraiche. I had to go on a hunt for the crème fraiche–I finally found it at Whole Foods. If you can't find it though—don't worry. You can take a 1/4 cup of heavy whipping cream and a 1/4 cup of sour cream; whip until well blended and fluffy and it will taste pretty darn close to the real thing. I made it this weekend and wowzas–this dish was amazing! My husband does not like couscous what-so-ever, but he will eat it for me… he was a little hesitant about this dish, but after the first bite he fell in love with it! I will definitely be making these again! Because this dish is so hearty you won't miss meat in this meal!
Prep:
15 minutes
Total:
1 hours

Serves:
4
Ingredients:
Filling:
1 cup low-sodium chicken broth
2 teaspoons ground cumin
3/4 cup couscous
1 cup canned garbanzo beans, rinsed and drained
1/4 cup dried currants
1 packed cup chopped baby spinach leaves
1/2 cup (4 ounces) crumbled feta cheese
1/4 cup extra-virgin olive oil, plus more for drizzling
Kosher salt and freshly ground black pepper
2 medium red bell peppers
1 medium yellow bell pepper
1 medium orange bell pepper
Hot water, as needed
Sauce:
1 packed cup fresh basil leaves
1/2 cup (about 4 ounces)

crème fraiche

3 tablespoons extra-virgin olive oil
1 tablespoon water
1 garlic clove, coarsely chopped
2 teaspoons fresh lemon juice
1/4 teaspoon sugar
1/4 teaspoon salt, plus extra, as needed
1/4 teaspoon freshly ground black pepper, plus extra, as needed
Directions:
Put an oven rack in the center of the oven. Preheat the oven to 400 degrees F.

2. Filling: In a medium saucepan, bring the chicken broth and cumin to a boil over medium-high heat. Remove the pan from the heat and stir in the couscous. Cover the pan until the couscous is tender and all of the liquid has been absorbed, about 5 to 6 minutes. Put the couscous in a large bowl and add the beans, currants, spinach, feta and 1/4 cup olive oil. Season with salt and pepper, to taste. Stir until all the ingredients are combined.

3. Slice the tops off the peppers and remove all the ribs and seeds. If necessary, cut a very thin slice from the base to help the peppers stand up. Stuff the peppers with the filling and drizzle the tops with olive oil. Put the peppers in an 8 by 8-inch square baking dish. Fill the baking dish with 3/4-inch hot water and bake until the filling is golden and the peppers are cooked through, about 55 to 60 minutes. Cooks Note: If the filling begins to brown too quickly, cover the pan with foil.)

4. Sauce: In a blender, combine the basil, crème fraiche, olive oil, water, garlic, lemon juice, sugar, salt, and pepper. Blend until smooth. Adjust the seasoning with salt and pepper, to taste.
Remove the peppers from the oven and arrange on serving plates. Spoon the sauce around the peppers and serve.