Do you have a loaf of stale French bread? Try my easy recipe for Baked French Toast Casserole. It is sure to be a hit at your next breakfast or brunch!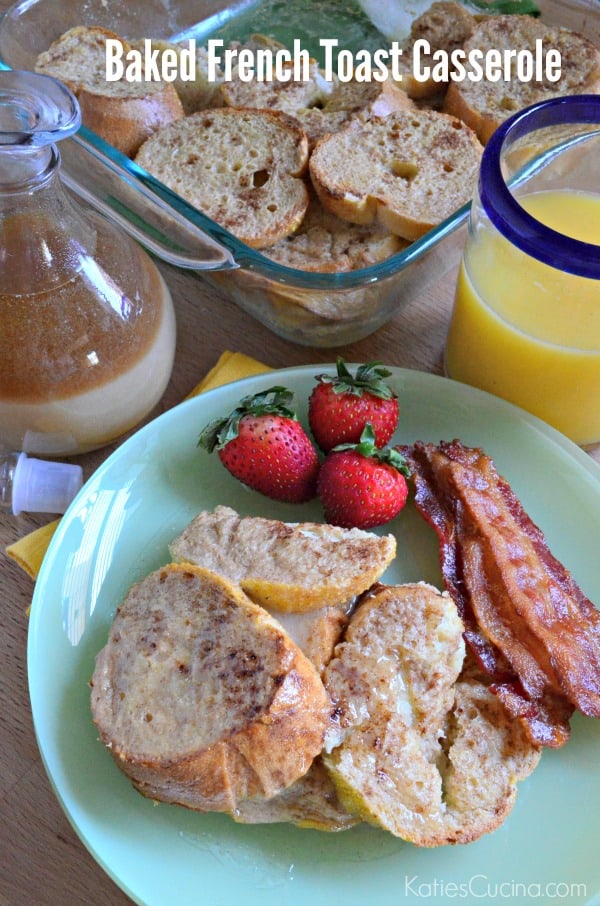 By now, if you read Katie's Cucina regularly you know that I do not like to waste food in my kitchen. I'm always trying to think up ways to use up leftovers whether its a leftover meal or leftover bread. In this case, it was ¾ of a loaf of leftover French bread. It was stale… like hard as a rock. If an intruder came into my house I could use it to beat them over the head with it. I love bread pudding but didn't want to make bread pudding. I had pondered the idea of a baked french toast casserole for a few days. Sunday rolled around and my sweet baby boy of 5.5 months woke me up at 5:49 a.m. normally I'm grumbling at the early wake-up call. Except on this morning, I wasn't. I was jumping for joy (and holding my fully engorged boobs as I jumped). You see, he slept the ENTIRE night for the first time in his life. A whopping 7.5 hours. STRAIGHT. No waking up for feedings, no crying in the middle of the night. All sleep.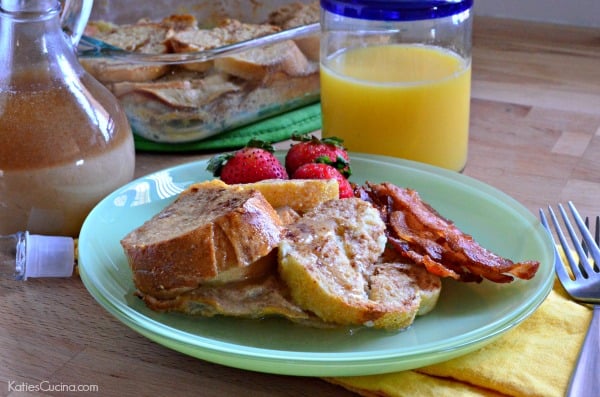 Of course, me being the concerned new mom, my body woke me up at the 4 hour mark (which is what he normally wakes most nights), and then I woke up at the 6 hour mark. I saw him moving around so I took it upon myself to go to the bathroom before the crying began. But to my surprise when I arrived back to my bed, I looked into the video monitor, and he was still sleeping. I had to zoom in on his face to make sure that those sweet blue eyes were actually shut. And shut they were. So I laid back down and tried not to think about my engorged boobs. I contemplated for about 5 minutes if I should get up to pump or if I should just try to go back to bed. I counted to 10 took a few deep breaths and decided I would try to go back to sleep. An hour and a half later… I awoke to a bright-eyed bushy tailed little boy in his crib. Not crying… just cooing and babbling at the monitor. I imagine he is saying "mom get up–come get me out of here".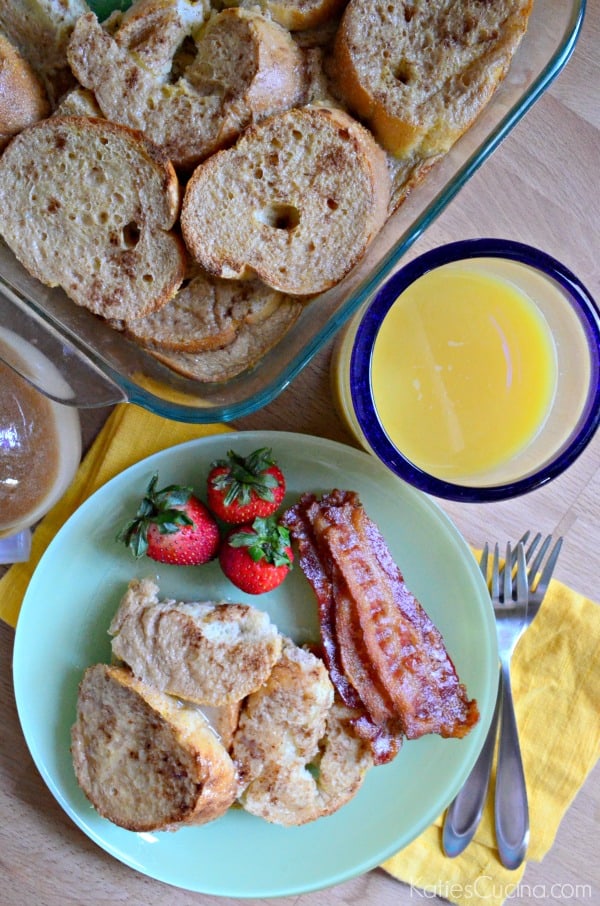 After I nursed and then pumped, we played on the floor for a half hour before Ryder started getting cranky again. Then I nursed him again and off he slept for another 45 minutes. Once he woke the second time I placed him in the exersaucer, and preheated the oven. Turned on the coffee maker and started slicing the stale bread. I opened up my fridge and that's when I discovered I only had 2 eggs left. I would have been forced to make french toast for breakfast any ways with just 2 eggs, but now this put my casserole plans at a hault. I decided to use tangy buttermilk that is thick and rich and it helped build the custard base. This is a much smaller portion of Baked French Toast Casserole. Most recipes you see on the web are for a giant pan full of Baked French Toast Casserole. With just a few ingredients, we had breakfast in 40 minutes. I had time to bake some bacon and make home fried breakfast potatoes. I had just 8 fresh strawberries in the fridge that desperately needed to be eaten, so I added a few to each plate. I also made homemade breakfast syrup. I'll be sharing that recipe soon (because I was out of maple syrup–go figure).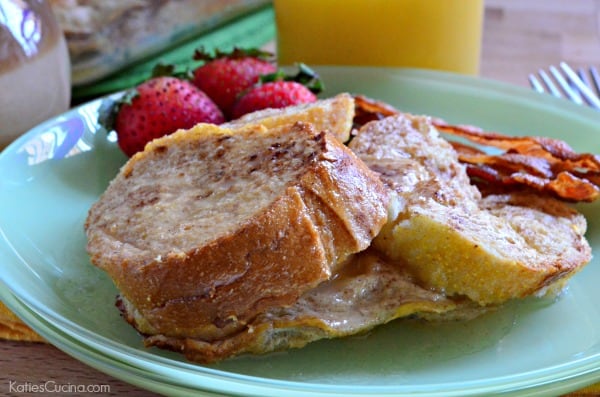 So whether your hosting a brunch for four, or celebrating your baby sleeping through the night, I think you'll love this recipe for Baked French Toast Casserole!
Katie Original Recipe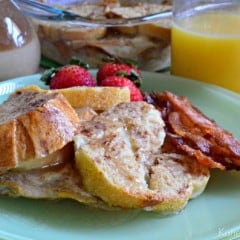 Baked French Toast Casserole
My small batch Baked French Toast Casserole is the perfect way to use up stale bread. This breakfast casserole comes together in under an hour and feeds four hungry adults.
Print
Pin
Rate
Ingredients
Cooking Spray

1

loaf

French Bread

stale, sliced 1-inch thick

2

Large Eggs

1-½

cups

Buttermilk

2

tablespoons

Brown Sugar

1

teaspoon

Cinnamon

1

dash Nutmeg

1

teaspoon

Vanilla Extract
Instructions
Preheat oven to 350 degrees Fahrenheit.

While oven is preheating in a large bowl mix eggs, buttermilk, brown sugar, cinnamon, nutmeg, and vanilla extract. Whisk until well incorporated then set to the side.

Grease 9x9 glass pan with cooking spray, then layer the stale french bread slices in three layers, overlapping bread.

Pour the egg/buttermilk mixture on top and then cover with aluminum foil.

Bake for 25 minutes then remove the aluminum foil and bake an additional 10 minutes until bread is golden brown.

Divide the casserole into four large squares; serve with warm syrup and fresh berries if desired.
Notes
Make Ahead - You can prepare this recipe the night before. Let the casserole sit out for a half hour prior to baking the next morning.
Buttermilk - If you don't have buttermilk you can use whole or 2% milk.
Nutrition
Serving:
1
c
|
Calories:
406
kcal
|
Carbohydrates:
68
g
|
Protein:
17
g
|
Fat:
7
g
|
Saturated Fat:
3
g
|
Polyunsaturated Fat:
1
g
|
Monounsaturated Fat:
2
g
|
Trans Fat:
1
g
|
Cholesterol:
92
mg
|
Sodium:
641
mg
|
Potassium:
293
mg
|
Fiber:
3
g
|
Sugar:
13
g
|
Vitamin A:
269
IU
|
Vitamin C:
1
mg
|
Calcium:
171
mg
|
Iron:
4
mg