It's a crime to not brine! Use my tried and true turkey brine recipe the next time you roast a turkey–I promise your guest will be thanking you.
For the past few years, I've shared a variation of a turkey brine recipe. Both brine recipes I've shared contain buttermilk. Since I can't eat dairy I figured I would work on a dairy free turkey brine recipe. You might be wondering why brine? By letting the turkey sit in the brine for at least 12 hours it absorbs more moisture in return it will help it stay moist and juicy. Let's face it–no one wants a dried out turkey. Now, don't get me wrong you don't have to brine and you can still achieve a moist turkey. But in my humble opinion. I think turkey that has been brined has so much more flavor. The best part is that you can adjust those flavors by what you put in the brine.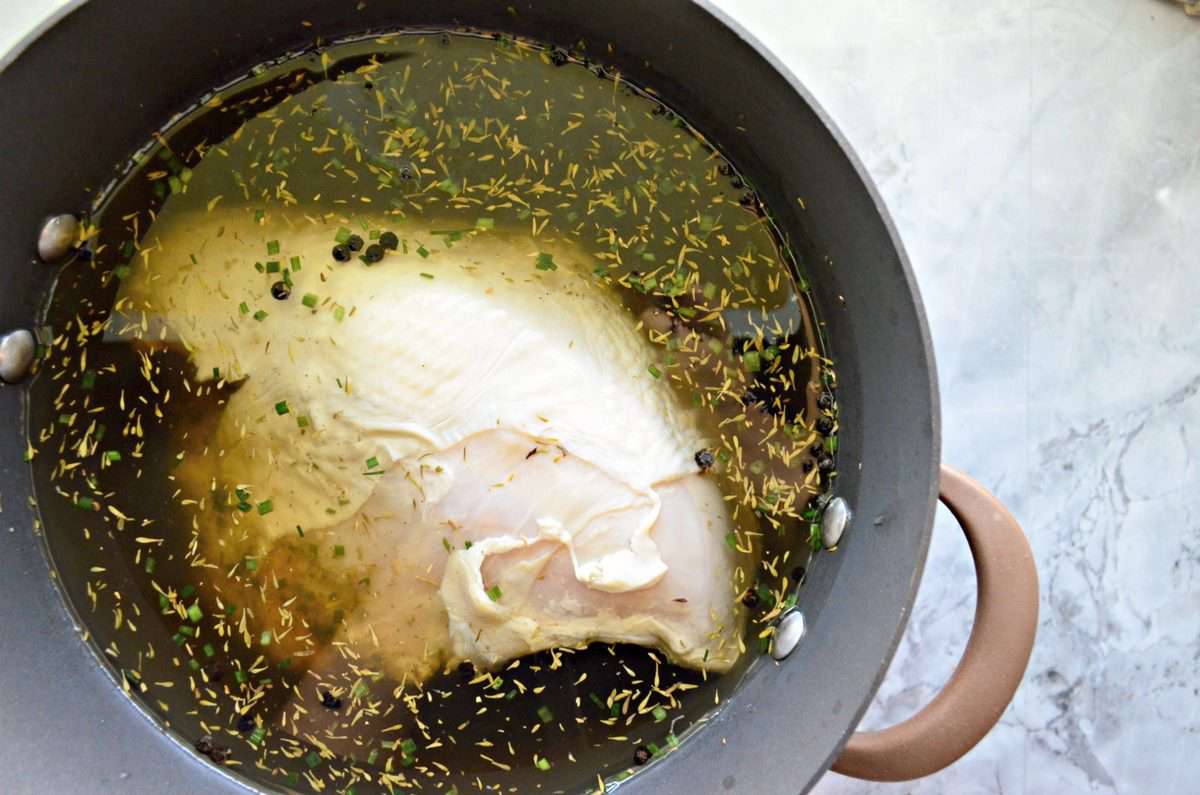 I love to put fresh herbs in my brines; however, I don't always have them on hand. So this brine is 100% dried herbs that you will find in your pantry or cupboard. I used a combination of dried thyme, dried chives, and dehydrated minced garlic. My family loves garlic so garlic is a must in any brine of mine. You'll prepare the brine by place luke warm water in a large 10 quart stockpot. If you have a very large bird you'll want to purchase a brining bag. I always cook a turkey breast so I can use a stockpot I have on hand. But if I'm pressed for space in the refrigerator and cooking multiple birds I'll buy the brining bag.
Back to the brine… Place all the spices in a stockpot and then pour in 1.5 gallons of water. Mix well until the salt is dissolved. Then place your turkey in the brine and carefully add additional water until the turkey is fully submerged. That is key–making sure your turkey is submerged in the brine. If only half of your turkey is in the brine then the other half will definitely be dried out when you go to cook it. If you've never brined a turkey before it's honestly the easiest thing you could possibly do and your guest will be raving about how juicy your bird is. So give it a try and start with my traditional turkey brine.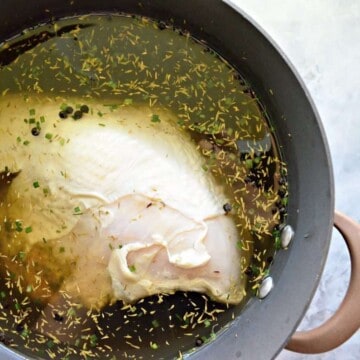 Brine for Turkey Breast
It's a crime to not brine! Use my tried and true brine for turkey breast recipe the next time you roast a turkey–I promise your guest will be thanking you
Print
Pin
Rate
Equipment
1 Stock Pot

1 Silicone Spatula
Ingredients
½

cup

kosher salt

¼

cup

black peppercorns

1

bunch

fresh thyme

12

cloves garlic

2

gallons

water

5-8

pound

turkey breast
Instructions
Using a brining bag or a 10 quart stockpot add the kosher salt, black peppercorns, dried chives, dried thyme, and dehydrated minced garlic. Pour in the water (I typically start with a gallon and a half). Using a wooden spoon, mix well until the salt is dissolved.

Carefully place the thawed turkey breast inside the stockpot. Add additional water if needed to ensure the entire bird is covered in brine. Seal bag or place lid on stockpot and set in the refrigerator for at least 12 hours (overnight) and no more then 18 hours.

Before your ready to cook the turkey. Rinse the turkey with cold water nad pat dry with a paper towel.
Notes
Dried Spices – If you don't happen to have fresh thyme on hand you can use 1 tablespoon of dried thyme leaves. I also like to add 2 tablespoons of dried chives and 2 tablespoons of dehydrated garlic if I don't have the fresh on hand.
Recipe Testing – This recipe has been tested on 5-8 pound turkey breast. More liquid may be needed if you have a larger turkey breast.
Nutrition
Calories:
1043
kcal
|
Carbohydrates:
3
g
|
Protein:
220
g
|
Fat:
17
g
|
Saturated Fat:
3
g
|
Cholesterol:
551
mg
|
Sodium:
30587
mg
|
Potassium:
2470
mg
|
Fiber:
1
g
|
Sugar:
1
g
|
Vitamin A:
417
IU
|
Vitamin C:
4
mg
|
Calcium:
319
mg
|
Iron:
8
mg