Double Cream Corn Casserole
Thank you Stonyfield for sponsoring today's recipe. As always, all opinions are my own.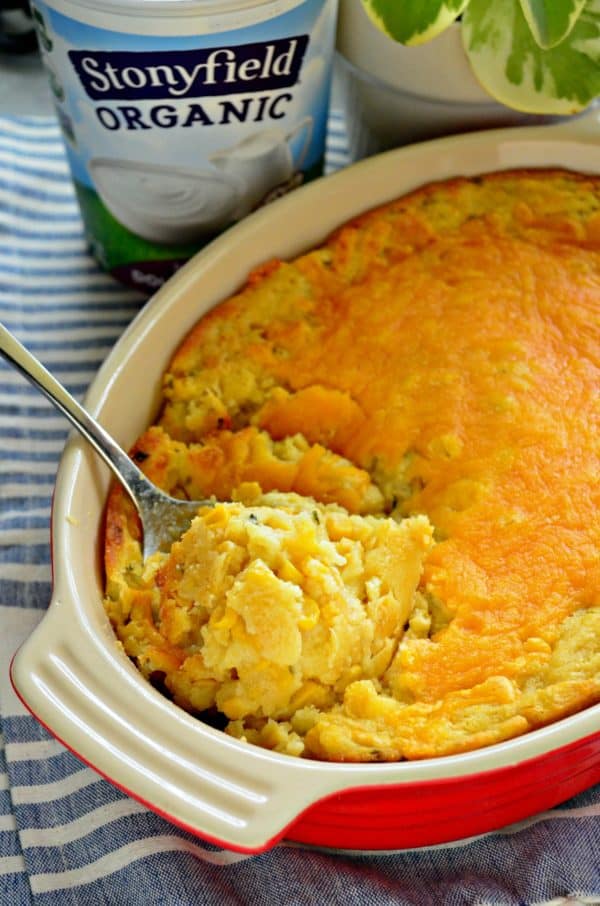 Christmas is just a few weeks away and I'm starting to plan a few big meals. I'm hosting Christmas Eve with my side of the family. I'm pretty confident that I'll be making a prime rib! So that means I need to start thinking about the sides. I'm also making Christmas morning brunch complete with a
slow cooker maple glazed honey ham
. Now it's time to start thinking about side dishes. I mean let's face it they can make or break a meal. When I entertain I love to have side dishes that make a large amount so I don't have to worry about doubling or tripling the recipes. I've started playing around and testing a few of my favorite recipes and replacing the butter and sour cream for
Stonyfield Smooth & Creamy Double Cream Plain Yogurt
. Let's talk a little bit about this magical yogurt. Double Cream is the ultimate cooking yogurt! It can be used as a substitute for oil, mayo, buttermilk, butter or sour cream. Because it has a higher fat content you can cook with it and it won't curdle on you. I love having a quart or two of Double Cream on hand at all times. I can't tell you how many times I've been out of sour cream on taco night and placed some of the Double Cream in a bowl on the table for taco night. No one even blinked and everyone thought they were eating sour cream. Of course–after everyone was done eating I revealed that they actually put yogurt (gasp) on their tacos!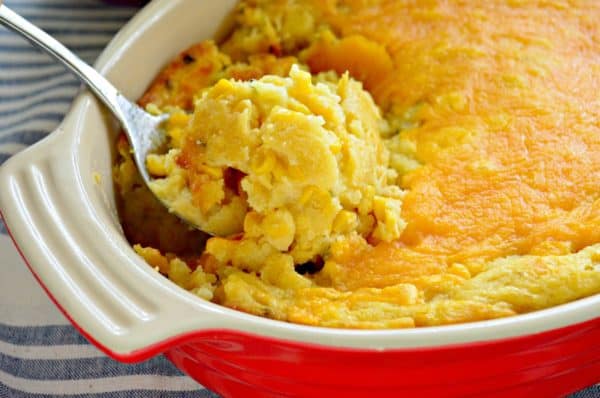 Although this tried and true corn casserole recipe can be on the fattening/heavy side… I made it a little lighter by making the swap. The best part is that everyone thought it was my normal go-to recipe and had no clue that I didn't add an ounce of butter or sour cream! A big win-win in my book.
Everything Stonyfield makes isn't just delicious, it's also made with certified organic and organic
compliant ingredients. In a world full of choices, organic makes things simple because it's always
made without the use of toxic persistent pesticides, artificial hormones, antibiotics and GMOs.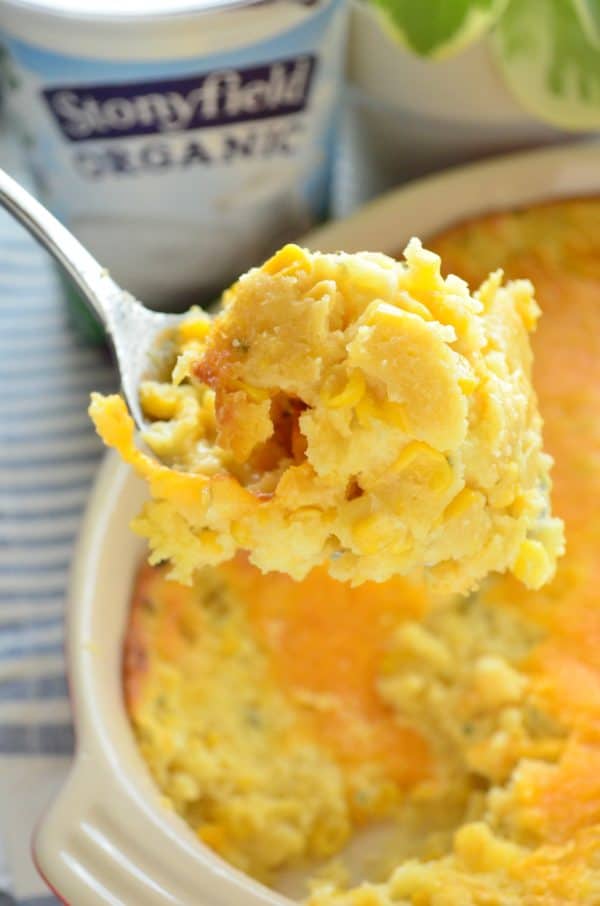 This double cream corn casserole feeds an army–about 8 servings depending on the person scooping. I like to add a thin layering of shredded cheddar cheese. Others prefer without cheese on top. It's totally up to you.
My family loves this recipe and I'm happy that I was able to make it just a tad bit lighter without anyone noticing the difference. So this holiday season, make sure you grab a few quarts of Stonyfield Smooth & Creamy Double Cream Plain Yogurt to lighten up all your favorite sides, baked goods, and anything else your heart desires. Wow (and trick) your family like I did and make my easy lightened up recipe for Double Cream Corn Casserole!

Double Cream Corn Casserole
Yield: 8-10
Prep Time: 5 minutes
Cook Time: 45 minutes
Total Time: 50 minutes
Ingredients:
1 (15.25 oz) can whole kernel corn, drained
1 (14.75 oz) can cream-style corn
1-1/2 cups Stonyfield Organic Plain Yogurt Double Cream
1 tablespoon granulated sugar
1 tablespoon dried chives
1 (8 oz) package corn muffin mix
1/2 cup shredded cheddar cheese
Directions:
In a stand mixer fitted with a paddle attachment combine the whole kernel corn, the cream-style corn, Stonyfield Organic Plain Yogurt Double Cream, granulated sugar, dried chives and corn muffin mix. Mix on medium speed for 1 minute until combined and fluffy.
Coat a large baking dish with cooking spray. Then pour the corn mixture into the baking dish. Bake at 350 degrees Fahrenheit for 40 minutes. Remove from the oven, top with the 1/2 cup of cheddar cheese and return to oven for another 5 minutes until cheese is melted.
Let rest for 10 minutes, and then serve and enjoy.
Warning
: Use of undefined constant rand - assumed 'rand' (this will throw an Error in a future version of PHP) in
/home/kjasiewicz21/webapps/katiescucina/wp-content/themes/katiescucina/single.php
on line
74
Trackbacks/Pingbacks

Leave a Comment