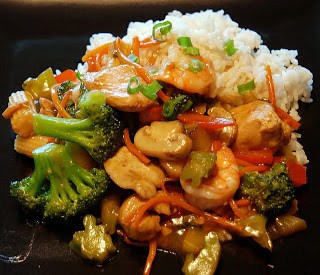 I love to make stir-fries but never really make a sauce for it. I was at a loss of what I should make for dinner and didn't feel like spending multiple hours in the kitchen. I found a recipe on t he back of a
College Inn broth
carton for stir-fry and then panned through a few stir-fry recipes in my cook book… so with a little from here and there I came up with my own sauce which happened to be out of this world good! I'll definitely be making this sauce for my stir-fry again!
Prep:
5 minutes
Cook:
20 minutes
Serves:

2
Ingredients:
1 boneless skinless chicken breast, cut into bite size pieces
1 cup frozen shrimp (peeled, deveined, and tails removed)
1 tablespoon minced garlic
1 tablespoon minced ginger
1 tablespoon peanut oil
1 tablespoon sesame seed oil
1 cup broccoli florets
½ cup sliced mushrooms
½ cup match stick carrots
½ cup red bell pepper, diced
½ cup water chestnuts, drained
4 baby corn, chopped
2 green onions, diced
2 tablespoon Teriyaki Sauce
2 tablespoon Soy Sauce
2 tablespoon hoison sauce
1 teaspoon fish sauce
2 tablespoon cornstarch
1 ½ cups College Inn Chicken Broth 99% Fat Free
⅛ teaspoon red pepper flakes
Directions
1. Pre-heat your
wok
on medium-high. Add peanut and sesame oil, minced
garlic
and ginger, and cook for one minute. Add chicken to the mixture stirring continuously until it's cooked almost 75% through. Add ½ cup of chicken broth, broccoli, mushrooms, carrots, and red bell pepper. Mix around and cover for 3- 5 minutes with lid on so that the veggies can steam. Add the shrimp, water chestnuts, and baby corn to the dish; mix around and cook an additional 2-4 minutes.
2. In a
bowl
, blend remaining 1 cup of broth, teriyaki sauce, soy sauce, hoison sauce, fish sauce, cornstarch and red pepper flakes. Add the blended mixture to the
wok
, and stir. The sauce mixture will eventually start to thicken up (about 5 minutes).
3. Plate stir-fry and sprinkle with diced green onions.
Serving Suggestions: white rice & spring rolls