Every now and then my husband will treat me to ice cream out. This is a huge treat since I always have homemade ice cream in the house, so we hardly ever have the urge to go out. Most of the time, we are on vacation or meeting friends out. If we visit Cold Stone or the Marble Slab I almost always get cake batter ice cream. It's a treat since its not a flavor I've ever made at home… that is, until the other day!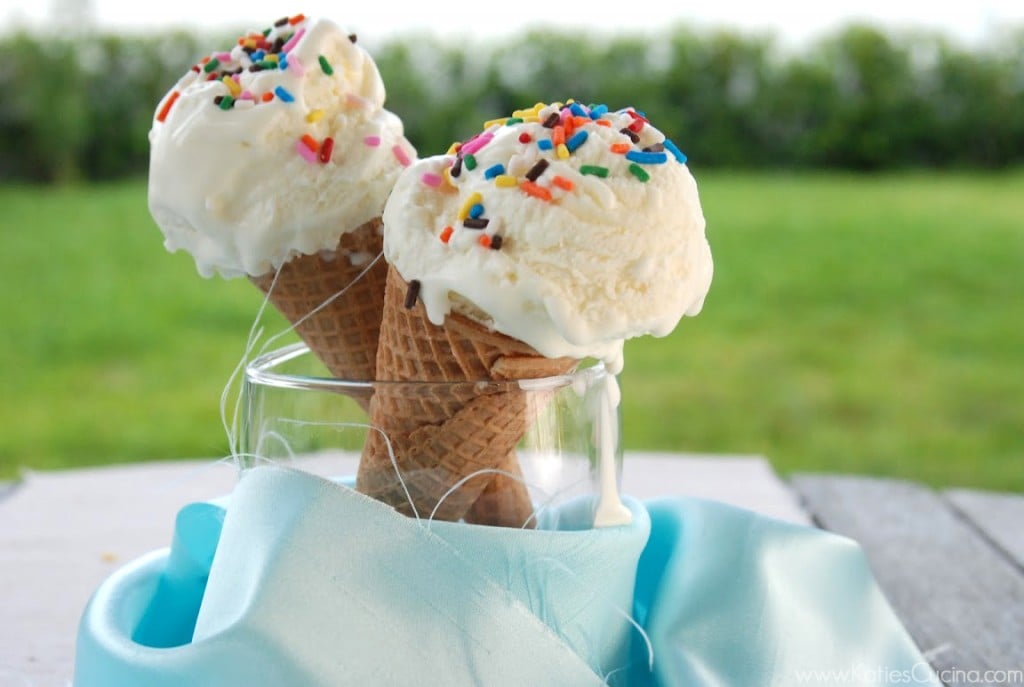 I was excited to find the recipe–a copykat version of the Cold Stone classic. After making it I gave it a try… ok well, maybe I indulged in a bowl. The ice cream is buttery goodness if those can even be words to describe something. I'm just not sure though if its on spot with true cake batter ice cream. Maybe, its because its been so dang long since I've had cake batter ice cream?
Either way this ice cream is delicious. Think of a buttery vanilla… that's what this ice cream is. If you make this recipe I'd love to hear your take on the recipe. Do you think it tastes like cake batter ice cream? Or more buttery vanilla?
Adapted from CopyKat Recipes
Ingredients
3

cups

heavy cream

1

cup

whole milk

¾

cup

sugar

¼

tsp

salt

¾

cup

dry Duncan Hines Butter Recipe Cake Mix
Instructions
In a large pot add ¾ cup sugar, ¼ teaspoon salt, and 1 cup of heavy cream. Mix well over medium heat until sugar dissolves. Do not allow your mixture to boil. Once sugar is dissolved remove from heat and add 4/3 cups sifted Duncan Hines Butter Recipe Cake Mix to the cream mixture. Whisk until the cake mixture has dissolved and their are no clumps of cake mix. Add 2 cups of heavy cream and 1 cup of whole milk, whisk until well incorporated. *My batter was luke warm so I did not refrigerate my batter prior to churning; however, if your batter is hot you will want to refrigerate for at least 2-4 hours.

Pour liquid cake batter into ice cream maker and churn according to manufacturers directions. *I use the

KitchenAid Ice Cream Maker Attachment

, and this batch churned for 25 minutes. The ice cream will be the consistency of soft serve. Store in an airtight container in the freezer. Store for up to one week.
Giveaway Alert! Make sure you enter to win a KitchenAid Ice Cream Maker Attachment. Giveaway ends Friday, July 20th at midnight!
Disclosure: This post includes affiliate links. If you make a purchase I will receive a percentage of the sale.