Looking for a quick and mess-free meal? Try my recipe for One-Pot Creamy Pumpkin Asparagus and Green Pea Pasta.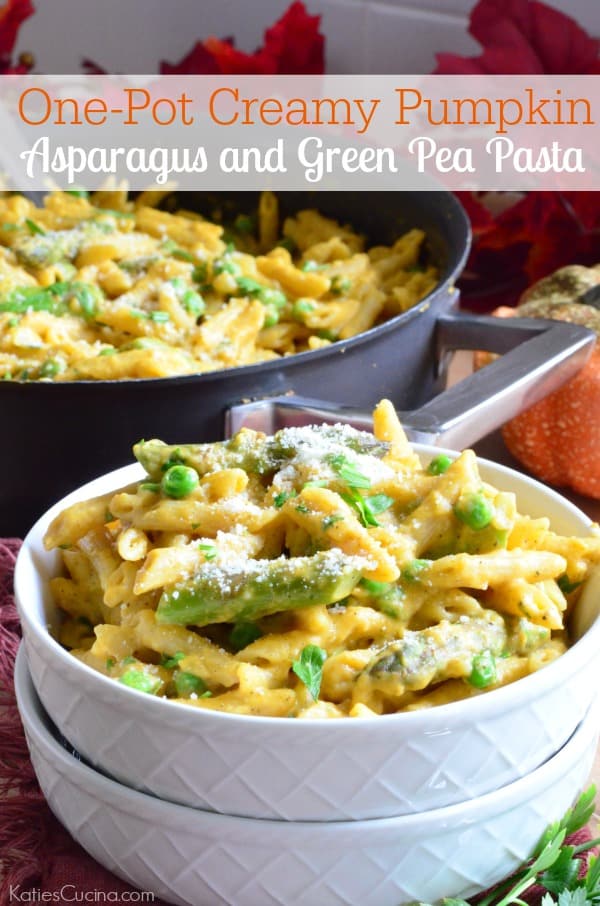 If you love pumpkin then your in luck. I'll be sharing pumpkin recipes all week along with a bunch of my other food blog friends. If your on social media just search for the hashtag #pumpkinweek. Today, I'm sharing with you a delicious one-pot pasta! This pasta happens to have a pumpkin cream sauce that is out of this world! And guess what… no one will know they are eating a pumpkin pasta unless you tell them. Trust me, it's so good. This is a very savory pumpkin dish not sweet at all. I did add a pinch of nutmeg and cinnamon to the dish just to round out the flavors and it worked beautifully. Also, the bright green veggies; asparagus and green peas make this an ideal meatless meal!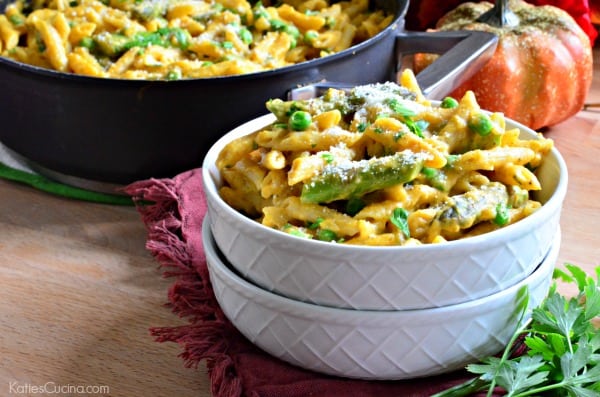 So let's talk about the health benefits of pumpkin for a second. According to the University of Illinois Extension school, pumpkin is loaded with an important antioxidant, beta-carotene. Beta-carotene is one of the plant carotenoids converted to vitamin A in the body. In the conversion to vitamin A, beta carotene performs many important functions in overall health. Current research indicates that a diet rich in foods containing beta-carotene may reduce the risk of developing certain types of cancer and offers protect against heart disease. Beta-carotene offers protection against other diseases as well as some degenerative aspects of aging.
So for the pumpkin haters out there, just know that pumpkin is so good for you. For us pumpkin lovers we get lots of health benefits for consuming a ridiculous amount of pumpkin during the fall months!
Katie Original Recipe