This collection of 75+ easy pumpkin recipes varies from savory to sweet pumpkin recipes of all courses; breakfast, drinks, snacks, dinner, and pumpkin desserts. This list is a pumpkin lovers dream come true.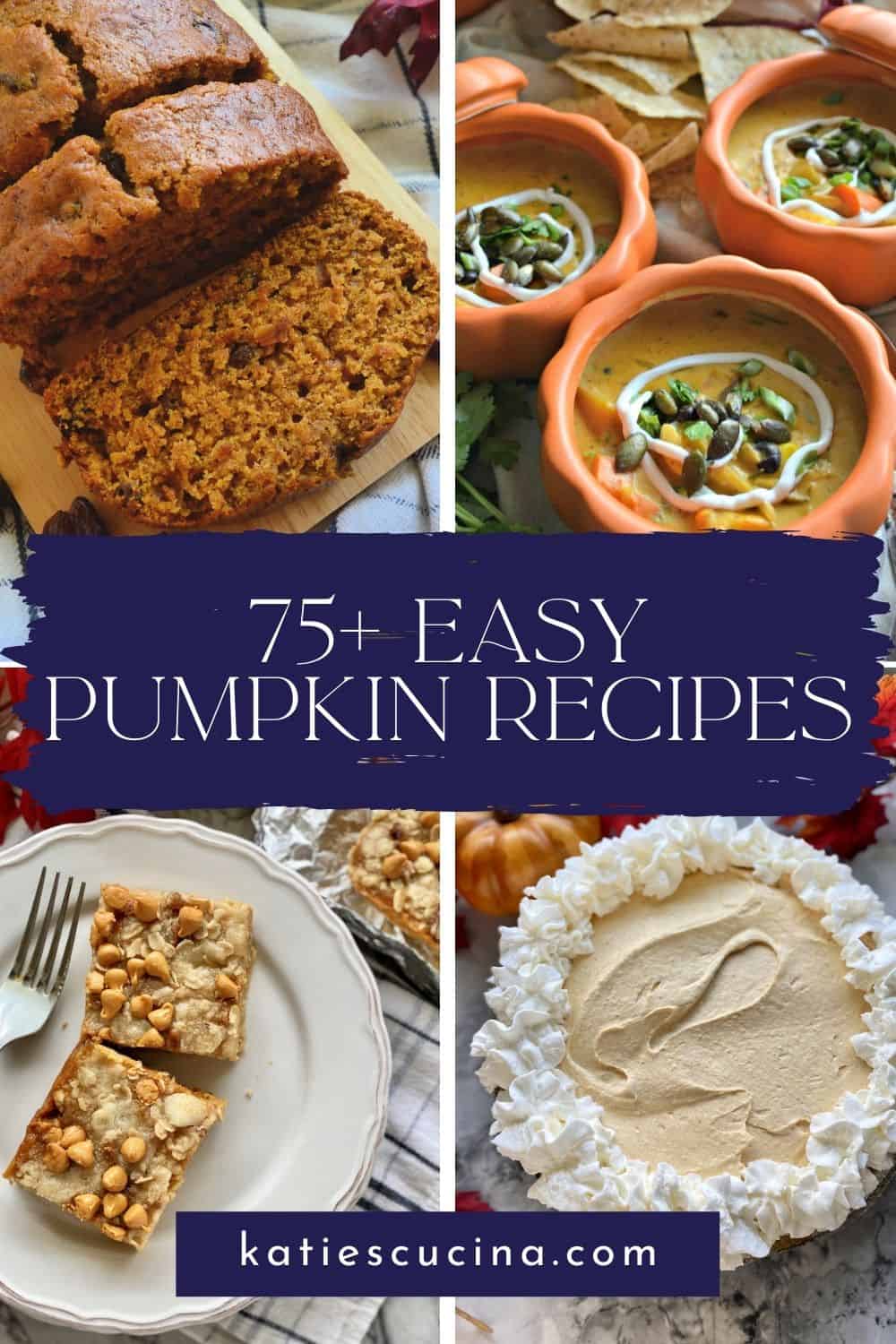 If you love the flavor of fall then I know you'll love this round-up of over 75 easy pumpkin recipes. I have compiled a list that covers both sweet and savory pumpkin recipes. I have gathered some of the best pumpkin recipes from around the web which include drinks, breakfast, snacks, dinner, and of course dessert! You will find them broken down by categories starting with my personal favorite, drinks. I'm sure if you love pumpkin you'll love these recipes I've found for you.
Pumpkin Drink Recipes
If you love pumpkin you'll love these pumpkin drink recipes. Skip the coffee shop and make my Pumpkin Spice Frappé or an Iced Pumpkin Coffee. End your evening with Pumpkin Pie Shooters.
Pumpkin Breakfast Recipes
Start your morning off with my Pumpkin Pie Granola, tried and true Easy Pumpkin Bread, or even my most popular fall recipe on Katie's Cucina; Pumpkin Waffles. If you don't find enough breakfast ideas here. Check out my 13 Pumpkin Breakfast Recipes for more ideas!
Pumpkin Snacks
If you are looking for a sweet or savory pumpkin snack I'm here to share you how to make the perfect Roasted Pumpkin Seeds Recipe, Plant Based Pumpkin Pie Energy Bites, or Pumpkin Spice Popcorn.
Pumpkin Dinner Recipes
If you are craving pumpkin try some of these savory delicious pumpkin dinner recipes. From a Harvest Quinoa Salad with Pumpkin Yogurt Dressing to Pumpkin Spiced Alaskan Sea Scallops with Butternut Squash Orzo. You are bound to find something delicious.
Pumpkin Desserts
When you think of pumpkin desserts there is more then just pumpkin pie. You can try my favorite No-Bake Pumpkin Cheesecake Pie, Pumpkin Spice Krispie Treats, or even my pumpkin ice cream.
I hope you enjoyed and found at least a few new pumpkin recipes to try. Which will be the first you try?
Don't forget to FOLLOW ME on Facebook, Pinterest, and Instagram, and subscribe to my email list!