Fall Minestrone Soup
Enjoy a hearty bowl of my recipe for Fall Minestrone Soup made in just one hour! It will have your house smelling good and your body warm on a cold fall day.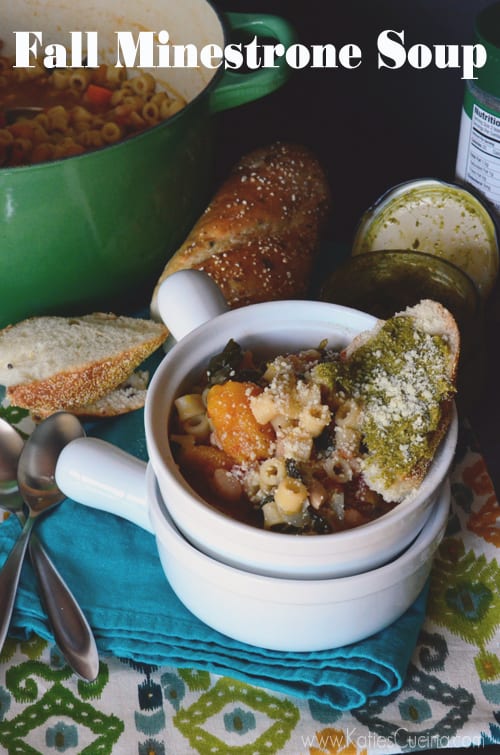 Nothing screams comfort food to me than a big pot of soup; Fall Minestrone Soup to be exact. Especially on a cold day. Granted Florida does not get that cold, but lately we have had a few cold fronts come through… That has sparked me to make a little more soup than normal. I also have found the brothy soups that I use to once slurp up and feel full on do nothing for me now. So I've been "beefing" up our soups–no not with actual beef, but making them hearty. I eat like I'm a teenage boy and I need hearty food! No one needs to worry–this baby is being well fed!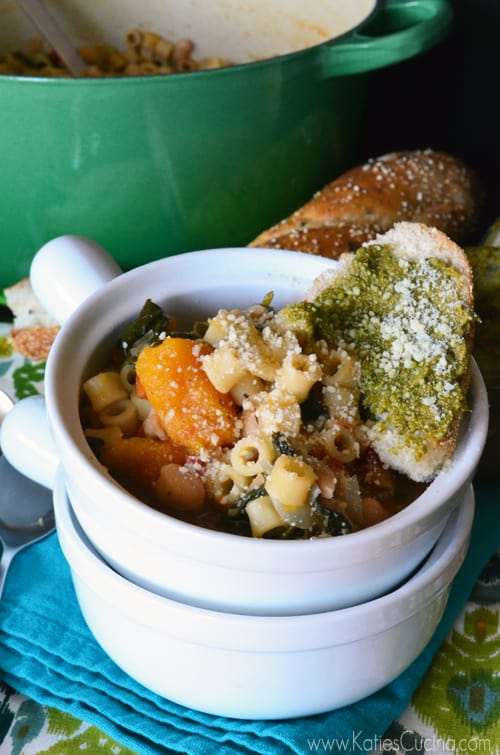 I created this hearty pot of Fall Minestrone Soup and then topped it with what I called "croutons" although let's get real… it was stale italian bread. I then smeared on some store-bought pesto and sprinkled grated parmesan cheese on top. I'm drooling just writing about this Fall Minestrone Soup.
Katie Original Recipe
Ingredients
3 strips bacon, diced
3 carrots, sliced
3 ribs celery, sliced
2 cups butternut squash
1 vidalia onion, diced
2 cloves garlic, minced
1/2 tsp dried thyme
1 16oz. can of diced tomatoes
1 32 oz. box of chicken broth
1 32 oz. box of white wine and herb chicken broth
2 cups ditalini pasta
1 16 oz. can of cannellini beans, rinsed and drained
2 cups fresh spinach
Directions
In a large stock pot, on medium heat cook diced bacon until crispy (about 5 minutes). Then add the carrots, celery, butternut squash, onion, garlic, dried thyme, and 1 cup of the chicken broth and cook for 15 minutes with lid on (stirring occasionally).
Add tomatoes, pasta, and remaining chicken stock. Cook for 10 minutes then add the rinsed beans and spinach. Mix well and cook for an additional 10 minutes.
Ladle soup into bowls. Slice stale Italian bread (or toast fresh bread) with pesto and parmesan cheese.
https://www.katiescucina.com/fall-minestrone-soup/
This recipe is brought to you by Katie Jasiewicz of Katies Cucina
Warning
: Use of undefined constant rand - assumed 'rand' (this will throw an Error in a future version of PHP) in
/home/kjasiewicz21/webapps/katiescucina/wp-content/themes/katiescucina/single.php
on line
74
9 Responses to "Fall Minestrone Soup"
Leave a Comment