Sweet Chili Brussels Sprouts + P.F. Changs – New Fall Seasonal Menu
This is a Sponsored post written by me on behalf of P.F. Chang's for SocialSpark. All opinions are 100% mine.
Raise your hand if you love Chinese food? I DO! Since I can remember (the ripe age of 4) I remember bellying up to plates full of Chinese food! I was obsessed with the cuisine and most mornings when my mom would ask me what I wanted for breakfast my response was Chinese food! Which is not like your typical 4 year old. Not much has changed since I was first introduced–you can definitely still find me eating Chinese food for breakfast! When my husband, Jon, asks where to eat out you'll frequently hear me reply P.F. Changs! They have a new Fall Seasonal Menu that will rock your Chinese food eating socks out! 
First, let's start with a Apple Cinnamon Martini. 
Since I can't drink right now I'm hoping a reader will go and try it for me. I'm a lover of martini's and this sounds dynamite! It has "Absolut Orient Apple Vodka and Tuaca Liqueur shaken with apple juice, fresh lemon juice and a hint of cinnamon." Mmm… 
Next up, Miso Chicken!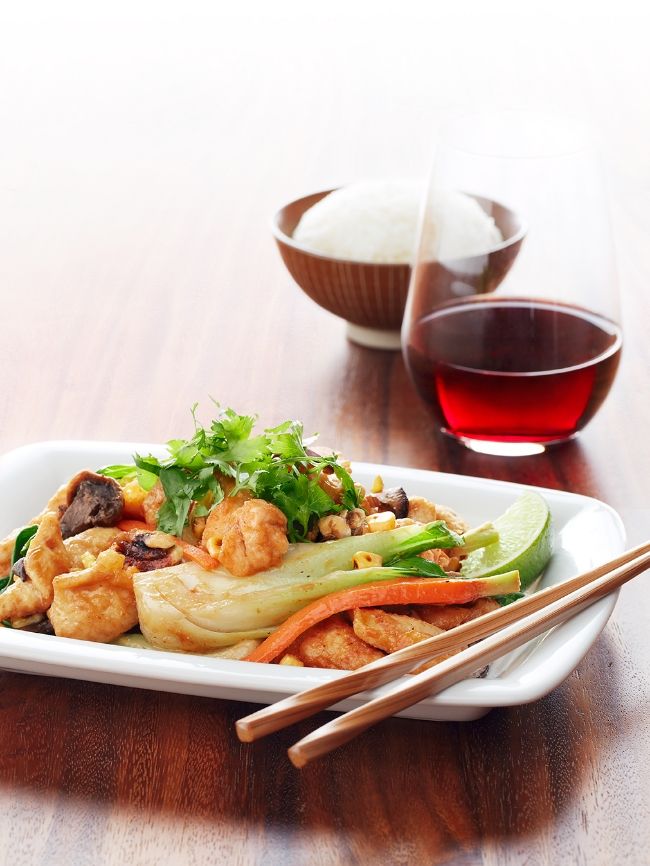 One thing I've found that I still very much enjoy being pregnant is miso soup, so I know this miso chicken would hit the spot! "Savory miso-tamarind sauce wok-tossed with sliced chicken breast, baby carrots, Asian mushrooms, bok choy, candied walnuts and corn, topped with fresh cilantro."
And while I'm at it–I could belly up to a plate of Vietnamese Noodles with Steak & Shrimp! 
I've never been a big fan of noodle dishes at Chinese restaurants but my dad introduced me to chow mei fun a good decaded ago and I've had a soft spot for rice noodles ever since! 
"This Pho-inspired dish blends the bright flavors of hoisin, sriracha, cinnamon and coriander with rice noodles, marinated shrimp and flank steak, wok-tossed with Chinese broccoli, carrots and bean sprouts, topped with fresh cilantro."
And for dessert… what about Caramel Apple Wontons!
I think these sound over the top amazing and I think if I can't get to P.F. Changs in the next week I will need to make a similar version at home! 
"Handmade, crispy wontons filled with warm apples, caramel and cream cheese, dusted with powdered sugar and served with cinnamon and caramel sauce and fresh mint."
This is just a small preview of the new 10 fall seasonal menu items now available at P.F. Changs! They also have The Goodness of Fall Contest going on right now. Contestants will create at least 3 unique fall dishes highlighting 3 of the seasonal ingredients that are used on the new Fall Seasonal Menu. The top 5 recipes will then be submitted to a panel of judges for a chance to win the grand prize!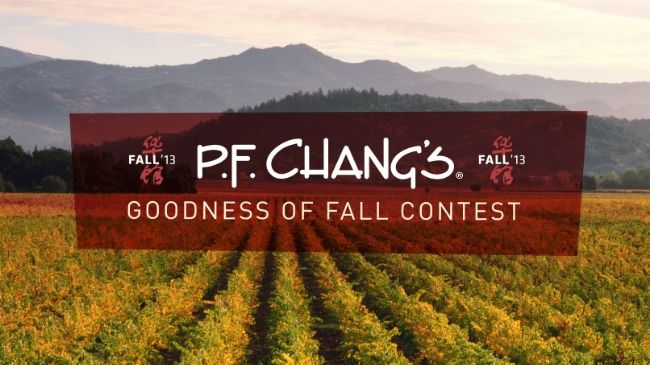 Want to know what the fall ingredients are? 
Flank Steak

Butternut Squash

Corn

Brussels Sprouts

Red Quinoa

Kale

Candied Walnuts

Chinese Broccoli

Asian Mushrooms

Green Apples

Daikon

Sprouts

Prawns

Fresno Peppers

Scallions
Contest Panelist include: Philip Chiang, Cofounder of P.F. Chang's; Yuji Iwasa, Head Development Chef at P.F. Chang's; Mary Melton, Director of Beverage at P.F. Chang's; and Jennifer Chong; a prominent blogger partner.
Prizes include: a $50 daily P.F. Chang's gift card winner; The grand prize winner and one lucky guest will win a two-night trip to Napa in Spring of 2014, including an exclusive visit to the guest house at a Napa Valley vineyard where judges Philip Chiang and Yuji Iwasa will be cooking some of their favorite dishes. Director of Beverage Mary Melton will also be there, guiding the winners through an extensive wine tasting. It's a once-in-a-lifetime Napa Valley getaway! A place that is definitely on my bucket list of places to visit one day!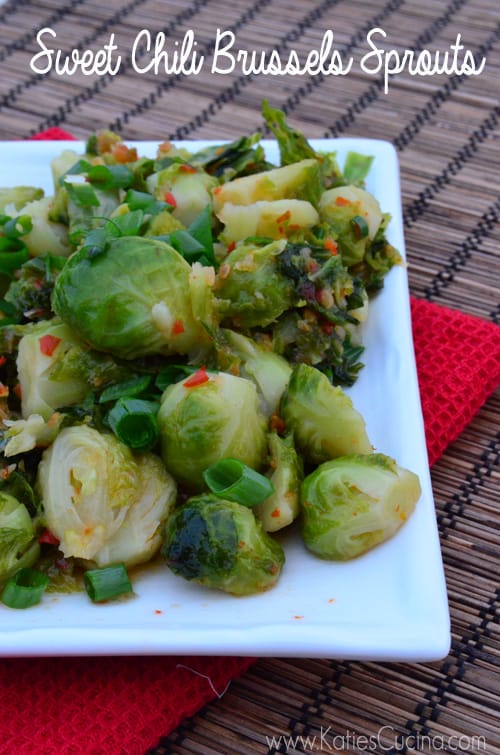 I decided to try to challenge myself and I created a dish using both Brussels Sprouts and Scallions! My recipe for Sweet Chili Brussels Sprouts is the perfect Asian side dish. It has a great mix of sweet and spicy flavors! I love Brussels sprouts and I love sweet chili sauce so for me this was a match made in heaven!
Katie Original Recipe
P.F. Changs – New Fall Seasonal Menu
Ingredients
1 lb. Brussels Sprouts
1 tbsp Sesame Oil
1/4 cup Sweet Chili Sauce
Sliced Scallions
Directions
Rince Brussels sprouts, slice in half. Boil for 15 minutes until just tender.
Drain the Brussels sprouts, add the sesame oil back to the pot, add in Brussels sprouts and sauté for 3 minutes on medium heat. Then add in 1/4 sweet chili sauce. Mix well and cook for one additional minute. Plate and top with sliced scallions.
https://www.katiescucina.com/p-f-changs-new-fall-seasonal-menu/
This recipe is brought to you by Katie Jasiewicz of Katies Cucina
How awesome does this contest and the grand prize trip sound… and just think you could be one of many people who win a $50 P.F. Chang's gift card just for entering! Make sure you Follow @pfchangs on twitter and Follow P.F. Chang's on Pinterest. 
So now that I have you hungry, what fall dish are you most excited about trying at P.F. Chang's this fall?
Oh and in case you are really hankering for P.F. Chang's now (sorry not sorry) head on over to the contest page to receive a special offer. $10 off a $40 purchase coupon… shhh! don't tell anyone I told you about the coupon!
Warning
: Use of undefined constant rand - assumed 'rand' (this will throw an Error in a future version of PHP) in
/home/kjasiewicz21/webapps/katiescucina/wp-content/themes/katiescucina/single.php
on line
74
4 Responses to "Sweet Chili Brussels Sprouts + P.F. Changs – New Fall Seasonal Menu"
Leave a Comment